As you settle into a #SeptemberWhole30 routine, you'll most likely find yourself cycling through 8-10 favorite recipes each week. This is actually a smart Whole30 success strategy; you're establishing new habits that will become part of your food freedom long after your 30 days are over.
But, it's equally important that you don't become bored with your Whole30 food. And with all of the delicious, fresh produce, protein, herbs, and spices that are in line with the Whole30 program rules, you shouldn't have to! Every Friday throughout the #SeptemberWhole30, we'll publish a few inspiring and creative Whole30 recipes. If you find yourself with a little time this weekend to experiment with new recipes, try one of the dishes below from Trina of Paleo Newbie. Maybe one of them will become a new Whole30 staple.
[Tweet "Three #Whole30 recipes from @paleonewbie to inspire your #SeptemberWhole30! #whole30recipes."]
Beef & Chorizo Sliders on Grilled Sweet Potato Rounds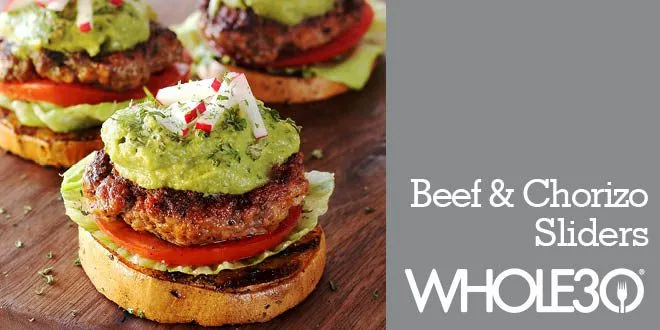 Ingredients
Equal portions of grass-fed ground beef and bulk chorizo sausage equaling 1 to 2 pounds (check your labels and make sure the sausage is Whole30 compatible)
1 large (diameter) sweet potato, sliced into 1/2-inch thick rounds
Salt and pepper to taste
1-2 avocados, mashed (or pre-made guacamole)
Sliced tomatoes
Lettuce leaves
Optional garnishes: chopped radishes, fresh or dried parsley
Instructions
PREHEAT grill to medium-high heat.
GENTLY combine the ground beef and ground chorizo together in a mixing bowl by hand and form into smaller, slider-sized patties. This spicier combo doesn't normally need additional seasonings, but feel free to add any other seasonings in addition to little salt and pepper.
SLICE sweet potatoes into 1/2-inch thick rounds for the sliders' bottom "buns." (Tip: To help the potato rounds cook through faster on the grill, I steam my slices 2-3 minutes before placing them on the grill.)
TO MAKE your own guacamole, scoop out the flesh from avocados and mash together. Place in refrigerator until ready to serve.
DRIZZLE olive oil over the seasoned beef/chorizo patties and grill, turning once. Internal temperature should read between 160ºF – 165ºF. At the same time, grill the sweet potato slices until cooked through and tender.
STACK sliders with fixings as desired, top with guacamole, and garnish.
Steak Salad with Creamy Garlic Vinaigrette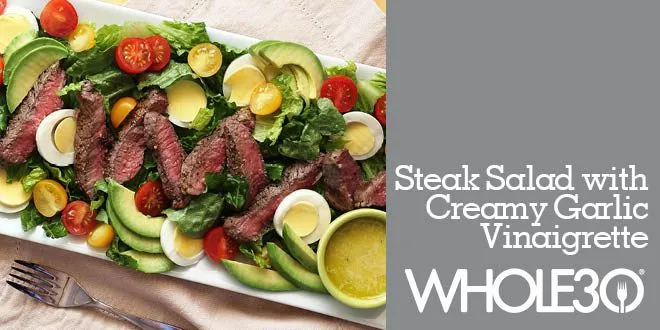 Ingredients
For the salad:
1/2 pound steak of your choice
4 cups greens
1/2 cup red and yellow cherry tomatoes
2 hard-boiled eggs, sliced
1 avocado, sliced
For the Garlic Vinaigrette:
3 Tbsp of avocado oil or olive oil
2 Tbsp white wine vinegar
2 Tbsp Whole30-compatible mayo (make your own, or use Whole30 Approved Primal Kitchen mayo)
1 small to medium garlic clove, pressed
A little salt and pepper to taste
Instructions
PAT steak dry and season with salt and pepper. Cook on a well-oiled grill or in a cast-iron pan (along with 1 tablespoon of fat of your choice) over medium-high heat, about 5 minutes per side for medium rare steak. Remove and tent with aluminum foil for 10-15 minutes before slicing crosswise into thin strips.
PREPARE garlic vinaigrette by whisking all ingredients together until well blended.
ARRANGE salad on individual plates with the vinaigrette on the side, or toss everything together in a large salad bowl.
Slow Cooker Beef & Veggie Chili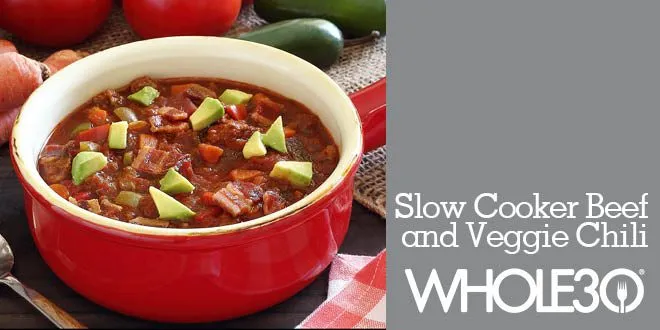 Ingredients
For the Meat & Veggies:
2 pounds of ground beef or ground turkey (I sometimes use a 50/50 mix of both)
1 onion, diced
3 cloves of garlic, minced
1 red and 1 green bell pepper, both diced
1 cup of carrots, finely diced
1 cup of celery, diced
1 jalapeño, minced
(1) 28-ounce jar or can of crushed or stewed tomatoes
(1) 14-ounce jar or can of diced tomatoes
(1) 15-ounce jar or can of tomato sauce
Note: Adjust the amount of jalapeño, cayenne, and chili powder to suit your own personal taste. As written, the recipe is moderately spicy.
For the Spices:
3 Tbsp of chili powder
1 Tbsp of oregano
1 Tbsp of basil
2 tsp of cumin
1 tsp of salt
1 tsp pepper
1 tsp onion powder
1/2 tsp of cayenne
For the Garnish:
4 strips of cooked bacon, crumbled
1 or 2 avocados, diced
Instructions
SAUTE onions and garlic together in a large saucepan over medium heat until onion is translucent. Add in ground beef (or turkey) to the saucepan and cook just until browned. Drain excess fat.
TRANSFER the cooked onions, garlic, and meat to your slow cooker.
ADD all the above vegetables and spices (except garnish ingredients) to the slow-cooker and stir to combine.
SET slow cooker to LOW, cover, and slow cook for about 6 hours.
SPOON into individual bowls. Garnish with crumbled bacon and avocado slices if desired
---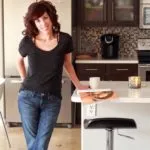 Trina (aka, Paleo Newbie) is a home paleo chef with a love of comfort foods. She regularly shares her recipes on her blog and Instagram and inspires others with tasty, simple meals.
Save
Save