This Grilled Vegetable Salad with Basil Vinaigrette is a fresh, flavorful, easy side option that makes eating your veggies oh-so-easy! We love that it's compatible with both Whole30 and Plant-Based Whole30, as well as naturally gluten-free, dairy-free, egg-free, nut-free, and vegan. It's quick to make yet presents beautifully with so many colors.
Grilling vegetables enhances their flavor and natural sweetness as well as adds a fun smokey flavor. From the crispy bell pepper to zucchini spears, this salad will have you devouring your veggies! Plus, it's packed with a variety of micronutrients that vegetables are known for.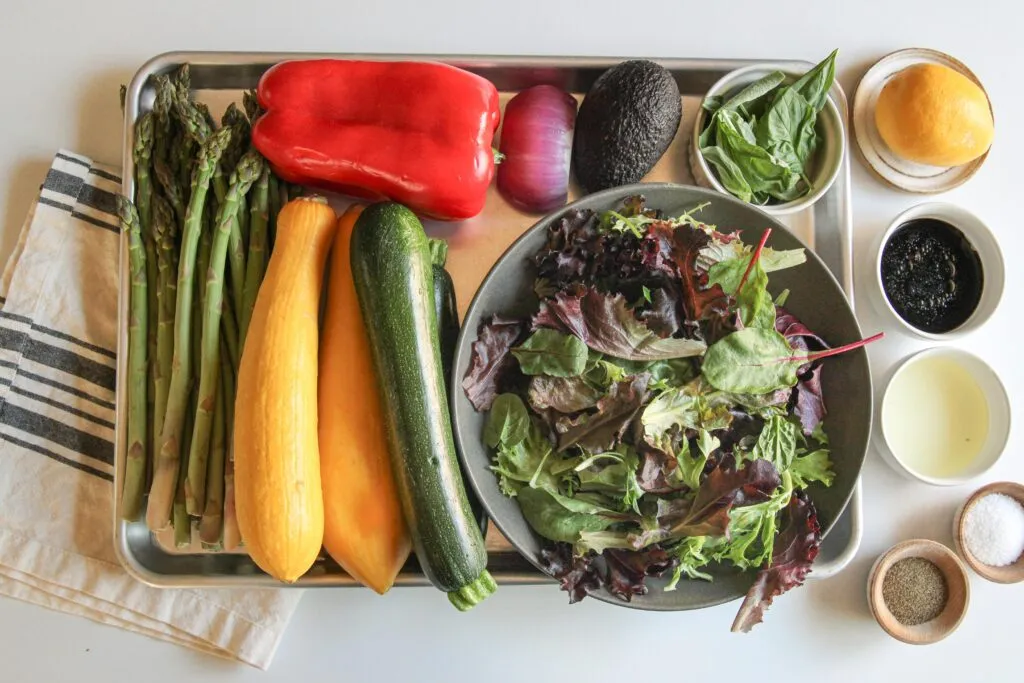 It starts with firing up that grill and chopping your veggies. The veggies are tossed with oil, salt and pepper and then grilled. We intentionally chose vegetables that all cook quickly for a fast grill time and similar cooking times. Once they are grilled, we chop them into bite-sized pieces, add greens and chopped red onion, and toss with a simple basil vinaigrette.
For traditional Whole30 pairings, consider one of our favorite grilled proteins:
Doing a Plant-Based Whole30? Consider pairing this salad with these Plant-Based proteins:
Packed with vibrant colors, our Grilled Vegetable Salad is a delicious, easy, and nutritious side dish that pairs perfectly with all your grill season favorites!
Grilled Vegetable Salad with Basil Vinaigrette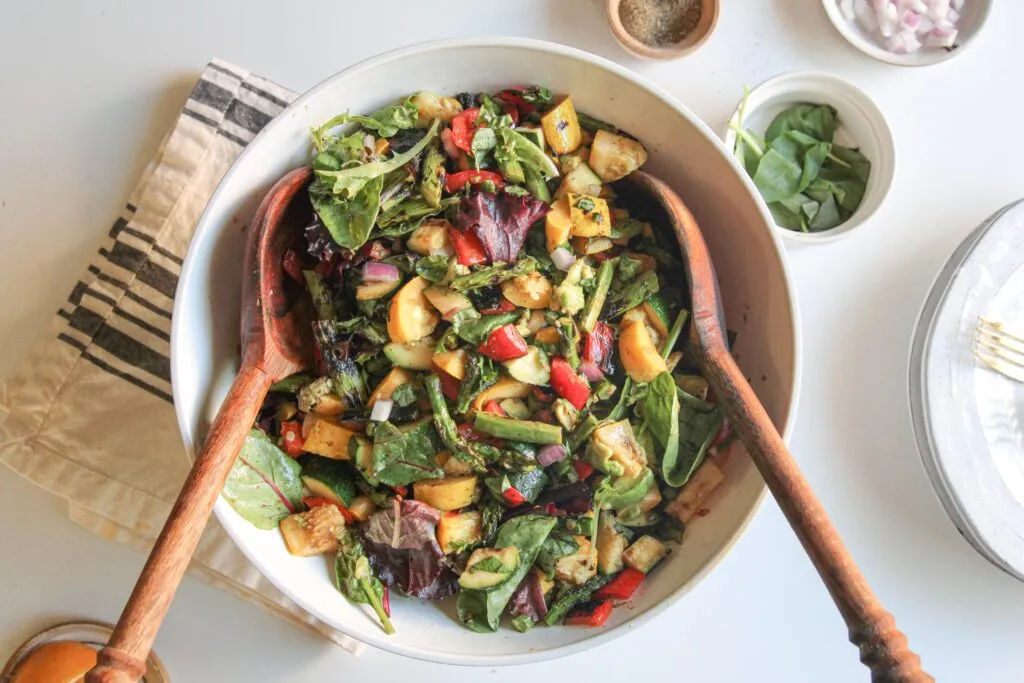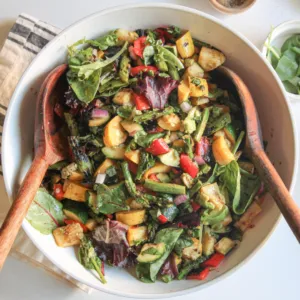 Grilled Vegetable Salad with Basil Vinaigrette
Ingredients
1

bunch fresh asparagus

ends trimmed

2

yellow summer squash

ends trimmed and quartered lengthwise

2

zucchini

ends trimmed and quartered lengthwise

1

large or 2 medium red bell peppers

stems cut off, seeds removed, and quartered

3

tbsp

olive or avocado oil

salt and pepper

1/4

cup

finely chopped red onion

1-2

diced avocados

3

oz

mixed greens

10-12

basil leaves

zest from one lemon

Juice from one lemon

2

tbsp

balsamic vinegar
Instructions
PREHEAT grill to medium high heat.

COMBINE the trimmed or chopped asparagus, yellow squash, zucchini, and bell pepper in a large bowl. Drizzle with 3 tablespoons of olive oil and toss until well coated. Sprinkle with salt and pepper.

GRILL for 2-3 minutes each side or until it has char marks and is tender. Don't walk away from the grill! Some of these will cook very quickly, especially the asparagus and yellow squash. Keep an eye on them and remove them as soon as they are done.

CHOP all the roasted vegetables into bite size pieces and let cool. You can put these in the fridge to cool up to overnight. Remove from the fridge when you are ready to build and eat the salad.

COMBINE in the large bowl the roasted veggies with the onion, avocado, mixed greens, and basil. Sprinkle it with lemon zest, juice, and vinegar.

ADJUST seasonings to taste, adding more salt and pepper as desired. Serve and enjoy!
Autumn Michaelis
Recipe Creator | Whole Food for 7
Autumn Michaelis is an ACSM Certified Exercise Physiologist, with a B.S. in Exercise Science from BYU. Though exercise was her first love in the health world, nutrition has become her passion. She created the blog Wholefoodfor7, sharing easy and budget-friendly Whole30, Paleo, and gluten-free + dairy-free recipes for families. In August 2022, Autumn released the newest Whole30 Endorsed cookbook, Whole Food for Your Family. She is mom to 5 boys (yes 5!) and when not in the kitchen can be found adventuring, hiking, and tearing up the dance floor.