Recipe and Photos by Sarah Steffens
These Whole30 Marinated Chicken Skewers are cooked in the blazing heat of the grill, and then doused in a flavorful sauce made with basil, cilantro, and mint. With a little char around the edges, and a smoky flavor, these skewers make an intriguing main dish that you'll want to have again and again this summer.
Don't let your grill cool down before making Grilled Cilantro Chicken & Shrimp from The Whole30 Friends & Family
Whole30 Marinated Chicken Skewers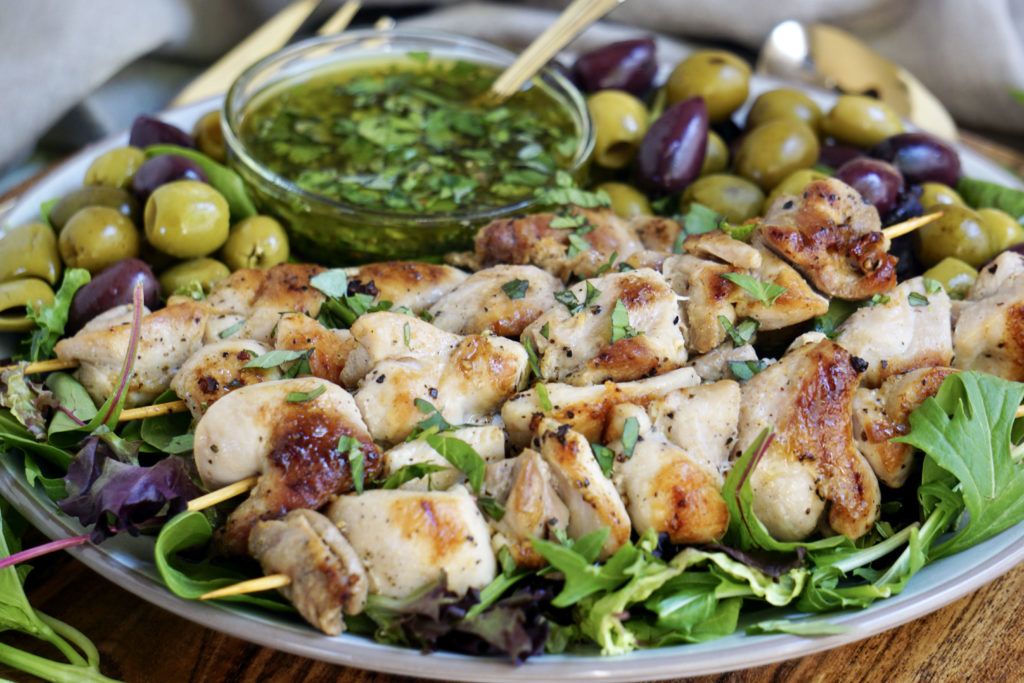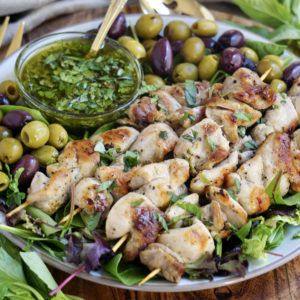 Whole30 Marinated Chicken Skewers
Fresh basil, cilantro and mint liven up a simple marinade of olive oil, red wine vinegar and staple seasonings.  This meal is wonderful served hot off the grill and is perfect to make in advance to enjoy throughout the week in your lunch.
Ingredients
1/4

cup

olive oil

2

tbsp

red wine vinegar

1

tsp

sea salt

1/2

tsp

black pepper

1/2

tsp

garlic powder

1/2

tsp

dried red pepper flakes

1

lb

of boneless and skinless chicken thighs

1/2

cup

fresh basil leaves

1/2

cup

cilantro

1/4

cup

fresh mint leaves

1

cup

pitted olives

(look for varieties with Whole30 ingredients)

4

cups

mixed lettuce

5

skewers
Instructions
Whisk together your olive oil, red wine vinegar, sea salt, black pepper, garlic powder and red pepper flakes and store in a ramekin or small bowl.

Minced basil, cilantro and mint and set aside.

Cut chicken thighs in 1 ½"-inch bite-sized pieces and place in a bowl. Drizzle with about 1/3 of the marinade and allow to come closer to room temperature for about 25-20 minutes prior to grilling. While chicken is marinating, soak your skewers in water (if using wooden).

Add minced herbs to the remaining 2/3 of the marinade to be served with your skewers.

Thread each skewer so that the chicken pieces are close to each other without gaps.

Heat a grill pan to high heat and when very hot, carefully place each skewer on the pan and do not move once in so that they each get good grill lines on them. Allow to sear about 5 minutes per side.

While chicken is grilling, arrange mixed lettuce on a large serving plate. This is where your skewers will be served. Set marinade on the plate. Add mixed olives to the plate.

When your chicken is done grilling, carefully remove them from the grill pan and set on top of the mixed lettuce.

Serve between 4 (a skewer per person with 1 extra), storing any leftovers in the fridge for up to 3 days.
You Might Also Like…
---
Sarah Steffens
Recipe Developer
Sarah Steffens, our Recipe Developer, has a B.A. in Business Administration, Public Relations from The Master's University in Southern California. After years of experimenting with nutrition and recipes in her own kitchen, she now works as a Personal Chef and Food Photographer in Sacramento, creating meals that support her client's intention to physically and mentally thrive. She has catered several independent film sets, making it her goal to optimize the energy and well-being of each creative crew. You can find many of Sarah's recipes in various Whole30, Paleo and Keto cookbooks. When Sarah is not cooking and styling recipes, you can find her enjoying a long walk, working on creative projects with loved ones or exploring beautiful Northern California.