Here in the U.S., we've officially hit the "don't turn the oven on" phase of summer. To keep your kitchen cool, we've rounded up seven delicious recipes from our Whole30 Recipes Instagram feed. These are all delicious and satisfying No Cook, Grill or Instant Pot recipes that you can put on repeat all season until the temperatures cool down.
[Tweet "Don't turn on your oven! Keep your kitchen cool with No Cook, Grill and Instant Pot recipes you'll want to eat all summer long."]
Grill | Five Ingredient Blackened Chicken with Broccoli Slaw from Whole Food For 7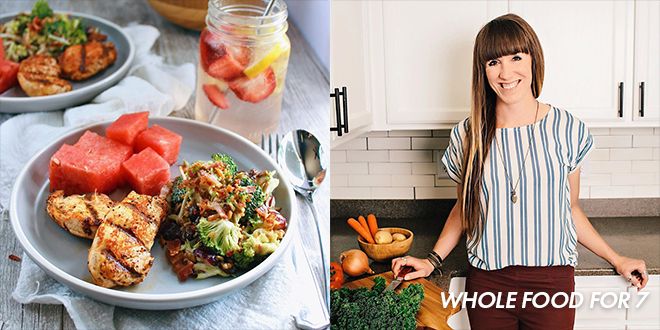 Ingredients for the Blackened Chicken
1 teaspoon paprika
1/2 teaspoon dried thyme
1/4 teaspoon salt
1/2 teaspoon pepper
1/4 teaspoon onion powder
1/2 teaspoon ground cumin
2 medium chicken breasts
Instructions for the Blacked Chicken
COMBINE in a small bowl everything but the chicken. Heat a large skillet on the stove on high heat, or heat your grill to high heat.
RUB mixed spices onto chicken breast, trying to get it on all sides and as even as possible. Spray or lightly coat skillet with oil/compatible cooking spray. Place chicken in the pan.
COOK Place on the pan or grill and don't move for 5 minutes. The high heat will create the "blackened" effect of this chicken. Flip over and cook on high heat for another 5 minutes. If still not cooked, reduce to medium heat and covered (or close the grill lid) for 5 more minutes, until no longer pink in the middle.
Ingredients for the Broccoli Slaw (no cook)
6 cups raw broccoli florets
2 cups broccoli slaw (or sub 2 more cups florets)
8 slices of compatible bacon (optional but delicious!), cooked & crumbled
1 cup red seedless grapes, halved or quartered
1/2 cup sliced almonds or chopped cashews
1/2 cup sunflower seeds
1/2 cup raisins
1 cup compatible mayo
6 dates + 1 cup hot water
2 tablespoons red wine vinegar
Instructions for the Broccoli Slaw
SOAK dates in hot water in small bowl or cup.
TRIM broccoli florets. (This step is opitional, but the texture of the salad is best when the florets are small and without a lot of stem.) Combine dry ingredients (broccoli through raisins) in a large bowl.
BLEND together mayo, softened dates (throw out the hot water) & vinegar in a blender or small food processor. Stir mayo mixture into dry ingredients.
SERVE cold. Store leftovers in fridge.
No Cook | Poke Inspired Bowl from Jacob Heath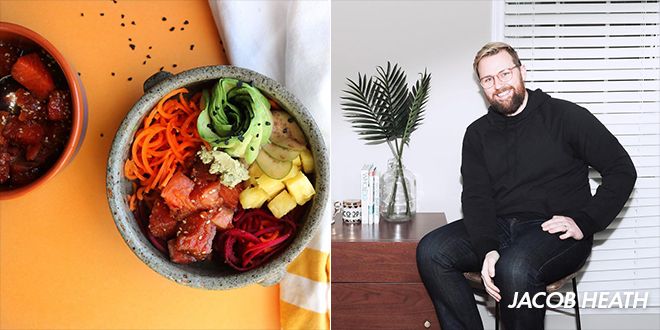 Ingredients
1 lb fresh salmon, diced
1 cup coconut aminos
1 tsp fish sauce
1 tbsp grated garlic
1 tbsp grated ginger
1 tsp sesame seeds
2 tsp sesame oil
Spiralized veggies of choice
Diced fruit of choice (pineapple, mango, or your favorite fruit)
Avocado
Wasabi (check ingredients for Whole30 compliance)
Black Lava Salt (or your favorite salt for garnish)
Ingredients
IN a large bowl or measuring cup, whisk aminos, fish sauce, garlic, ginger, sesame seeds, and sesame oil. Place salmon in container, pour sauce over the top, and marinate for 1 hour.
BUILD your bowl as you please: start with spiralized carrots and beets, then layer fresh fruit, 1/2 avocado per bowl, pickled baby cucumbers, a little wasabi, 2 "scoops" of the marinated protein, and top with black lava salt.
No Cook | Chicken Salad BLT Avocado Cups from Paleo Paparazzi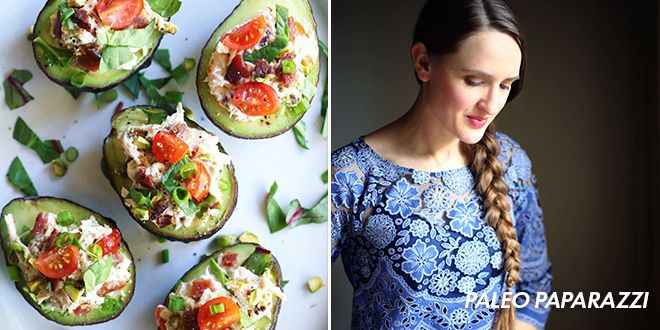 Ingredients
3 large avocados, halved and pitted
1 1/2 cups cooked rotisserie chicken, shredded (check the ingredients of the rotisserie chicken to be sure it's Whole30 compatible)
15 cherry tomatoes, quartered
5 pieces cooked compatible bacon, crumbled
6 Tbsp of compatible mayo like Primal Kitchen Foods
1/4 cup greens, chopped
25 dry roasted unsalted pistachios, shelled & chopped
Salt & pepper, to taste
Sliced green onion for garnish (optional)
Instructions
SET aside a small portion of tomatoes, bacon, greens and pistachios to dress on top. Slice avocados in half, lengthwise. Remove the seed and discard.
IN a large bowl, add chicken, mayonnaise, tomatoes, bacon, greens, pistachios, salt and pepper. Mix until well combined. Scoop a generous amount of chicken salad into each avocado half.
TOP with remaining tomatoes, bacon, greens and pistachios and enjoy!
Instant Pot | Baby Back Ribs with Dry Rub from Mark Sisson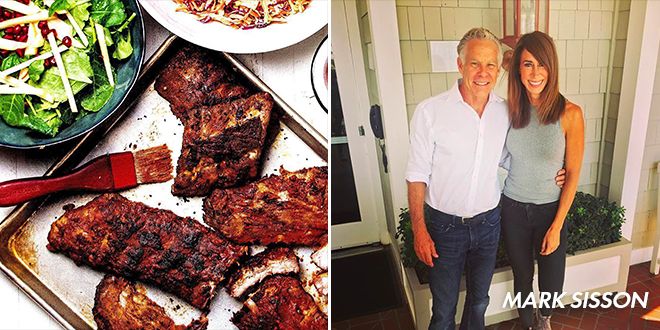 Ingredients
1 tsp yellow mustard seeds
2 tsp cumin seeds
1 tsp coriander seeds
1/3 cup paprika
1 tsp garlic powder
1 1/2 tsp cinnamon
1/2 tsp black pepper
2 racks short ribs
Your favorite Whole30 Approved BBQ sauce
Instructions
GRIND the mustard, cumin, and coriander seeds into a fine powder. Add to a small bowl with the rest of the the ingredients (except for the ribs) and combine to create the dry rub.
REMOVE the membrane from the back of the baby back ribs by getting a butter knife under it and then using a paper towel to grab hold and pull away. Rub spices into ribs. Refrigerate for at least an hour.
POUR about a cup of water into the bottom of your Instant Pot or pressure cooker. Stand the ribs up on the sides. Cook for 25 minutes. Release for 10 minutes.
FIRE up your grill. Slather on the BBQ sauce and grill for 2-3 minutes a side.
No Cook | Easy Whole30 Buffalo Chicken Salad from All The Healthy Things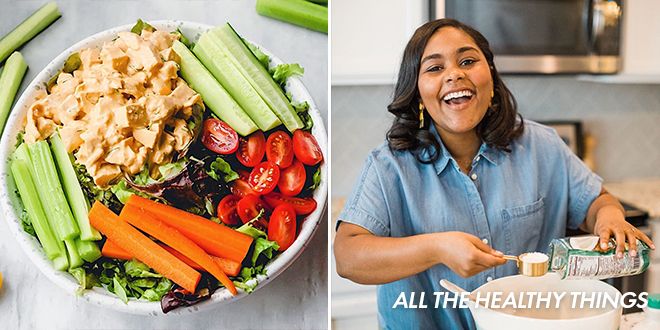 Ingredients
2 1/2 cups cooked and diced boneless, skinless chicken breast⠀
1/2 cup Whole30 Approved or compatible mayonnaise ⠀
1/2 cup Whole30 Approved or compatible buffalo sauce
2 tbsp chopped fresh chives⠀
1 tbsp chopped fresh dill⠀
1/2 tsp salt (plus more to taste)⠀
1/2 tsp onion powder⠀
1/2 tsp garlic powder⠀
1 tablespoon fresh lemon juice⠀
mixed greens, for serving⠀
carrots, for serving⠀
celery, for serving⠀
tomatoes, for serving⠀
cucumber, for serving
Instructions
ADD all of the ingredients from the chicken to the lemon juice to a large mixing bowl. Stir until well combined. ⠀
⠀
SERVE immediately over mixed greens or store in an air-tight container in the refrigerator for 3-4 days.
No Cook | Cauliflower Rice Sushi from Lisa McLeod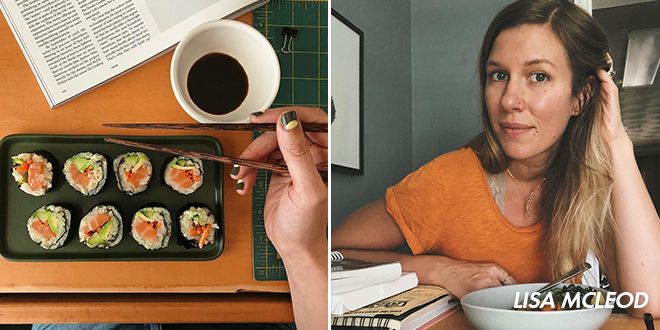 Ingredients
Compatible Nori (seaweed wraps)
Riced cauliflower (you will need a scant cup for each roll you want to make)
Matchstick cucumbers (peel before slicing!)
Matchstick carrots
Sliced avocado
Sliced complaint sushi grade fish of choice
Coconut aminos
Any desired garnishes: black sesame seeds, homemade compatible sriracha, Whole30 Approved Chipotle Mayo from Primal Kitchen Foods, etc
Bamboo sushi mat
Instructions
STEAM the riced cauliflower in a bowl. Cover tightly with plastic wrap with a few holes punched through, and microwave for about 3 minutes give or take depending on your microwave.Keep in mind that you want to limit the amount of moisture with the cauli rice, otherwise you will end up with a soggy roll. Allow the steamed cauliflower rice to cool before you begin assembly.
LAY out your nori sheet with the textured side up on your sushi mat. Spread the steamed cauli rice over the nori in one smooth layer, leaving about an inch or so uncovered at the far end.
Add your ingredients along the edge closest to you, keep it in a thin line; if you over stuff it you will have some difficulty rolling it.
With the side of the fillings closest to you, begin pulling up on the mat to pull it over the filling, and tucking the edge of the nori down on the other side of the filling. This is your first roll! Press down on the mat to squeeze it tight, and continue rolling by pulling the mat. Make sure to keep things tight as you go. Once you get to the end with the one inch or exposed nori, use a few drops of water to hep the nori stay closed by sticking to itself.
USING a sharp knife, carefully slice into eight even pieces. Garnish if desired.
Shanna
Chief Content Officer
Shanna Keller, our Chief Content Officer, hails from Boise, Idaho, where she lives with her husband Alan and a poorly-behaved terrier named Olly. She has spent her career telling stories of life transformation on social, web, e-mail and print media platforms. In addition to celebrating Whole30 successes and stories online, Shanna loves to cook, read, and climb.