You've certainly seen Ronny Joseph Lvovski during one of his famous Whole30 Recipe Instagram takeovers. (His Whole30 Greek Burger is one of the most-liked recipes ever on that feed.) Every time he's on the account, we get messages from legions of fans: "This man needs his own cookbook."
Well, we agree. And we are thrilled to announce that The Primal Gourmet Cookbook is available for pre-order now and on sale everywhere on September 1. Of course, it's Whole30 Endorsed.
The Primal Gourmet Cookbook includes over 120 recipes, and 100 are Whole30 or easily modified to be so. We're particularly excited about the Mojo Loco Chicken Wings and the Grilled Shrimp Cobb, but honestly, every single recipe is fantastic. Narrowing it down is an impossible task—you'll just have to nab a copy of the book and see for yourself. Today, we're previewing Ronny's Whole30 Chimichurri Sauce: Cha Cha Chimichurri. This recipe is a fantastic complement to any variety of grilled meat, and as a topping for your favorite veggies, too. Enjoy!
This chimichurri sauce is good on almost everything, but we recommend Primal Gourmet's Grilled Chimichurri Pork Chops.
Use the links above to browse the Amazon listing for this book. Consider pre-ordering your copy from one of these Black-owned bookstores.
Whole30 Chimichurri Sauce from The Primal Gourmet: Cha Cha Chimichurri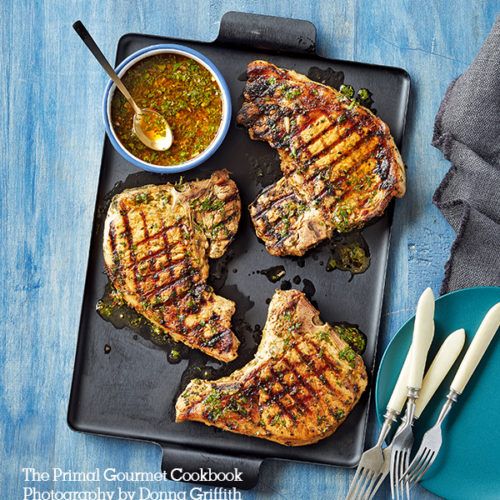 Whole30 Chimichurri Sauce from The Primal Gourmet Cookbook
The next cookbook in the Whole30 Endorsed collection is THE PRIMAL GOURMET by Ronny Joseph Lvovski.
Ingredients
½

cup

boiling water

1

teaspoon

kosher salt

½

cup

finely chopped fresh parsley leaves

½

cup

finely chopped fresh cilantro leaves

¼

cup

red wine vinegar

¼

cup

extra-virgin olive oil 1 shallot

finely chopped

8 to 10

fresh mint leaves

finely chopped

1

garlic clove

finely chopped or mashed to a paste 1 teaspoon dried oregano

1

teaspoon

red pepper flakes

or 1 fresh red chile, such as Anaheim or finger, finely chopped 1 teaspoon smoked Spanish paprika
Instructions
IN a medium bowl, combine the boiling water and the salt. Stir until the salt has dissolved, about 30 seconds, and let the water cool to room temperature.

ADD the parsley, cilantro, vinegar, olive oil, shallot, mint, garlic, oregano, red pepper flakes, and paprika and stir to combine. Transfer to a mason jar, cover, and refrigerate for up to 2 weeks. If you do refrigerate the sauce to use later, let it come to room temperature before serving, as the olive oil will have solidified a bit.

Note: You could make the whole thing right in the mason jar. The glass used to make canning jars is tempered, so the boiling water won't be an issue.
You Might Also Like…
Some links used in this post are affiliate links, meaning Whole30 makes a small commission off of purchases made via our link. Thank you for supporting our Whole30 partners.
Ronny Lvoski
Recipe Creator | Primal Gourmet
Ronny Joseph Lvovski is the author of The Primal Gourmet Cookbook, fully endorsed by Whole30. He is the son of Russian-Jewish immigrants and lives in Toronto with his wife, Catalina, and daughter, Sofia. In 2013, after a lifetime of struggling with obesity, body image and failed diets, he began a health journey that rehabilitated his relationship with food and inspired his popular blog, CookPrimalGourmet.com, where he shares easy and delicious Paleo and Whole30 recipes. Ronny is a self-taught cook, photographer and food stylist. In 2018, he earned a PhD in Art History and Visual Culture, from York University, with a focus in Medieval Spanish Architecture.