Our @whole30recipes Instagram feed brings you delicious, Whole30 compatible recipes all day, every day. And, in our series, The Best of @Whole30Recipes, we bring our favorites to the blog.
One way to keep Whole30 food boredom at bay? Experiment with new ways to prepare familiar vegetables. Today we've gathered six stuffed veggie recipes that combine comforting flavors with creative presentations. Besides being fun and tasty, these meals are also supremely portable, making them a fantastic option for Whole30 meals on the go.
[Tweet "Creative and comforting Veggies Stuffed with Stuff recipes for your #Whole30. #Whole30Recipes"]
Ropa Vieja Stuffed Bell Peppers from Primal Dish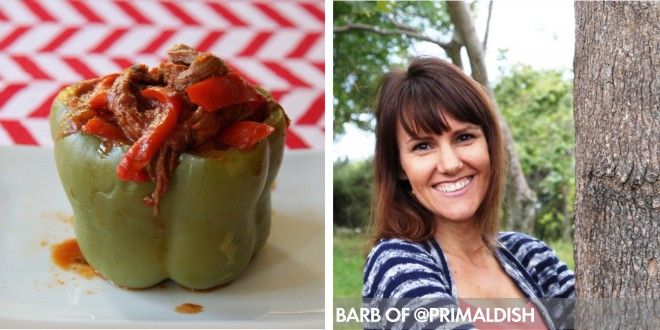 Ingredients
1 tbs of ghee
2 pounds of flank steak (one piece)
1 cup bone broth (or compatible beef broth)
1 jar (8 ounce) of tomato sauce (Whole30 compatible)
2 cloves of garlic, minced
1/2 tsp red pepper flakes
1 jar tomato paste (4 ounce)
1 red bell pepper, seeded and sliced into strips
1 small yellow onion, sliced into strips
1 tsp ground cumin
1 tbs cilantro, chopped
1 tbs of Extra Virgin Olive Oil
1 tbs Apple Cider Vinegar
1 bay leaf
1 jalapeño, seeded and sliced
4 bell peppers (for serving), seeded with tops removed (bowl shaped)
Cilantro leaves, for garnish
Instructions
HEAT ghee in a large skillet (or Dutch oven) over medium-high heat. Once the ghee is heated, add the flank steak and brown on each side, about 4 minutes per side.
TRANSFER steak to a slow cooker. Pour in bone broth and tomato sauce, then add the remaining ingredients. Add in jalapeños if you want a spicier dish. Stir until well blended.
COVER and cook on Low for 8-10 hours.
PREPARE your bell peppers for blanching when your meat is close to being done.
PREHEAT oven to 375. Fill a large, wide pot (or Dutch oven) with water and bring to a boil. Once boiling, add bell peppers and let simmer for two minutes. Pull out peppers with tongs and rinse with cold water.
REMOVE the bay leaf, then stuff each pepper with Ropa Vieja and bake for 20 minutes.
Chorizo and Potato Chiles Rellenos from Dirty To Whole30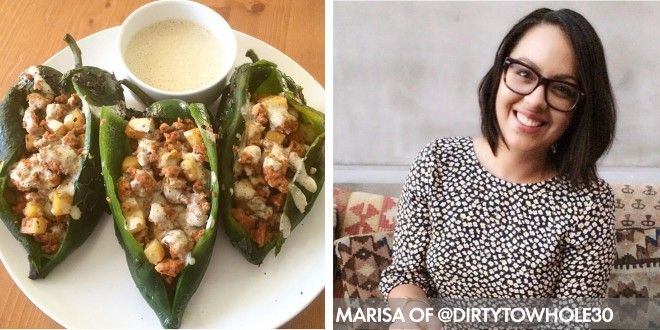 Ingredients
4-5 Poblano chili peppers or Anaheim/California chili peppers
For the chorizo seasoning:
1lb ground pork (you can always sub with beef, chicken or turkey)
3 cloves of garlic (minced)
1 tsp cayenne pepper
1 tbs paprika
1/2 tsp dried oregano
3 tbs apple cider vinegar
1 tsp cumin
1/8 tsp cinnamon
1 tsp salt
1/2 tsp coriander
1/2 tsp pepper
Instructions
ROAST peppers over an open flame on your stovetop (the fastest way to get that charred smoky skin) or broil them in the oven, being careful to flip them to char evenly.
PLACE hot, charred peppers into a plastic bag to allow to steam for 10 min. After 10 min, remove from bag and peel skin using a dry paper towel (this process softens the skin and makes it easier to remove).
MAKE a slit down the middle of the chile (careful not to cut through the bottom layer!) and remove the seeds and ribs.
MIX all ingredients together with ground meat and let sit for at least 30 min.
ADD 1 large diced potato to a heated and oiled pan (avocado/extra virgin olive oil/coconut oil).
COOK for 10 min and add chorizo mixture. Cook fully.
ASSEMBLE mixture into chiles. Serve with your favorite Whole30-compatible sauce and enjoy!
Slow & Steady Pulled Pork from Paleo Dish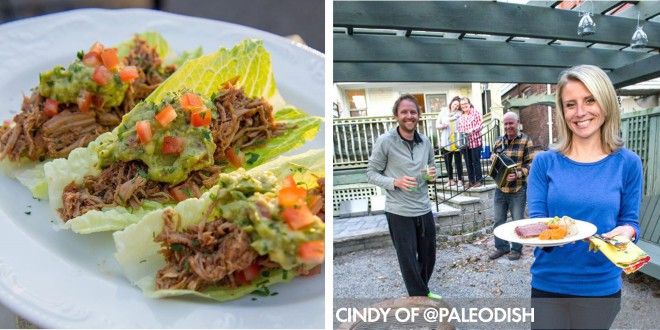 Ingredients
3 to 4 lb pork shoulder, boneless
6 fresh garlic cloves, halved
generous amount sea salt and ground pepper
1 (3⅓ cups) can diced tomatoes
1 cup beef broth (homemade is best, check ingredients)
1 tsp black peppercorns
1 tbsp ground chipotle powder
1 tsp ground cumin
1/2 tbsp chili powder
Instructions
MAKE tiny slits in your pork shoulder with a small sharp knife. Using your hands, stuff these slits with garlic cloves.
RUB with a generous amount of sea salt and ground pepper. Place pork shoulder in slow cooker and add in diced tomatoes, broth and peppercorns.
COOK on the high setting and let cook for 4 to 6 hours or on low for 8 to 10 hours. When cooking time is complete, remove meat from slow cooker and let sit on a cutting board.
RETURN to your slow cooker and remove all the liquid and tomatoes by pouring it into a large glass measuring cup. Using a fork, shred the pork completely into long strands.
TRANSFER shredded pork back into the slow cooker and add in spices and about 1 cup of the liquid you just poured out, plus all of the cooked tomatoes using a slotted spoon.
STIR and mix thoroughly. Turn the setting to warm and the pork can be served directly from there when you are ready.
SCOOP pulled pork into lettuce "shells" and enjoy!
Sweet Potato and Bison Stuffed Poblano Peppers from The Defined Dish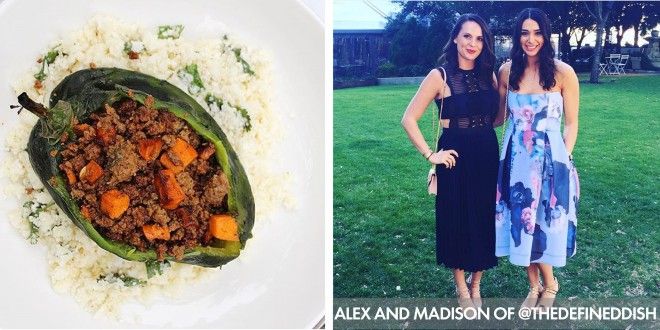 Ingredients
4 large poblano peppers
1 cup of small diced sweet potato
1 lb. grass-fed ground bison
Salt, to taste
Black pepper, to taste
1/2 teaspoon paprika
1 teaspoon chili powder
1/2 tsp. cumin
1 clove garlic, minced
1/2 cup salsa of choice (check your labels!)
1/4 cup freshly chopped cilantro
Instructions
HEAT two tbsp. oil over med-high heat. Saute sweet potatoes with a little salt and pepper until tender, about 7 minutes. Transfer to a plate, set aside. In same skillet, add the ground beef with the spices and the garlic. Brown the meat, breaking it up until cooked through (no longer pink).
TURN heat down to low, place sweet potatoes back in skillet with the drained meat, and add in salsa and cilantro. Cover and keep warm while you prepare the poblano peppers.
SET oven to broil. Place your poblanos on a baking sheet and then in the oven on the top rack, directly under the broiler. Turn every few minutes until they are charred on all sides. Remove the poblanos from the oven. Place the poblanos in a zip lock bag (or in a bowl covered with saran wrap.) Seal the bag closed and let the poblanos steam for about 5 minutes.
REMOVE the poblanos from the bag and peel off the charred skin. Cut a slit lengthwise down each one and using a spoon carefully remove the seeds. Place the poblano peppers, slit side up, on a plate. Stuff them with the ground beef blend and serve over cauliflower rice. Enjoy!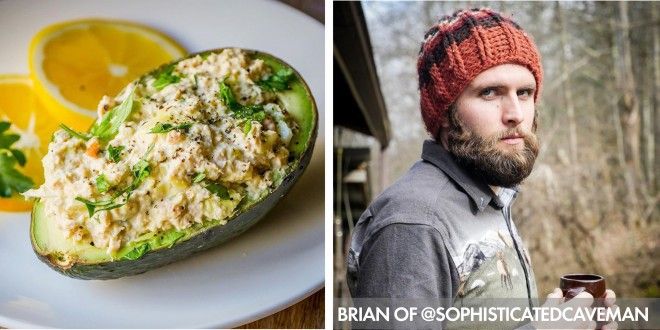 Ingredients
1 ripe avocado
6 oz Whole30-compatible canned salmon
2 green onions, minced
1 tablespoon fresh dill
1 tablespoon fresh parsley
1/4 cup mayonnaise (homemade or Whole30-compatible)
2 teaspoons lemon juice
sea salt and pepper to taste
Instructions
CUT the avocados in half lengthwise and remove the pit.
SCOOP a small amount of the flesh into a mixing bowl and add in the remaining ingredients. Stir until just combined (try not to over-mix).
FILL the avocado shells with the mixture and enjoy!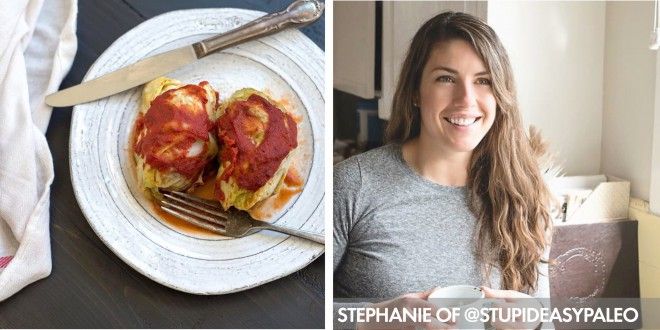 Ingredients
1 large head of green cabbage
1 lb grassfed ground beef
1 lb lean ground pork
1 tbsp coconut oil
½ white onion, diced finely
1-1/2 cups of riced or grated cauliflower
½ tsp garlic powder
½ tsp sea salt
1 tsp black pepper
8 oz crushed tomatoes
4 oz tomato sauce (not pasta sauce)
Instructions
MIX the beef, pork, garlic powder, salt and pepper in a large bowl.
SET a large pot of water on the stove over high heat. To prepare the cabbage for rolling, you'll lightly boil it whole and peel the leaves off a few at a time. Cut the core out of the cabbage and place in the pot. Bring to a boil and then reduce the heat to a simmer. As the leaves soften, you can peel them off with a spoon. Alternatively, you can throw the whole cabbage in and let it simmer for about 15 minutes. The outermost leaves will become very soft but still usable. Peel as many of the leaves off as you can and let cool a bit.
IN a large skillet over medium-high heat, add a tablespoon of coconut oil or your fat of choice. Add the onion and grated cauliflower and sauté for 3 to 5 minutes until the onion is translucent and the cauliflower is softened. Turn off the heat and allow to cool for 5 minutes.
COMBINE the onion and cauliflower with the meat, and mix by hand to incorporate all the ingredients.
Roll the cabbage rolls by holding a cabbage leaf, concave side up with the stem toward you, and placing a large spoonful of the meat mixture at the stem end. Then roll forward, fold the sides in and end with the seam down.
MIX the crushed tomatoes and tomato sauce in a bowl. Put a scant 1 cup in the bottom of the slow cooker (or casserole dish). Lay the cabbage rolls in with the seam side down. Cover with the remaining tomato mixture once the slow cooker is full. For a slow cooker, cook on low for 5 hours. If using the oven, cover the top of the dish with foil and bake for 90 minutes at 350F.
[Tweet "Stuffing your veggies never looked so good! Check out these fresh #Whole30 ideas. #Whole30Recipes"]
Jen Kendall
Whole30 Approved Program Manager
Jen Kendall, our Whole30 Approved Program Manager, is a born and raised Floridian who now lives in Utah with her husband Quinn and their two-year-old boy Easton. She graduated the University of Florida in 2010 from the College of Journalism and Communications and has a strong interest in nutrition, health and exercise. Jen has an insatiable appetite for travel and adventure and also loves books, spending time in the kitchen cooking and experimenting with recipes, Crossfit, and enjoying as many days as possible in the outdoors year-round.