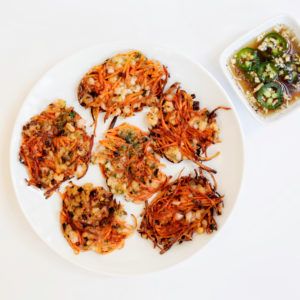 Ukoy (Shrimp and Veggie Fritters)
This simple Filipino dish is full of flavor and comes together quickly. Alexis Rivera (she/her) is a 2nd generation Filipino American and of Spanish, English, Chinese, and Polynesian decent. She comes from a long line of extraordinary cooks and was taught by her father, titas (aunts), lola (grandmother) and abuelita. Alexis has reconnected with her many cultures and bonded with her family as she finds new, healthier ways to prep the foods she and her family grew up eating and loving without abandoning her roots.
Ingredients
1

cup

shrimp

thawed

3

green

onions

thinly sliced

2

bags

shredded carrots

about 1 lb

2-3

tbsp

arrowroot powder
Instructions
SQUEEZE any excess water from shrimp with a clean towel and roughly chop.

COMBINE 2 bags of shredded carrots with the shrimp and green scallions.

PREHEAT large skillet with plenty of avocado oil, about 1/2 inch from the bottom of the pan.

GENTLY drop a small handful of your shrimp and veggie mixture in the oil and shallow fry on med-high heat. Watch closely and adjust heat if they brown too quickly. Turn occasionally to crisp evenly.

DRAIN on a paper towel or cooling rack and immediately sprinkle with sea salt.
Notes
To make the dipping sauce known as Sukang Sawsawan, mix ⅓ cup of apple cider vinegar, one pressed garlic clove, and 1 sliced serrano pepper or 2-3 labuyo peppers. Salt and pepper to taste.
Photo by
Sarah Steffens.
You Might Also Like…