Our @whole30recipes Instagram feed brings you delicious, Whole30 compatible recipes all day, every day. And, in our series, The Best of @Whole30Recipes, we bring our favorites to the blog.
You can call these dishes appetizers, first courses, tapas or snacks. They're creative, unexpected, and made from 100% Whole30-compatible ingredients. They're also incredibly tasty. And who knows? After experiencing how creative and yummy these Whole30 appetizer recipes are, your best friend or your great aunt might just hop on board the #JanuaryWhole30 train.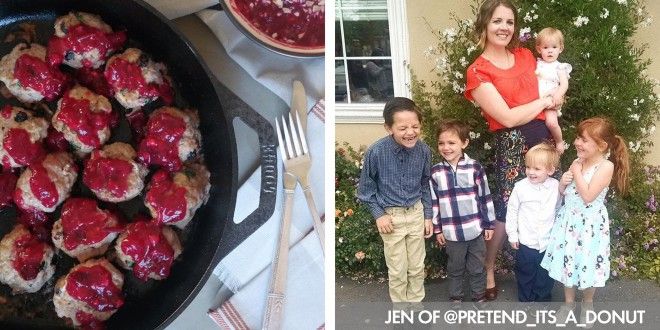 Turkey Sage Meatballs with Cranberry Sauce from @pretend_its_a_donut
INGREDIENTS
2 lbs ground turkey
5 fresh sage leaves, finely chopped (or 1 tablespoon dried sage)
1 egg
1 tablespoon ghee
Handful of chopped spinach
Pinch of salt and pepper
Compatible Cranberry Sauce
Optional: dried unsweetened cranberries
INSTRUCTIONS
HEAT ghee in a skillet over medium heat. Meanwhile, combine the rest of the ingredients (except for the cranberry sauce) in a large bowl. Using your hands, mix well then form into balls.
PLACE meatballs into hot pan. Cook for about 5-7 min then roll to another side and cook another 5-7 minutes. Continue cooking meatballs with this meatballs until cooked through.
DRIZZLE cranberry sauce over top and enjoy!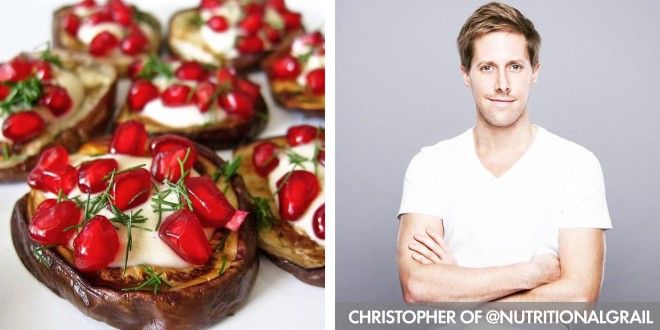 Roasted Eggplant with Pomegranate and Tahini Sauce @nutritionalgrail
INGREDIENTS
5 baby eggplants (or 1 regular-sized eggplant)
2 tablespoons olive oil (or less, for frying)
1 pomegranate
Fresh dill for garnish
Tahini Sauce:
3 tablespoons tahini
2 tablespoons lime or lemon juice
2 tablespoons olive oil
2 tablespoons water
Salt and pepper
INSTRUCTIONS
CUT stems from the eggplants and cut the flesh into 1/2-inch slices.
BRING a saute pan to medium heat with a little olive oil. Fry the eggplant slices until they brown, flipping once. Transfer to a baking sheet and roast the eggplant slices at 350F for another 10 minutes. This helps soften them.
SEED the pomegranate.
MAKE tahini sauce by mixing the tahini, lemon juice, olive oil, and water with a pinch of salt and black pepper. This can be done by hand or in a mini food processor/blender. Mix until the tahini takes on a light and fluffy texture. Add more water if necessary to achieve desired thickness. Mixture should be thick enough that it rests on each eggplant slice, as shown in the photo.
ASSEMBLE the bites by layering some tahini sauce on each eggplant slice. Garnish with pomegranate and dill.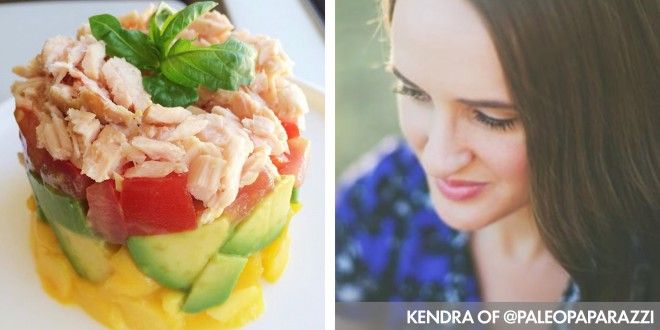 Tuna Stackers from @paleopaparazzi
INGREDIENTS
1/2 cup diced tomatoes
1/2 cup diced mango (sub another fruit or veggie if not available)
1/2 cup diced avocado
1 can of compatible tuna meat
Basil for garnish
INSTRUCTIONS
ASSEMBLE each of the two stacks by tightly layering together in a mold. Use half of each of the tomatoes, mango, avocado and tuna. If you don't have a mold (can buy on amazon) you can use any hollowed-out aluminum can or a circular bottle (the stack pictured above was created using an empty coconut milk can with both sides cut open).
PRESS down on the top layer while slowly removing the mold to reveal the freestanding tuna stack. Repeat with the remaining ingredients to form a total of two tuna stacks.
GARNISH your stack with basil, drizzle the tuna stacks with your favorite dressing and serve.
Chicken Pesto Disks from @thewholesmiths
INGREDIENTS
1 large sweet potato sliced into discs
Olive or avocado oil (for drizzle)
1/2 cup olive oil
2 cup basil
1/4 cup cashews
1/4 cup pine nuts
2 tomatoes sliced
3 cups shredded chicken
Salt + pepper
INSTRUCTIONS
PREHEAT oven to 415
TOSS sweet potato discs in a large bowl with oil of choice and salt + pepper.
LINE two baking sheets with parchment paper. Lay sweet potato discs flat in rows onto baking sheets. Bake for 20 minutes and flip. Bake another 10 minutes until sweet potatoes are slightly brown and crispy.
MAKE pesto by adding olive oil, basil, pine nuts & cashews to a blender. Pulse until combined as a paste. Salt to taste.
LAYER sweet potatoes, pesto, tomato slice, chicken and a bit more pesto.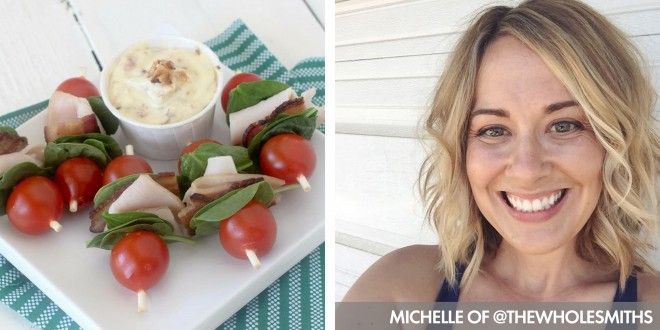 BLT Bites with Bacon Aioli from @thewholesmiths

INGREDIENTS
1/2 cup Whole30-compatible mayo
8 slices of Whole30-compatible bacon, cooked
1 clove of garlic cut into fourths
Whole30 compatible deli turkey (or roasted and diced turkey breast meat)
Cherry tomatoes
Baby spinach
INSTRUCTIONS
ADD 4 slices of bacon and the garlic pieces to a blender or food processor and pulse to create fine bacon bits. Combine bacon and garlic paste to mayo.
LAYER turkey, spinach, tomatoes and bacon onto a wooden skewer. Serve alongside bacon mayo for serving.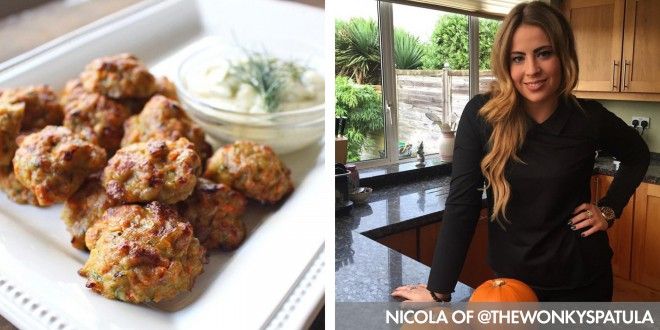 Sweet Potato Bites from @thewonkyspatula
INGREDIENTS
2 sweet potatoes
2 tablespoons olive oil
1 tablespoon dried oregano
1 small white onion, finely chopped
1/2 green bell pepper, finely chopped
1/2 teaspoon ground cumin
1/2 teaspoon cayenne pepper
1/2 teaspoon smoked paprika
4oz pancetta
1 egg
1-2 tablespoons Coconut oil, melted
Salt and pepper as needed
INSTRUCTIONS
PREHEAT the oven to 400F
PEEL the sweet potato and cut into chunks, toss in the olive oil and sprinkle with oregano. Bake in the oven until tender, approx. 15 – 20 minutes depending on the thickness of your chunks.
FRY off the pancetta in some coconut oil until crispy, set aside and add the onion and pepper to the pan, sauté for 2-3 minutes until softened.
MASH the sweet potato in a large bowl, and combine with spices, onion, pepper, pancetta.
ADD the egg, season and mix thoroughly. Use your hands to squeeze and shape the mixture into bites. Lay them out on a baking sheet lined with parchment paper.
BAKE for 10 minutes, drizzle a little coconut oil over the tots and bake for a further 10 minutes before turning. Bake on the opposite side for a further 5-10 minutes, until golden and crispy, serve with some homemade mayo for dipping and enjoy.
Save