Our @whole30recipes Instagram feed brings you delicious, Whole30 compatible recipes all day, every day. And, in our series, The Best of @Whole30Recipes, we bring our favorites to the blog.
Let us guess… you're a little "egg-hausted" this week. How did we know? Either we're highly-skilled mind readers, or we know the Whole30 program really, really well.
Egg-less breakfast recipes are a commonly-requested resource around week three of any group Whole30, so for the #JanuaryWhole30 we've decided to round up some of our favorite egg-free breakfast dishes from the Whole30 Recipes feed and collect them on the blog. Here are six ideas for you to rotate in with your egg-cups and frittatas. (And if you're new to the Whole30, don't miss our other entries in the Egg-less Breakfasts series.)
[Tweet "Don't succumb to "egg-haustion;" six egg-free #Whole30 breakfast ideas. #whole30recipes"]
Harvest Meat & Potato Bowl from The Kitcheneer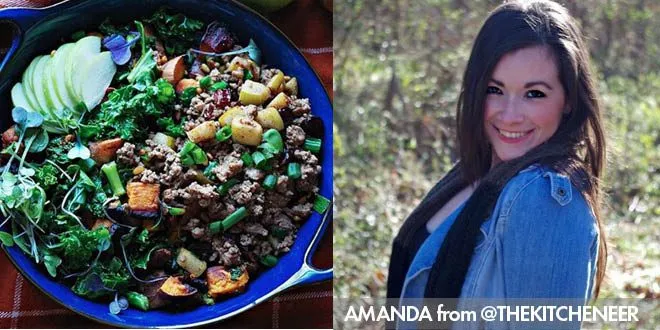 Ingredients
1 granny smith apple, diced
2 tsp ghee
2 tbs compatible dried cranberries
2 tbs dry roasted pepitas
1.5lbs ground pork
1/2 tsp cinnamon
1/4 tsp ginger
1 tsp salt
Pinch ground cloves
Pinch ground nutmeg
Pinch ground allspice
2 scallions
1-2 cups of kale
Micro greens –for garnish
For the Base
2 sweet potatoes, peeled and diced into 1/2 inch cubes
2 tbs olive oil
Instructions
Roast the Potatoes
PREHEAT oven to 405 F. Cut sweet potatoes into cubes. Toss potatoes in olive oil and season with salt and pepper.
PUT potatoes on a parchment lined baking pan and roast in oven for 30 minutes flipping them half way through. While the potatoes bake, heat the ghee in large, nonstick skillet over medium heat, 2 minutes. While it heats, cut the apple into 1/4 inch dice.
ADD the apple, cranberries, and pepitas to the pan with a pinch of salt and cook until the apples are golden and tender, about 5 minutes. While the apple cooks, mix together the salt, cinnamon, ginger, nutmeg, cloves, and allspice in small bowl; set aside.
Cook the Pork
WHEN the apples are done cooking, transfer them to a bowl then place the pork in the skillet, breaking up the meat with a wooden spoon. Add the spices and stir to combine. Continue to cook until the pork is no longer pink. While the pork cooks, slice the scallions and set aside.
RETURN the apple mixture with the kale to the skillet and stir. To serve, scoop pork on the sweet potato home fries.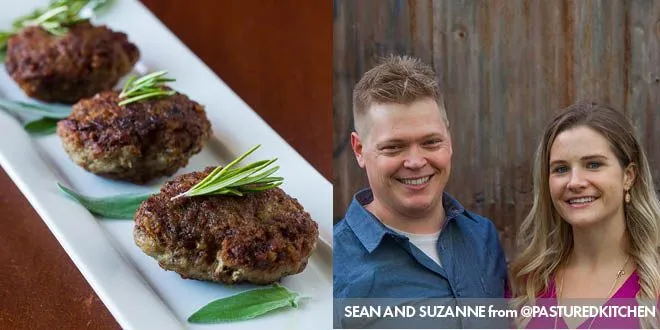 Ingredients
2 lbs ground pastured pork
1 Tbsp fennel seeds
1 Tbsp fresh sage leaves, chopped
1 sprig fresh rosemary, chopped
2 tsp garlic powder
2 tsp sea salt
1 tsp white pepper
1 tsp black pepper
1 tsp cayenne pepper
lard for frying (or other compatible cooking fat)
Instructions
IN a large mixing bowl, combine all ingredients and mix well using your hands. To avoid freezing your hands during this step, allow ground pork to come up to room temperature first. Let sausage mixture stand for about 10 minutes.
MELT lard in a cast iron pan or griddle over medium heat. While pan is heating, form sausage mixture into 3 oz palm sized patties.
WORKING in batches, fry patties in cast iron pan for 4-5 minutes per side. Remove from pan and pat dry. Place any remaining raw sausage mixture in an airtight container in the refrigerator for up to 3 days. Enjoy!
White Sweet Potato Breakfast Hash from Epicure Annie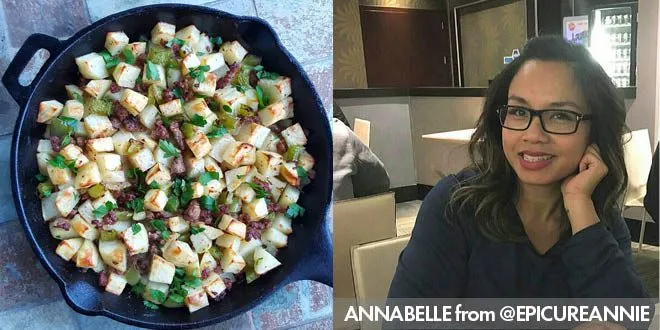 Ingredients
1 tablespoon cooking fat of choice
4 Whole30 compatible breakfast sausages, casing removed
2 medium white sweet potatoes, diced
1 green bell pepper, diced
1 onion, diced
1 tablespoon ghee
1 teaspoon garlic powder
salt and pepper to taste
Instructions
HEAT your oven to 400F. Add 1 tablespoon of your favorite cooking fat to your pan.
ADD sausages and cook until browned, breaking down into smaller pieces, 5-6 minutes. Add your sweet potatoes and allow to cook until they begin to soften 5 minutes.
ADD chopped onions and green peppers. Season with garlic powder, sea salt and pepper. Add 1T of ghee and mix thoroughly. Move to preheated oven for 12-15 minutes until golden and crisp
GARNISH with chopped parsley. Serve immediately.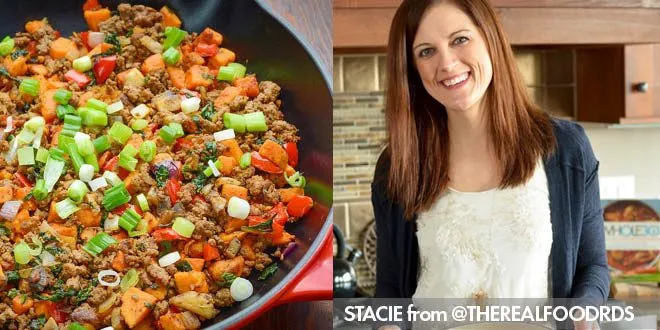 Ingredients
1/2 lb grass-fed ground beef or ground turkey
1 Tbsp. chili powder
1/2 tsp. cumin
1/4 tsp. garlic powder
1/8 tsp. cayenne pepper
1/4 tsp. dried oregano
1/4 tsp. sea salt
1/4 tsp. black pepper
1/4 cup water
1 Tbsp. coconut oil
1 medium sweet potato, diced small (about 1 ¼-1 ½ cups)
1/2 cup diced red onions
1/2 cup diced red pepper
1/2 cup mushrooms, chopped
2 cups spinach, chopped
Fresh Cilantro, Avocado, Green Onions, Salsa (optional)
Instructions
PLACE a sauté pan over medium-high heat. Add beef, seasonings and water to the pan. Cooked until beef is browned. Remove beef from pan and place on paper towel lined plate.
IN the same pan, add ½ Tbsp. of coconut oil and heat over medium-high until it starts to shimmer. Add sweet potatoes, dash with salt and pepper, and sauté for about 10-12 minutes or until cooked through and slightly browned.
ADD remaining ½ Tbsp. of oil, onions, red pepper, mushroom and spinach and sauté for about 3-4 minutes or until vegetables are tender. Garnish with fresh cilantro.
Note: feel free to substitute the seasonings in this recipe with your favorite whole30 friendly taco seasoning blend.
[Tweet "Delicious egg-less breakfast ideas for your #JanuaryWhole30. #Whole30 #Whole30Recipes"]
Save
Save
Save
Save
Save
Save
Save
Save
Melissa Urban
Co-Founder / CEO
Melissa Urban is a 7x New York Times bestselling author (including the #1 bestselling The Whole30) who specializes in helping people establish healthy boundaries and successfully navigate habit change. She has been featured by the New York Times, People, the Wall Street Journal, Forbes, The Today Show, and Good Morning America, and is a prominent keynote speaker on boundaries, building community, health trends, and entrepreneurship. She lives in Salt Lake City, UT with her husband, son, and a poodle named Henry.