Today's special #JulyWhole30 recipe comes from our friend Danielle Walker of Against All Grain.

Mexican Benedict
Serves 4
Chipotle Hollandaise Sauce
1 to 2 dried chipotle chilies
3 large egg yolks
2 teaspoons lime juice
2/3 cup salted clarified butter or ghee, melted
8 large eggs, poached
1 tablespoon Whole30-compatible bacon fat or extra-virgin olive oil
8 cups baby spinach
sea salt and fresh cracked pepper
for serving: avocado slices, fried plantains, fresh cilantro
To make the sauce: Soak the chilies in boiling water for 15 minutes, until softened. Remove the seeds for a more mild sauce, or leave them in for a spicy sauce.  Add the chilies to a blender with the egg yolks and lime juice. Blend until smooth. With the blender running on medium-speed, slowly drizzle in the melted clarified butter or ghee. If sauce separates or is too thick, whisk in a teaspoon of water at a time until it reaches desired consistency.  The sauce can now be stored in the refrigerator for up to 3 days and gently reheated over a double boiler.
Melt the bacon fat in a skillet over medium-high heat and add the spinach. Cook for 2 to 3 minutes, or until it is wilted, then season with salt and pepper to taste. Divide the spinach between 4 plates and top with 2 poached eggs and a drizzle of the Chipotle Hollandaise Sauce.
Serve with avocado, fried plantains, cilantro, and a side of Whole30 Approved bacon if desired. (But bacon is highly desirable, so maybe I should change that to a mandatory side item.)
Danielle's Tip: to poach eggs, bring a deep skillet of water to a low simmer and add 2 teaspoons apple cider vinegar. Reduce the heat so the water is just barely simmering. Working with the eggs one at a time, crack the egg into a small bowl or cup. Place the bowl close to the surface of the hot water and gently slip the egg into the water. Repeat with the remaining eggs, making sure to space them out around the pan. Cook for 4 to 5 minutes, and then remove with a slotted spoon onto a plate lined with paper towels. Poached eggs can be stored in an airtight container filled with ice water in the fridge for 2 days. Gently reheat in simmering water before serving.
---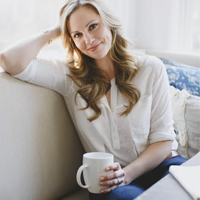 Danielle Walker is the two-time New York Times bestselling author and photographer behind Against All Grain, one of the 10 bestselling cookbooks of 2014, and Meals Made Simple, a collection of gluten-free, dairy-free, and Paleo recipes. After being diagnosed with an autoimmune disease at the age of 22, Walker removed grains, lactose, and legumes from her diet, and started her blog, Againstallgrain.com, to help others suffering from similar ailments. In 2015, she was honored as one of Forbes '30 Under 30' for her work. Her work has been featured with Today.com, Shape, Fitness, ESPN, Food Network.com, The Doctors, Where Women Cook, USA Today, and more.
All photos courtesy of Danielle Walker, Against All Grain.
Melissa Urban
Co-Founder / CEO
Melissa Urban is a 7x New York Times bestselling author (including the #1 bestselling The Whole30) who specializes in helping people establish healthy boundaries and successfully navigate habit change. She has been featured by the New York Times, People, the Wall Street Journal, Forbes, The Today Show, and Good Morning America, and is a prominent keynote speaker on boundaries, building community, health trends, and entrepreneurship. She lives in Salt Lake City, UT with her husband, son, and a poodle named Henry.