Over here at Whole30 HQ, we're embracing summer with fresh and delicious grilled recipes that make the most of summer produce. We snagged THREE exclusive sneak peek recipes from The Whole Smiths Good Food Cookbook that absolutely fit the bill.
[Tweet "Three summer-y recipes from @thewholesmiths Good Food Cookbook. Fire up the grill and enjoy!"]
The Whole Smith's Good Food Cookbook is the debut cookbook from Michelle Smith. It contains 150 delicious, family-friendly recipes to support your Whole30 and Food Freedom. And, it's the very first Whole30 Endorsed cookbook, meaning over half of the recipes are Whole30 compatible (or easily modified to be compatible) and the rest are perfect for your food freedom.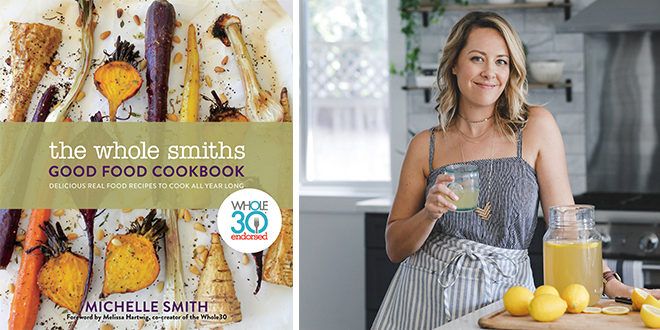 Today, we're sharing her recipes for Strawberry + Balsamic Salmon and Grilled Cabbage Steaks, two recipes we think you should put into your regular summertime meal rotation ASAP. And as a fun bonus, we're also featuring her "No'jito" refresher… a refreshing, minty Whole30 compatible beverage perfect for sipping poolside this summer. Enjoy!
Strawberry + Balsamic Salmon

If someone would have told me back in the day that I'd be eating fish and fruit together on the same plate, let alone in the same bite, I would have thought they were nuts. But I would have been oh-so-wrong, because it's an unexpectedly beautiful pairing. – Michelle
Ingredients
2 teaspoons extra-virgin olive oil, plus more for grill
2 pounds skin-on salmon fillets 1 teaspoon salt
1/2 cup balsamic vinegar
2 cups fresh strawberries, hulled and sliced
6 fresh basil leaves, chopped
Instructions
HEAT a grill to medium-high or heat a large grill pan over medium-high heat. Lightly brush the grill or pan with olive oil.
BRUSH the salmon fillets with 2 teaspoons of olive oil and season with the salt. Place the fillets skin-side down on the grill and cook, covered, until cooked through but not dry, 6 minutes. Flip the salmon and cook for 3 to 5 minutes more, depending on thickness.
IN a small saucepan over medium heat, heat the vinegar until slightly syrupy, 10 to 12 minutes.
TOP the grilled salmon with the strawberries, basil, and a drizzle of the balsamic reduction and serve.
Grilled Cabbage Steaks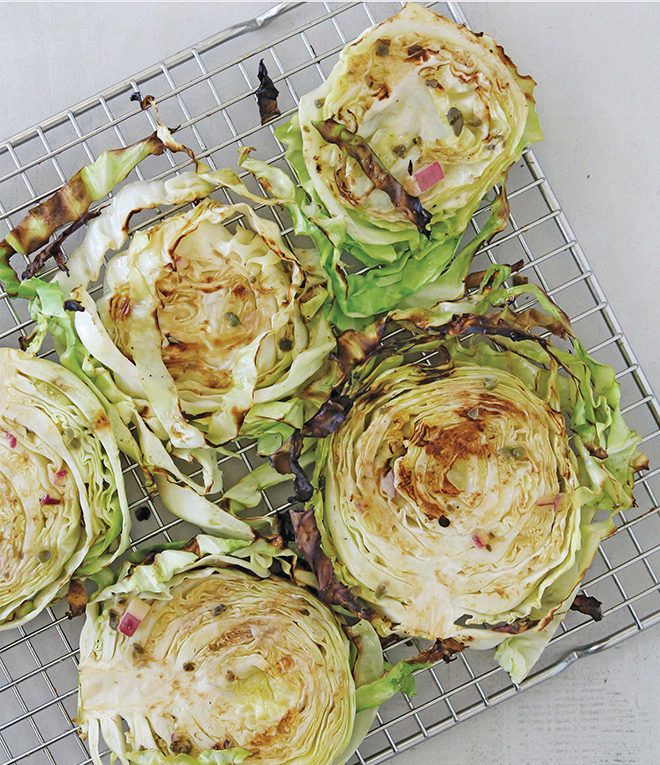 For so long, we shredded our cabbage and ignored all the different ways we could cook it up, like sliced and grilled! The crispy edges of these "steaks" paired with a zesty mustard sauce make it the perfect side dish for any summer barbecue. – Michelle
Ingredients
1/3 cup extra-virgin olive oil
1/3 cup finely chopped red onion (about 1⁄3 medium)
2 tablespoons Dijon mustard
2 tablespoons capers, drained, rinsed, and chopped
2 teaspoons white wine vinegar 1 teaspoon salt
1 head green cabbage, sliced vertically into 1⁄2-inch-wide steaks
Instructions
HEAT a grill to medium or heat a grill pan over medium heat.
IN a medium bowl, combine the olive oil, onion, mustard, capers, vinegar, and salt.
Brush the sauce over one side of each cabbage steak and place the cabbage steaks sauce-side down on the grill or grill pan. Brush the other side of the cabbage steaks with the sauce and cook for 10 to 15 minutes.
FLIP the cabbage and cook until the cabbage is tender and the edges are slightly charred, 10 to 15 minutes.
SERVE with any remaining sauce brushed over the cabbage.
No'jito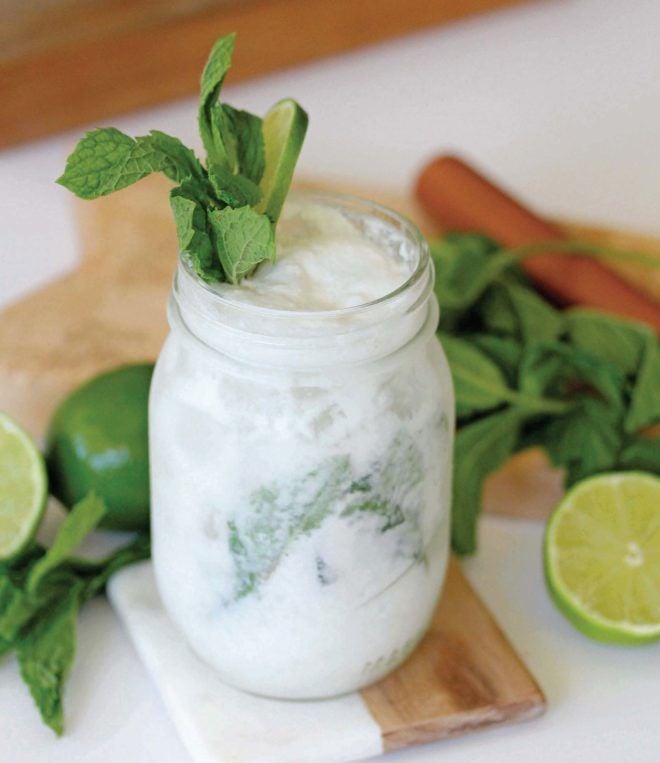 Does life get any better than this No'jito refresher? I think not. This beverage is completely unsweetened and absolutely perfect for hot summer days when you need a refreshing drink that won't leave you feeling like you were hit with a sugar stick. All that, and it tastes like sitting on a quiet beach all alone. – Michelle
Ingredients
1/2 cup coconut-favored sparkling water
1⁄4 cup full-fat coconut milk
1 tablespoon fresh lime juice (from about 11⁄2 lime)
4 or 5 fresh mint leaves, plus more for garnish
Ice
Instructions
IN a measuring cup, stir together the sparkling water, coconut milk, and lime juice.
USING a muddler or the handle of a wooden spoon, lightly mash the mint leaves into the bottom of a glass and fill it three-quarters of the way with ice. Pour the No'jito over the ice and enjoy immediately, garnished with additional mint leaves.
Grab your copy of The Whole Smiths Good Food Cookbook today, and celebrate your food freedom with more than 150 family-friendly recipes!
---
This post contains affiliate links, which means we make a small commission from purchases made via the link. Thank you for supporting our Whole30 partners!
Shanna
Chief Content Officer
Shanna Keller, our Chief Content Officer, hails from Boise, Idaho, where she lives with her husband Alan and a poorly-behaved terrier named Olly. She has spent her career telling stories of life transformation on social, web, e-mail and print media platforms. In addition to celebrating Whole30 successes and stories online, Shanna loves to cook, read, and climb.