This Whole30 summer meal series comes from Maria Barton of MariaMakes.com. If you'd like to submit a recipe, helpful tip, testimonial, or Whole30 article for consideration, email it to [email protected].
Summer is in full swing, and that means turning off the oven and firing up the grill. This is the last recipe in my Grilled Over Greens series, featuring fresh, delicious Whole30 meals for those hot summer days.
[Tweet "Part 4 of our #Whole30 #grilledovergreens series w/ Maria Barton! #whole30recipes"]
From what I can tell, french-fries-on-a-salad is a Pennsylvania thing. My opinion is that everyone should get on this train – minus the deep-fried-in-rancid-vegetable-oil part. In the summer, I hate to heat up my kitchen by roasting potatoes, so instead, I grill potato rounds. They are a smashing success, and paired with the buffalo chicken and homemade ranch this makes a filling, hearty, crowd-pleasing salad. The recipe makes enough for four salads, but I always double the amount of chicken so that I have plenty of leftovers.

So go check those propane tanks or light up those coals… it's time to grill!
Grilled Buffalo Chicken Salad with Grilled Fries & Ranch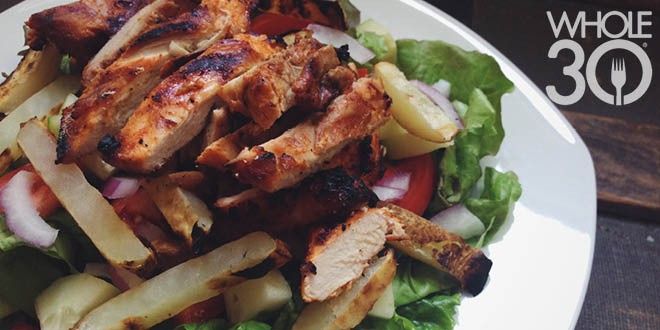 Ingredients
For the Grilled
Chicken
1.25 lb boneless skinless chicken thighs and/or breasts
¼ cup Frank's Red Hot
2 Tbsp apple cider vinegar
1 tsp onion powder
1 tsp garlic powder
1 tsp salt
2 medium russet potatoes
Olive oil
Salt
Pepper
For the Dressing
1 organic egg
1 cup light tasting olive oil
1 Tbsp rice, apple cider, or red wine vinegar
2 tsp dried chives
1 tsp dried parsley
1 tsp dried dill
1 tsp onion powder
1/2 tsp garlic powder
1/2 tsp salt
1/2 tsp freshly ground black pepper
2-3 Tbsp coconut milk or almond milk
For the Greens
12 cups garden lettuce (enough for 4 salads)
1 cup (or more) sliced cucumber
1 cup (or more) halved cherry tomatoes
½ red onion, thinly sliced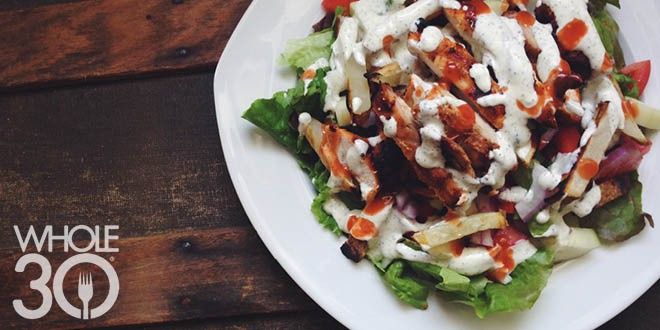 Instructions
Prep the Chicken
CLEAN the chicken, trimming off any excess fat, and placing in a large bowl. If you are using breasts, cut them into strips. Season with onion powder, garlic powder, salt, Frank's Red Hot, and vinegar. Mix with your hands or a large spoon to coat chicken, then set aside to marinate.
Make the Dressing
ADD an egg, 1 cup of light tasting olive oil, and vinegar of your choice to a wide mouth pint mason jar (or the container that came with your immersion blender). Allow the egg to settle to the very bottom. Add the dried spices, then hold the head of the immersion blender so it is almost touching the bottom of the container (down by the egg).
START blending. You will see white mayo start to form at the bottom. As you blend, it will work its way up into the oil. Lift the immersion blender VERY slowly from the bottom of the cup (I'm talking at a snail's pace). By doing this, you are slowly pulling more oil into the egg/oil emulsion. Once you reach the top, most of the oil should be blended in. Move the blender around to make sure you have combined all of the oil. Note: you can also make this dressing in the manner that you prefer to make homemade mayo. See this post for more info about making mayo at home.
ADD in 2 Tbsp of compatible coconut or almond milk. Blend it all together using the immersion blender and test consistency, adding more milk if you'd like it to be thinner. Transfer to storage container of your choice (or put the lid on the jar) and store in the refrigerator for up to a week (if it lasts that long)!
Make the Grilled
PREHEAT the grill to medium-high heat and grease the grates using tongs to hold a bunched up paper towel saturated with olive oil. Scrub and slice potatoes into ½ inch rounds, then spray with olive oil and season with salt and pepper.
GRILL the potato slices at the same time as the chicken, over medium heat, about 5 minutes per side or until cooked through yet still firm. Be careful not to let them burn! Once done, slice into "fries."
GRILL the chicken until it reaches an internal temperature of 165 degrees. Once done, chop it into pieces and add to a bowl along with a few dashes of Frank's Red Hot and a drizzle of Ranch dressing.
Assemble the Greens
PILE four plates high with garden lettuce. Top each salad with sliced cucumbers, halved cherry tomatoes, and red onion. Arrange grilled fries and buffalo chicken on the salads.
DRIZZLE with ranch dressing and few dashes of Frank's Red Hot… and enjoy!
Recipe note: No grill? No problem. You can cook the chicken on an indoor electric grill or griddle, or just bake it at 375 degrees for 15-20 minutes.
---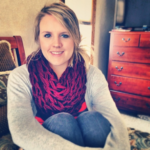 Maria Barton is a home chef, blogger, DIY-er, gardener, wife, and dog mom who is working on finding balance in her life after Whole30. You can find more delicious recipes at MariaMakes.com and connect with her at @mariamakesstuff on Instagram or on Facebook.
Shanna
Chief Content Officer
Shanna Keller, our Chief Content Officer, hails from Boise, Idaho, where she lives with her husband Alan and a poorly-behaved terrier named Olly. She has spent her career telling stories of life transformation on social, web, e-mail and print media platforms. In addition to celebrating Whole30 successes and stories online, Shanna loves to cook, read, and climb.