After completing a Whole30, we know you're looking for ways to incorporate your new, healthy habits into Halloween (a day that is typically anything but). We recruited Whole30 recipe creative Michelle Smith from the whole smiths to reinvent Halloween for her family and yours. This menu is a great way to build new family traditions without sacrificing the spirit of the day. At the very least, they'll help you keep your reputation as "the fun parent" without having to dole out time-outs for candy-related squabbles.
Avocado and Cilantro Spider Eggs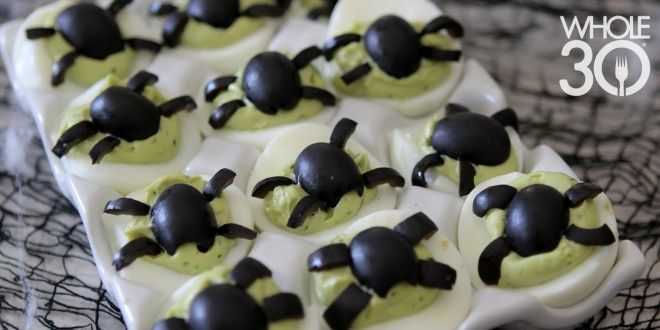 Ingredients
8 hard-boiled eggs
3 Tbsp. compatible mayonnaise
1 Tsp. compatible mustard
1/2 avocado
splash of apple cider vinegar
1 Tbsp. chopped cilantro
1/2 jalapeno ribs removed and chopped (use a whole jalapeño for more heat)
1 can of black olives
1 can of sliced olives
Whole30-compatible hot sauce (optional)
Instructions
SLICE hard boiled eggs in half and remove yolks.
ADD yolks, mayonnaise, mustard, avocado, apple cider vinegar and a pinch of salt to a food processor and process until smooth. Once smooth add in cilantro and chopped jalapeño and pulse until combined. Salt to taste.
FILL fill the cavities of the eggs with yolk mixture (a pastry bag makes this step easier).
TOP with "spiders" by slicing whole olives in half for the bodies. Cut sliced olives in half to use as the spider legs.
OPTIONAL: Top with compatible hot sauce to taste.
Fajita-Stuffed Jack 'O Lanterns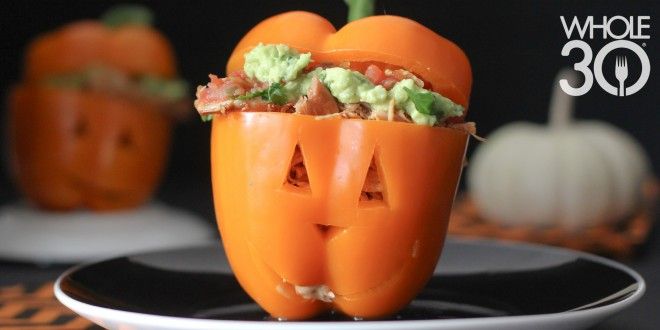 Ingredients
8 chicken thighs
1/2 onion chopped
4 cloves of garlic
1 can of tomato sauce
1 Tbsp. smoked paprika
1 Tbsp. chili powder
2 avocados
2 Tbsp. chopped cilantro
1 lime
salsa
salt
6 bell peppers
Instructions
LIBERALLY season all sides of chicken with salt. Using a slow cooker or pressure cooker (follow manufacturers instructions) cook chicken thighs, onion, 3 cloves of garlic, tomato sauce, smoked paprika and chili powder together until meat is tender and falls off of the bone.
REMOVE skin and bones from thighs and discard. Shred remaining chicken meat and set aside.
CUT top of peppers off and clean seeds and ribs out of main cavity. Using a small paring knife, carve jack o' lantern faces into the sides of the bell peppers.
MASH avocados in a small bowl together with cilantro, remaining clove of garlic (minced) and juice from one lime, salt to taste.LAYER chicken meat, guacamole and salsa into the pepper until you reach the top. Place top of pepper back on and enjoy.
Note: Once the fajita stuffing is eaten, dip the remaining pepper into extra guacamole and salsa.
Ginger Cider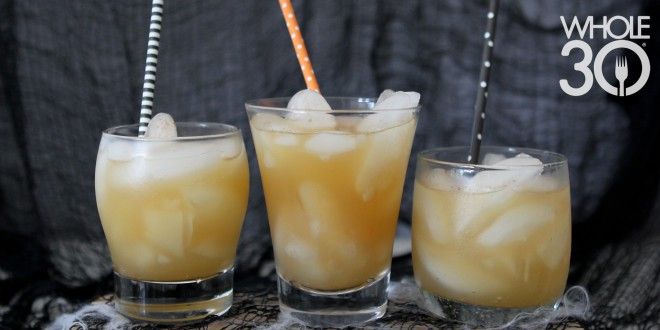 Ingredients
1 large piece of ginger cut into one inch pieces (approximately 5 pieces)
Unsweetened apple cider
1 orange
unflavored sparkling water
large pinch of pumpkin pie spice
Instructions
INFUSE apple cider with ginger pieces overnight.
COMBINE 2 C. of infused cider with juice from 1 orange, pinch of pumpkin pie spice and 1 C. sparkling water.
SERVE in a glass of ice.
---

About our guest blogger, Michelle Smith: I'm a mother of two and a wife to one. I'm officially now in my mid 30's and can say life really does get better with age if you let it. And oh yeah: I'm passionate about the food we eat. I want to show people that wholesome eating doesn't have to be boring and pretentious. I share my perspective on whole, healthy eating at the whole smiths and via my Instagram @thewholesmiths.
Shanna
Chief Content Officer
Shanna Keller, our Chief Content Officer, hails from Boise, Idaho, where she lives with her husband Alan and a poorly-behaved terrier named Olly. She has spent her career telling stories of life transformation on social, web, e-mail and print media platforms. In addition to celebrating Whole30 successes and stories online, Shanna loves to cook, read, and climb.