In gleeful anticipation of the release of our new book, The Whole30: The 30-Day Guide to Total Health and Food Freedom, we'll be giving you a sneak-peek of some of our favorite recipes. Like what you see? You can pre-order The Whole30 using one of the links at the bottom of the page, and start enjoying the tasty flavors of more than 100 brand-new, Whole30 compatible recipes when the book comes out on April 21st. (And don't forget to come see us in person on the Whole30 Book Tour!)
Finally, score some gorgeous PDFs of these recipes by subscribing to Wholesome, our free Whole30 newsletter. We'll be sending you extra updates all month, in preparation for the book's release on April 21st.
Okay, enough talking. Let's feature our third recipe, our Basil Spinach Pesto!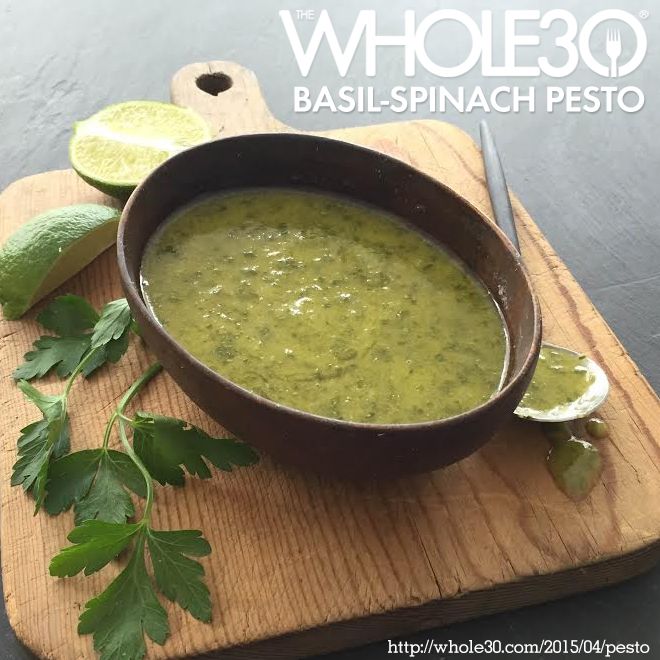 Pesto
From The Whole30: The 30-Day Guide to Total Health and Food Freedom. Makes 2 cups
Prep Time: 10 minutes
½ cup walnuts
3 cloves garlic, minced
3 cups packed fresh basil leaves
1 cup spinach leaves
Juice of ½ lemon
1½ cups extra-virgin olive oil
½ teaspoon salt
½ teaspoon black pepper
HEAT a dry skillet over medium-high heat. When the pan is hot (sprinkle some water on the dry pan—if it sizzles, it's hot), add the walnuts in a single layer and stir or shake frequently until lightly browned, about 2 minutes.
COMBINE the walnuts and garlic in a food processor and pulse a few times to combine. Add the basil and spinach and pulse until coarsely chopped. Add the lemon juice. While mixing on low speed, add the olive oil in a slow stream until all the ingredients are fully blended. Add the salt and pepper and pulse a few more times to combine.
STORE in the refrigerator for up to 2 to 3 days, or freeze in ice cube trays (see technique on page 000).
Use this pesto in place of tomato sauce; try it mixed in with our Italian-inspired Perfect Ground Meat (page 152), or drizzled over Stuffed Peppers (page 222). Another one of our favorite "ingredient" meals is to make Roasted Spaghetti Squash (page 294), add sun-dried tomatoes and Whole30-compatible sausage or chicken sausage, and top with pesto and a sprinkle of pine nuts or toasted walnuts. It's also delicious on eggs, or mixed into your favorite Protein Salad (page 161).
---
Header photo credit: Stephanie Gaudreau
Recipe photo credit: Dallas Hartwig
Order Your Copy Today
THE WHOLE30
The 30-Day Guide to Total Health and Food Freedom
Can you change your life just by changing the food you put on your plate? Our Whole30 program will prove you can, with results you never expected.

In their New York Times bestselling book It Starts With Food, Dallas Hartwig and Melissa Urban explained the science behind their revolutionary approach to food and nutrition. Now, the New York Timesbestselling The Whole30prepares participants for the program in five easy steps, previews a typical thirty days, teaches the basic meal preparation and cooking skills needed to succeed, and provides a month's worth of recipes designed to build confidence in the kitchen and inspire the taste buds.
The Whole30 has transformed the lives of thousands of people around the world. I can't recommend this program highly enough." — CHRIS KRESSER, New York Times best-selling author and functional medicine provider
DETAILS
Purchase: Amazon , B&N , Indie Bound , Powell's , BAM , Hudson , Indigo , Amazon.ca , Amazon.uk , iBooks
Melissa Urban
Co-Founder / CEO
Melissa Urban is a 7x New York Times bestselling author (including the #1 bestselling The Whole30) who specializes in helping people establish healthy boundaries and successfully navigate habit change. She has been featured by the New York Times, People, the Wall Street Journal, Forbes, The Today Show, and Good Morning America, and is a prominent keynote speaker on boundaries, building community, health trends, and entrepreneurship. She lives in Salt Lake City, UT with her husband, son, and a poodle named Henry.