Recipe by Sarah Steffens
Today, we've got something delicious for you: A tasty Whole30 breakfast casserole recipe featuring Whole30 Approved olive oil from our newest partner, California Olive Ranch®.
Whether you're whipping up a frittata or marinating chicken to throw in the air fryer, California Olive Ranch has the perfect Extra Virgin Olive Oil blend. Founded by a group of families more than 20 years ago, California Olive Ranch set out to create the best EVOO in the game (and keep it affordable!) with olives grown, harvested, and processed on California soil. They have since expanded with their globally-inspired Destination Series blends, but their focus remains the same. Throughout every step of the process, they put quality, sustainability—and their people—first. Oh, and their olive oils? You can taste that goodness in every drop.
We wanted to show you how to put three popular California Olive Ranch blends to work in your Whole30 recipes. The Everyday EVOO is a jack-of-all-trades, the Miller's Blend is a finishing oil with a burst of flavor, and the Mild Blend is subtle enough for the most delicate recipe. Here's how to make the most of your new favorite olive oil.
The Jack-Of-All-Trades: 100% California Everyday Extra Virgin Olive Oil
This blend is their flagship oil made from olives grown exclusively in California. It's a well-rounded and versatile kitchen staple that works for almost anything: marinades, grilling, and sautéing … and is especially good in this Whole30 breakfast casserole. Snag the recipe below!
Try it: Sausage and Sun-Dried Tomato Whole30 Breakfast Casserole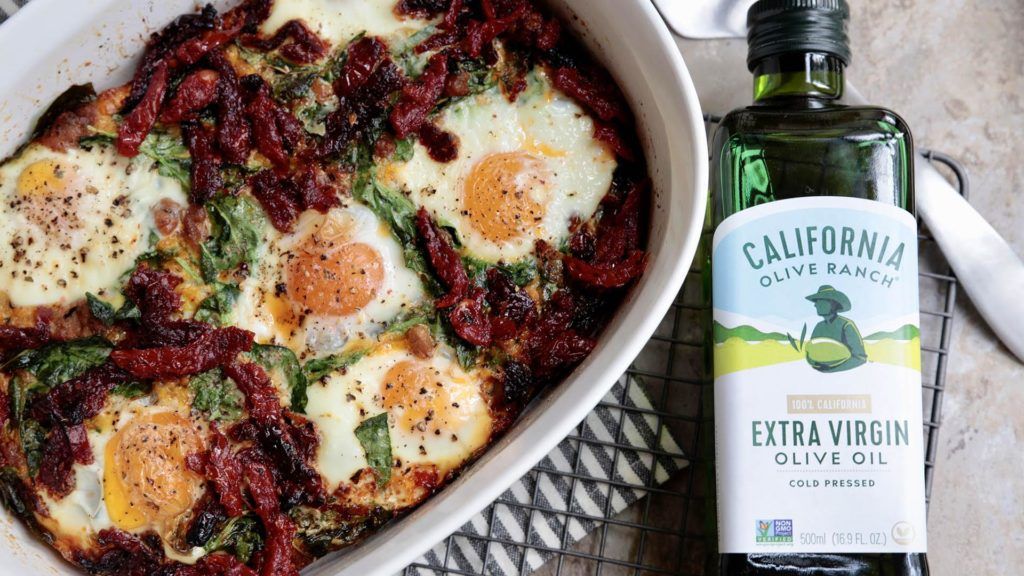 Sausage and Sun-Dried Tomato Whole30 Breakfast Casserole
A tasty Whole30 breakfast casserole recipe featuring Whole30 Approved olive oil from our partner, California Olive Ranch®.
Ingredients
For the pork sausage
1

pound

of ground pork

1

tsp.

sea salt

½

tsp.

black pepper

½

tsp.

garlic powder

1

tsp.

dried oregano

1

tsp.

smoked paprika

2

tsp.

dried fennel seeds
For the casserole
1

Tbs.

100% Everday California Extra Virgin Olive Oil

12

large eggs

1

tsp.

sea salt

1

cup

sun-dried tomatoes

4

cups

baby kale

1

pound

of pork sausage

see above for ingredients
Instructions
PREHEAT oven to 350 degrees Fahrenheit.

MAKE the pork sausage. Set a large skillet over medium-low heat. Add a drizzle of the oil to warm, and then add ground pork, breaking it up with a wooden spoon. Season with sea salt, black pepper, garlic powder, dried oregano, smoked paprika and dried fennel seeds and sauté, continuing to break up, until the pork is cooked through and has begun to brown, about 12-15 minutes. Drain the excess grease from the pork.

ASSEMBLE the casserole. Grease a 9×13" oven-proof baking dish with oil. Crack 6 eggs in a large bowl and whisk well. Add baby kale and whisk again. Season with sea salt. Pour egg and kale mixture into your baking dish and then crack the remaining 6 eggs directly into the baking dish so that they are evenly distributed in the dish. Scatter sun-dried tomatoes and crumbled pork sausage throughout the dish.

BAKE in the oven until the whisked eggs have set, about 25 minutes. The whole eggs will be mostly set with soft yolks, creating a creamy texture when you bite into them. Allow your casserole to cool for 5-10 minutes before serving, storing any leftovers in the fridge for up to 3 days.
Mild and Delicate: Destination Series Mild Blend Extra Virgin Olive Oil
Perfect for sautéing and roasting, this mild extra virgin olive oil is from California farmers and partner growers in Argentina, Chile, Peru, and Portugal. The subtle flavor of this oil lends itself to perfectly-roasted veggies.
Try it: As a drizzle or dipping oil for your favorite roasted veggies. Pair it with your favorite protein for a simple Whole30 meal.
A Finishing Oil with a Burst of Flavor: California Reserve Miller's Blend Extra Virgin Olive Oil
This blend was specially-crafted by the California Olive Ranch head miller to showcase a perfectly-balanced blend of Arbequina, Arbosana, and Koroneiki olives from California farmers. It will become your go-to finishing oil!
Try it: As a dressing for your favorite greens or a simple salad.
Visit the California Olive Ranch store locator to find their products in your local grocer, or shop their Whole30 Approved lineup, at californiaolveranch.com.
This post was sponsored by California Olive Ranch. Thank you for supporting our Whole30 Approved partners!
You Might Also Like…
Sarah Steffens
Recipe Developer
Sarah Steffens, our Recipe Developer, has a B.A. in Business Administration, Public Relations from The Master's University in Southern California. After years of experimenting with nutrition and recipes in her own kitchen, she now works as a Personal Chef and Food Photographer in Sacramento, creating meals that support her client's intention to physically and mentally thrive. She has catered several independent film sets, making it her goal to optimize the energy and well-being of each creative crew. You can find many of Sarah's recipes in various Whole30, Paleo and Keto cookbooks. When Sarah is not cooking and styling recipes, you can find her enjoying a long walk, working on creative projects with loved ones or exploring beautiful Northern California.