Our @whole30recipes Instagram feed brings you delicious, Whole30 compatible recipes all day, every day. And, in our series, The Best of @Whole30Recipes, we bring our favorites to the blog.
Are you on the lookout for some fresh and easy, Whole30 lunch ideas this spring? With help from the creatives who take over our @Whole30Recipes Instagram each week, we've rounded up a selection of bright, beautiful, and delicious options that are perfect for lunchtime at the office, picnics in the park, and anywhere in between.
Choose your favorite from the list below and give it a go this week. Or if you're feeling extra adventurous, try them all! We made sure to include protein-and-veggie-packed salads, filling wraps, and a few creative twists on classic, lunchtime cuisine. After one of these tasty dishes for lunch, we're certain you (and your taste buds) will be smiling all afternoon!
[Tweet "Who says lunch has to be boring!? Fun and fresh lunches, headed your way! #Whole30 #whole30recipes"]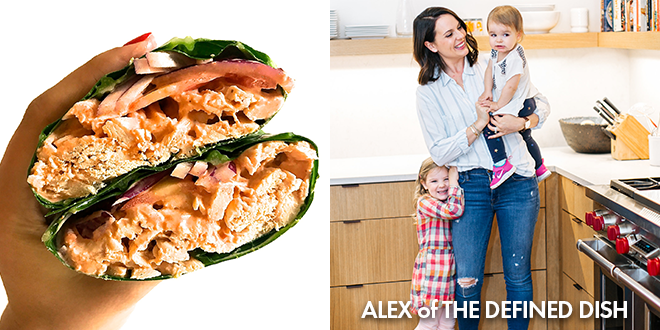 Ingredients
2 large collard green leaves
1 compatible rotisserie chicken, shredded
2 Tbsp compatible mayo
1/4 Franks Red Hot sauce
Salt and pepper, to taste
Instructions
CUT the large end of the collard green leaves off the stem. Use a pairing knife to carefully shave down the back of the stem to make it as flat as possible.
BRING a large skillet of water to a boil. One at a time, place your collard greens in the boiling water for 30 seconds. Immediately plunge the hot collard green into a bowl of ice water or place under cool, running water, to stop the cooking process. Set them on paper towels to dry.
REPEAT that process until you have 2 "blanched" collard greens, used to make 1 wrap. Lay the 2 collard greens to that they overlap about an inch.
MAKE your filling by combining the rest of your ingredients in a bowl.
ADD your chicken salad mixture, as well as any other desired fillings, to the center of the collard greens.
FOLD in the sides and gently roll the collard greens tightly around your fillings. Cut in half and secure with toothpicks. Enjoy!
Chicken Rainbow Salad with Fennel Seeds from Savor & Fancy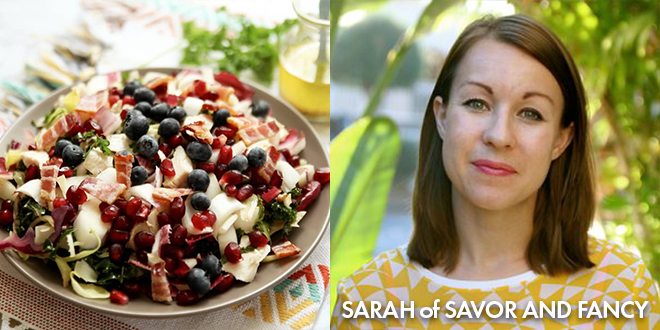 Ingredients
1 bag of mixed cruciferous veggies (kale, red cabbage, Brussels sprouts, etc.)
2 endives, chopped, ends discarded
2 large, boneless and skinless chicken breasts, cooked, cooled and diced in small pieces
2 strips of compatible bacon, cooked and sliced in 1/4 inch pieces (tip: use kitchen scissors)
1/2 cup of fresh parsley, minced
1 cup of blueberries
1/4 cup of pomegranate seeds
1 Tbsp of fennel seeds
for the Vinaigrette
4 Tbsp of olive oil
1 tsp of sea salt
1/2 tsp of black or white pepper
Juice from 1/2 of a lemon
1/2 tsp of garlic powder
Instructions
BLEND your vinaigrette ingredients on high until it is well-combined and creamy.
ADD all of the salad ingredients and the vinaigrette to a large bowl and toss well with a baker's spatula until all of the salad is coated in vinaigrette. Enjoy!
Recipe note: to make this a complete Whole30 meal, add your favorite compatible protein. It would be great with a can of Safe Catch tuna or salmon, or some roasted, shredded chicken.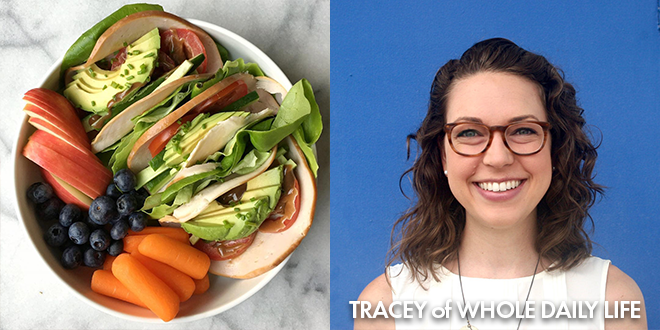 Ingredients
Protein of choice
Assorted veggies (lettuce, tomato, carrots, cucumber, radish, avocado, etc.)
Assorted fruit (apples, blueberries, etc.)
1 Tbsp of compatible mayo
1 tsp of compatible balsamic vinegar
Instructions
ARRANGE everything neatly on a plate.
MIX together the mayo and balsamic vinegar and drizzle it over the top. Enjoy!
Chicken, Avocado & Mango Rolls from Every Last Bite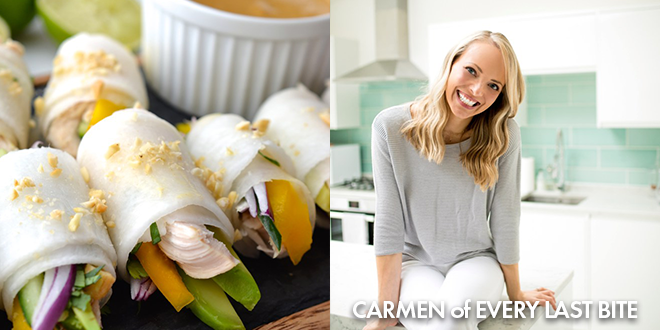 Ingredients
1 daikon radish
1/2 cup of chicken breast, shredded
1/2 cucumber, cut into thin strips
1 mango, cut into thin strips
1/2 red onion, cut into thin strips
1/4 cup of cilantro, roughly chopped
1/2 avocado, cut into thin strips
2 Tbsp of chopped cashews or almonds
for the Sauce
3 Tbsp almond or cashew butter
1 Tbsp sesame oil
2 tsp coconut aminos
3 Tbsp orange juice
2 tsp lime juice
1 inch piece of fresh ginger
Instructions
COMBINE all of the sauce ingredients in a blender and blend until smooth. Set aside.
WASH the radish and peel the outer skin off using a vegetable peeler.
USE a cheese slicer (or mandolin) to cut thin strips, running all the way down the length of the radish. After a few slices, flip the radish over and continue slicing on the other side.
ASSEMBLE the rolls by laying a strip of the radish on a board with the wider end facing you. Place all of the filling ingredients down at one end and then roll everything up, ensuring you press down and keep the rolls tight. Repeat with remaining rolls.
SPRINKLE the rolls with chopped cilantro and nuts, and serve alongside the dipping sauce. Enjoy!
Crispy Prosciutto Broccoli Salad from LP Fed Me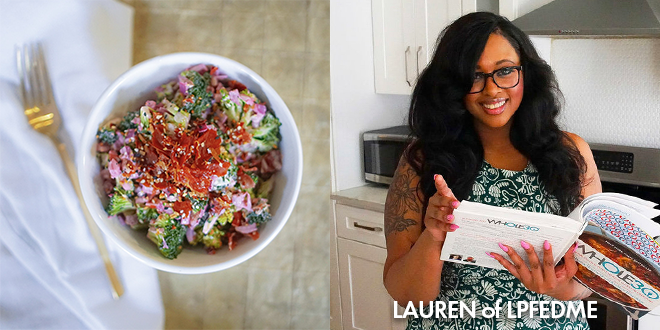 Ingredients
1 cup complaint mayo
1 package of compatible prosciutto
2 Tbsp of red wine vinegar
6 cups of fresh broccoli, chopped
1 medium onion, diced
1/2 cup of shelled, unsalted sunflower seeds
1/2 cup of compatible, unsweetened cranberries
1/2 cup of golden flax seeds
Salt and pepper
Instructions
COMBINE the mayo, onions, cranberries, and vinegar in a large bowl.
STIR in the broccoli, completely coating it.
COVER and chill for 2 hours.
SPRINKLE in sunflower seeds, flax seeds and prosciutto. Add salt and pepper to taste. Enjoy!
Ingredients
2 large, boneless and skinless chicken breasts
1 Tbsp coconut oil
1 Tbsp sesame seeds
1 tsp poppy seeds
1 avocado
2 tsp fresh lemon juice
Sea salt
Black pepper
2/3 cup sauerkraut, drained
1 small tomato, sliced
1 cup arugula, or green of choice
Instructions
PREHEAT the oven to 425F.
PLACE the chicken in a small baking dish and massage with coconut oil. Sprinkle both sides of each breast with sesame seeds, poppy seeds, salt and pepper.
BAKE for 30-35 minutes until the chicken is cooked through (internal temperature reaches 165F). Remove from the oven and allow to cool.
SCOOP the avocado in a small bowl and mash it with the lemon juice and some salt and pepper to taste.
SLICE each chicken breast in half, width-wise. Slather each side with mashed avocado, then load it up with arugula, tomato, and sauerkraut. Flip the other half back on top. Enjoy!
Sesame Marinated Chicken Salad from Savor & Fancy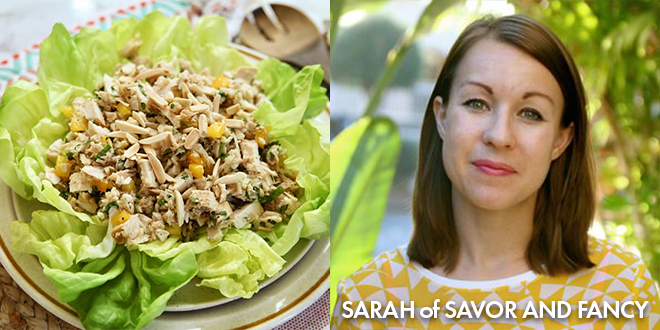 Ingredients
1 large, boneless and skinless chicken breast
1 Tbsp toasted sesame oil
1/2 tsp sea salt
1/4 tsp ground white pepper
1/2 yellow bell pepper, seeds removed and diced
1/2 cup canned jack fruit, minced
1 whole scallion, minced
1/4 cup cilantro, minced
1 head of butter lettuce
1/4 cup toasted, slivered almonds
for the Marinade
1/4 cup toasted sesame oil
1/2 tsp sea salt
1/4 tsp ground white pepper
1/4 tsp garlic powder
Juice from half lime
Instructions
PLACE the chicken breast in a plastic bag with sesame oil, sea salt, and ground white pepper. Seal and allow to marinate for 15 minutes, or up to overnight.
BRING a skillet to medium heat and sear the chicken for 8-10 minutes per side. Once cooked, allow it to completely cool in fridge.
WHISK your marinade ingredients together in a large bowl.
MINCE cooled chicken and toss with the marinade.
ARRANGE torn butter lettuce leaves on a plate and add chicken salad, slivered almonds, and the rest of your toppings of choice. Enjoy!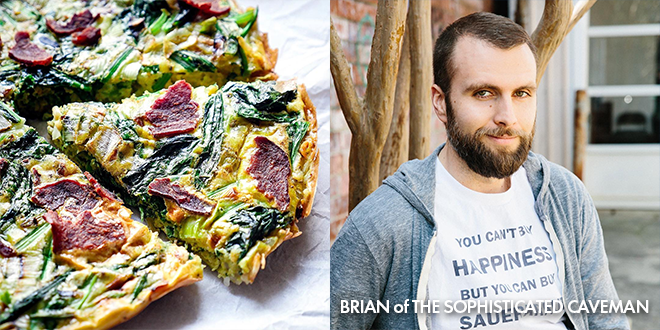 Ingredients
4 ounces of compatible turkey bacon
1 lb Russet potatoes (about 2 medium), peeled and diced
2 Tbsp extra virgin olive oil
1 leek, rinsed well and sliced
1 Tbsp minced garlic
4 cups turnip greens, chopped
8 eggs
3/4 tsp sea salt
1/4 tsp black pepper
Instructions
PREHEAT the oven to 350 F and beat the eggs with salt and pepper in a mixing bowl.
HEAT an ovenproof skillet over medium heat and add the sliced bacon. Cook until brown, for about 10 minutes. Transfer the bacon to a plate and wipe the skillet clean.
HEAT the olive oil in the skillet and then add the potatoes. Cover and cook until the potatoes are tender, for about 10 minutes.
ADD the leek and garlic and cook until the leek slices are tender, for about 3-4 minutes.
ADD the turnip greens and cook until they begin to wilt, for about 2-3 minutes.
TOSS in the bacon and pour in the eggs, stirring to distribute evenly.
TRANSFER the skillet to the oven and bake until the eggs are cooked through and slightly browned on top, for about 20-25 minutes. Enjoy!
Melissa Urban
Co-Founder / CEO
Melissa Urban is a 7x New York Times bestselling author (including the #1 bestselling The Whole30) who specializes in helping people establish healthy boundaries and successfully navigate habit change. She has been featured by the New York Times, People, the Wall Street Journal, Forbes, The Today Show, and Good Morning America, and is a prominent keynote speaker on boundaries, building community, health trends, and entrepreneurship. She lives in Salt Lake City, UT with her husband, son, and a poodle named Henry.