Our @whole30recipes Instagram feed brings you delicious, Whole30 Approved recipes all day, every day. And, in our series, The Best of @Whole30Recipes, we'll be bringing them to our blog! Each week, we'll feature a new mini-collection of our favorite recipes. This week, we're featuring recipes that use fruits in unexpected, but delicious, ways.

Summer Beet Salad, @primaldish
Serves 2:
3 cups of arugula
2 golden beets, boiled until fork tender and diced
4 slices of Whole30 compatible prosciutto, diced
1 cup of strawberries, hulled and quartered
1 tablespoon of Extra Virgin olive oil
2 tablespoons of apple cider vinegar
Salt, to taste
1/4 cup pine nuts, toasted and cooled (optional)
Add arugula to a large bowl. On top, evenly spread beets, prosciutto, and strawberries. In a separate small bowl, whisk together olive oil, ACV, and salt to make a dressing. Then add the ACV & olive oil dressing to the salad and combine well. Top with toasted pine nuts (optional). Note: you could also use your favorite oil-based Whole30 compatible dressing instead of the Olive Oil & ACV dressing.
Find more recipes from @primaldish at www.primaldish.com.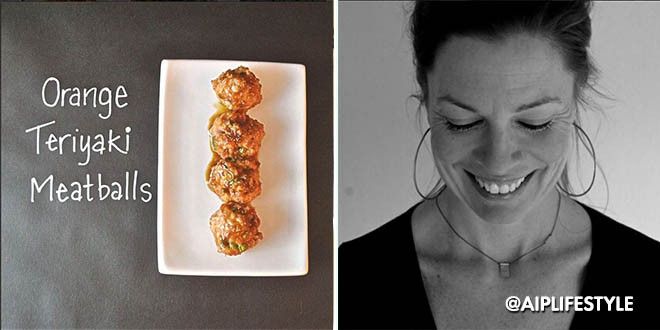 Orange Teriyaki Meatballs, @AIPlifestyle
2 pounds organic ground chicken
1/2 cup finely chopped green onions
2 tsp orange zest (2 oranges worth)
Big pinch salt
Sauce
2/3 cup fresh orange juice (juice of 2 navel oranges)
2 tsp. grated ginger
1/4 cup coconut aminos
1 Tbsp apple cider vinegar
1 clove chopped garlic
In a bowl, mix ground chicken, orange zest, pinch salt and green onions. On a parchment lined cookie sheet, form 2 1/2 inch sized meatballs. Bake at 350 until internal temperature reaches 170 degrees. Mine took about 30 minutes.
In a saucepan, add coconut aminos, grated ginger, garlic, vinegar and fresh orange juice. Bring to a simmer and reduce until sauce coats the back of a spoon. It will simmer for about 10 minutes, and then start to watch it closely. It will start to foam and bubble when it is almost ready. You want the sauce to be the consistency of maple syrup.
When meatballs are cooked, place in a bowl and drizzle with the sauce. Gently toss to coat all the meatballs.
Find more recipes from @AIPlifestyle on her Instagram feed and at www.aiplifestyle.com.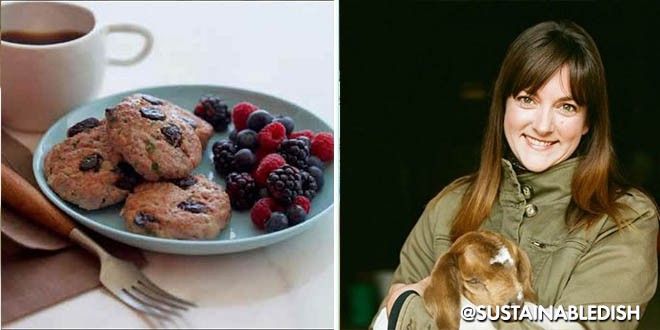 Cherry Tarragon Breakfast Sausages, @sustainabledish
1/2 cup dried cherries
2 tablespoons diced onion
2 tablespoons fresh parsley, minced
2 tablespoons fresh tarragon, minced
1 teaspoon salt
1 teaspoon salt
1 teaspoon pepper
1 pound ground pork
2 tablespoons coconut oil for frying
Place the cherries in a bowl of hot water for about 10 minutes to slightly reconstitute them. Combine the onion, parsley, tarragon, salt and pepper in a medium-sized bowl and mix well. Add the cherries when soft, and then add the ground pork. Mix all ingredients well. Form small patties (I usually can fit them in the palm of my hand) and place on a plate. Heat a skillet to medium heat and add some of the coconut oil. Place about 5 to 7 of the patties in the pan. Fry the patties until brown, about 5 minutes. Flip and flatten with the back of your spatula. Cook another 5 minutes or until brown. Test one sausage to make sure the center is completely cooked.
Find more recipes from @sustainabledish on her Instagram feed.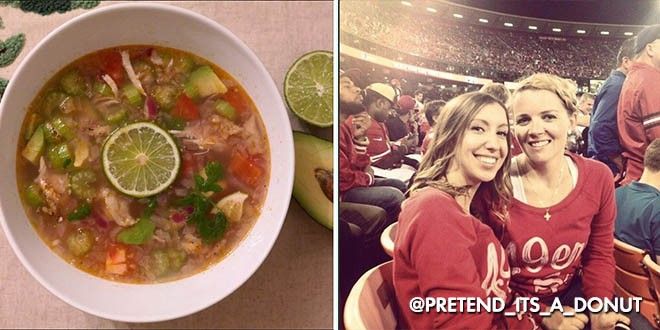 Chicken and Lime Posole, @pretend_its_a_donut
1/2 red onion, chopped
2 carrots, sliced
2 celery stalks, sliced
1 tomato, diced
1 lime
4 chicken breasts, shredded
2 avocados, diced
Cilantro
2 tbl cumin, paprika, garlic powder
1 tbl oregano, cayenne
1 tsp salt
1 qt organic chicken broth 4 c water In a pot, sauté onion until soft. Add carrots and celery and cook for a few min.
Place chicken into a pot and cover with broth and water. Bring to a boil and add spices. Stir, cover, and lower heat to med. The chicken will take 20 min or so to cook. Once it's cooked, pull out and shred the chicken and place back into pot.
Add diced tomato, diced avocado, and juice of 1 lime. I cut the lime in half, then quarter that, squeeze the juice and throw the limes into the soup. Let simmer for about 10 min. Add cilantro at the end. Ladle into bowls and enjoy.
Find more recipes from @pretend_its_a_donut on her Instagram feed and at www.pretenditsadonut.com.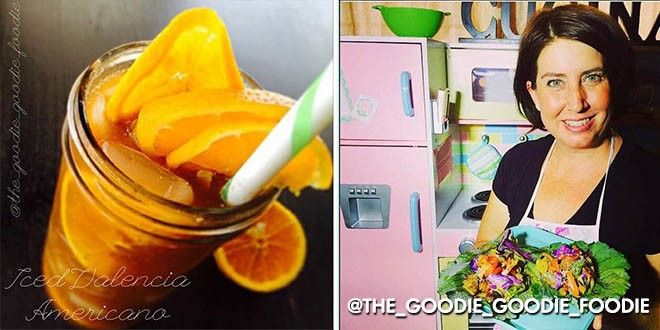 Iced Valencia Americano, @the_goodie_goodie_foodie
4oz. Brewed coffee or espresso
2oz. Cold water
1/2 Valencia orange, thinly sliced
Splash of homemade coconut milk (optional)
Cubed ice
Take a large Mason jar or glass and fill it with ice. Add orange slices by pushing them down into the ice. Pour in the coffee, and splash of coconut milk, if desired.
Find more recipes from @the_goodie_goodie_foodie on her Instagram feed and at www.thegoodie-goodiefoodie.com.
Have a favorite from the @whole30recipes feed? Is there a collection you'd like to see? Let us know in comments!
Melissa Urban
Co-Founder / CEO
Melissa Urban is a 7x New York Times bestselling author (including the #1 bestselling The Whole30) who specializes in helping people establish healthy boundaries and successfully navigate habit change. She has been featured by the New York Times, People, the Wall Street Journal, Forbes, The Today Show, and Good Morning America, and is a prominent keynote speaker on boundaries, building community, health trends, and entrepreneurship. She lives in Salt Lake City, UT with her husband, son, and a poodle named Henry.