Our Whole30 French Onion Seasoning Mix is an easy way to infuse a lot of flavor instantly. It's quick to make and budget-friendly. Unlike the onion soup mix packets found at the store, you can control everything that goes into it. This ensures your seasoning mix is Whole30 compatible, gluten-free, and dairy-free—a delicious flavor base for soups, casseroles, or roasts.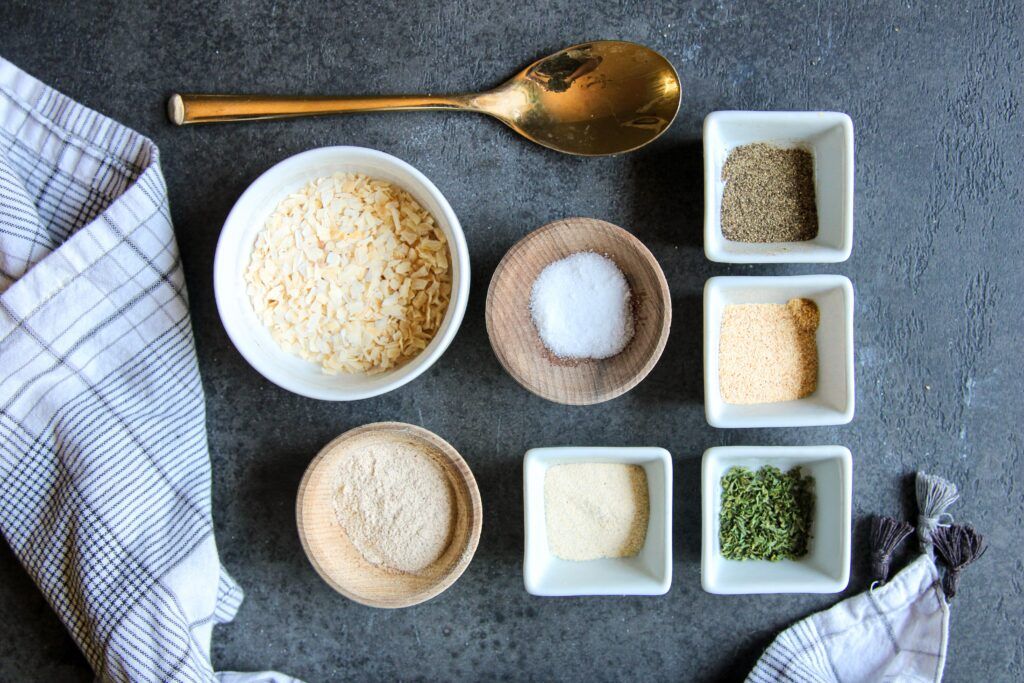 This French onion seasoning mix is grounded in basic pantry spices and herbs. We use dried minced onion flakes, onion powder, garlic powder, parsley, salt, and pepper. You can find these in the spice aisle; some stores even have the option to buy spices in bulk bins at a lower price.
The ingredient that gives it a full, deep flavor is beef bouillon powder. However, most beef bouillon powders aren't Whole30 compatible due to added sugar or non-compatible additives. Check your labels closely! We loved using Whole30 Approved Bare Bones Broth Instant Bone Broth for this bouillon powder. But you are welcome to use whatever is accessible and compatible with the Whole30 program.
Can't find a compatible beef bouillon or need a plant-based option? Beef bouillon is dried beef broth granules. So, if you can't find any, you can use this mix plus 1 cup of beef broth or bone broth in your recipe to achieve a similar flavor profile. Keep in mind to adjust the liquid in your recipe accordingly if using the broth. Or another option is to use an equal amount of a compatible umami seasoning. This keeps the rich flavor depth but also makes it vegan and plant-based!
This Whole30 French Onion Seasoning Mix recipe is equivalent to one onion soup mix packet or five tablespoons of mix. It stores great in the pantry in a sealed container (we used a small mason jar with a lid) for up to 3 months. Feel free to double or triple the recipe to have plenty on hand as needed!
Whole30 French Onion Seasoning Mix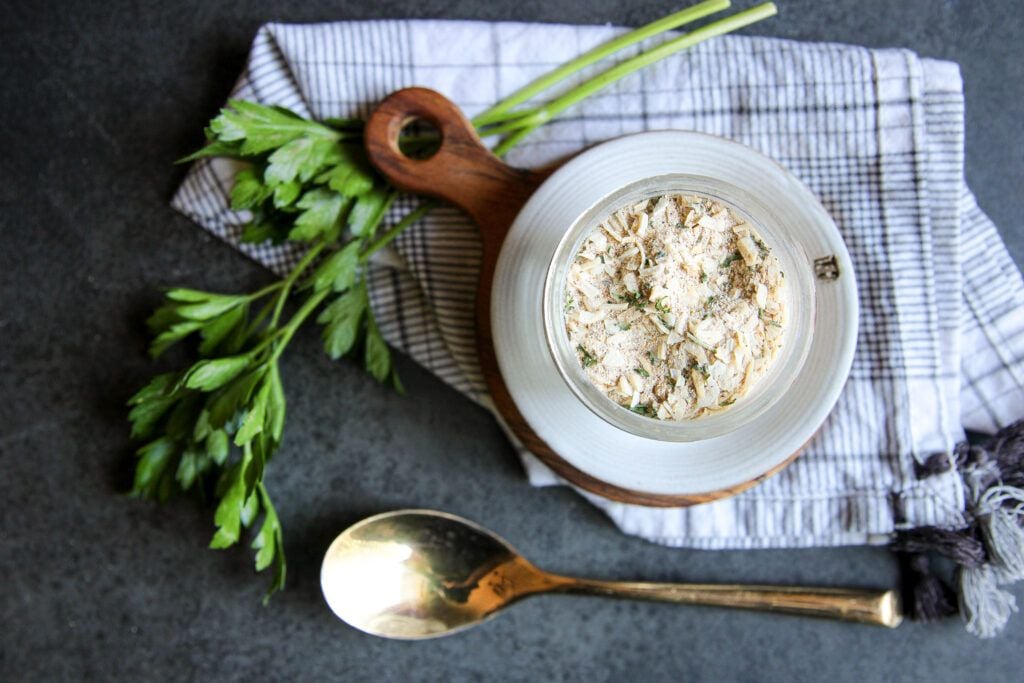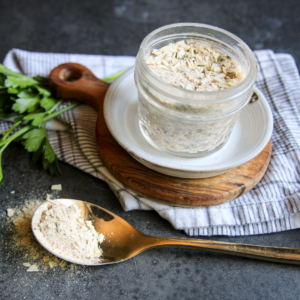 Whole30 French Onion Seasoning Mix
Makes: 1 onion soup mix packet, about 5 tablespoons
Ingredients
1/4

cup

dried minced onion

1

tbsp

beef bouillon powder

2

tsp

onion powder

2

tsp

garlic powder

1

tsp

salt

1

tsp

dried parsley

1/2

tsp

pepper
Instructions
COMBINE all ingredients in a small bowl or jar. Use as a flavor base for your favorite soups, casseroles or meat.

STORE in a sealed container for up to 3 months in the pantry.
Autumn Michaelis
Recipe Creator | Whole Food for 7
Autumn Michaelis is an ACSM Certified Exercise Physiologist, with a B.S. in Exercise Science from BYU. Though exercise was her first love in the health world, nutrition has become her passion. She created the blog Wholefoodfor7, sharing easy and budget-friendly Whole30, Paleo, and gluten-free + dairy-free recipes for families. In August 2022, Autumn released the newest Whole30 Endorsed cookbook, Whole Food for Your Family. She is mom to 5 boys (yes 5!) and when not in the kitchen can be found adventuring, hiking, and tearing up the dance floor.