Our @whole30recipes Instagram feed brings you delicious, Whole30 compatible recipes all day, every day. And, in our series, The Best of @Whole30Recipes, we bring our favorites to the blog.
Salads are a fantastic summertime Whole30 dish: they're fresh, light, and offer endless possibilities for variety. And, you can pull a filling, creative salad together quickly with a little forward thinking. If you choose your ingredients based on our meal planning template and spend an hour or so at the beginning of the week prepping your proteins and chopping your veggies, you can make an entire meal out of a salad without making a mess of your kitchen.
In this edition of Best of Whole30 Recipes, we've selected some of our recent favorite salads to inspire you in your summer salad making endeavors.
[Tweet "Five fancy #Whole30 recipes to inspire your summer salad making endeavor. #whole30recipes."]
The Epic Entree: Grilled Thai Sirloin Steak Salad from I Heart Umami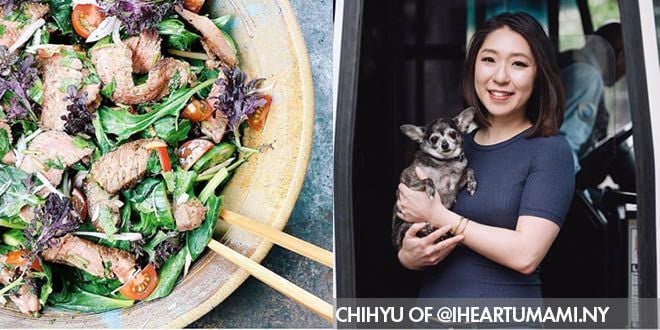 Ingredients
For the Salad:
¾ lb sirloin steak
2 small seedless cucumber, sliced
1 shallot, sliced thinly
Handful of fresh cilantro, roughly chopped
Handful of mixed greens
Sea salt and black pepper to taste
1 tsp ghee (Whole30 compatible)
For the dressing:
3 small garlic cloves, crushed
1 red chili pepper, seeded and chopped finely
2 tbsp coconut aminos
1 tbsp fish sauce (we love Red Boat)
2 tsp red chili pepper sauce (check labels)
2-3 tbsp fresh lime juice (start with 2 and add more if needed)
Instructions
SEASON the steak with salt & black pepper to taste. Heat 1tsp ghee in a grill pan over high heat, when hot, grill the steak for about 2-3 minutes per side or until your desired doneness. Set the steak aside to rest and cover with aluminum foil.
MIX all ingredients listed under "dressing" together with the exception of lime juice.
HEAT a small saucepan over medium-high heat, when hot, add dressing from the previous step. Use a wooden spoon to gently stir the dressing. Once it's warmed, stir-in 2 tbsp of lime juice. Turn off the heat. Pour it into a bowl and set aside.
ASSEMBLE the chopped cucumber, cilantro, thinly sliced shallot, and mixed greens in a large salad tray. Thin slice the beef against the grain.
POUR the dressing over the beef & greens. Toss to combine. Wait for 1-2 mins. and taste again to see if 1 more tbsp of lime juice is needed. Serve warm and immediately.
The Breakfast Salad: Zesty Grapefruit Summer Salad from Little Coconutty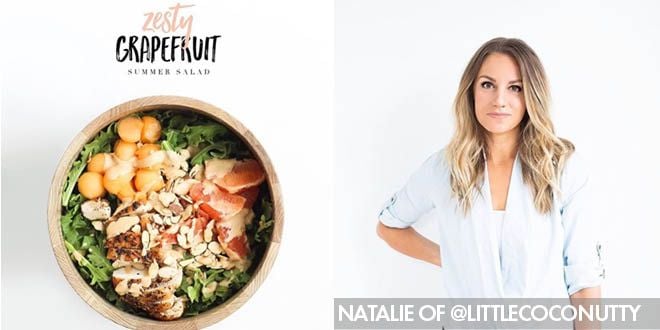 Ingredients
For the Salad:
Arugula
Cantaloupe, cut into chunks
Grapefruit, cut into segments
Grilled chicken, sliced
Slivered almonds
For the dressing:
2 oz avocado oil
2 oz rice vinegar
2 grapefruit segments
3 pitted dates.
Blend in blender.
Instructions
ASSEMBLE salads by dividing arugula into bowls and top with remaining ingredients.
DRIZZLE with grapefruit dressing.
The Potluck Star: Orange & Radish Salad with Fennel Dressing from Urban Apron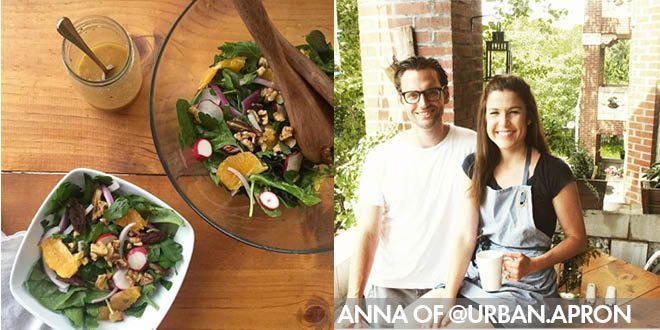 Ingredients
For the Salad:
2 navel oranges, peeled
3 large Medjool dates, pitted and quartered
2 oz. radishes, sliced thin
2-3 cups arugula or mixed greens
1/4 red onion, thinly sliced
1/2 cup fresh cilantro, chopped
1/4 cup fresh parsley, chopped
1/4 cup fresh mint, chopped
1/4 cup walnuts, toasted and roughly chopped
For the dressing:
2 tbsp Lemon juice
1 tbsp fresh orange juice (from the oranges used in the salad)
1 garlic clove, crushed and minced
1/2 tsp ground cinnamon
2 tsp fennel seeds, toasted and crushed lightly
3 tbsp olive oil.
salt and black pepper, to taste
Instructions
PREPARE the dressing: whisk together all of the fennel dressing ingredients until well combined.
ASSEMBLE the salad. Using a serrated knife, slice off the top and bottom of each orange. Cut down the sides of each orange, following the natural curve, to remove the skin and white pith. Then, slice into the orange on each side of the segment to remove each slice. Or, cut crosswise into the orange, and remove the seeds in the middle. (I use 1 tablespoon of extra orange juice from this process to add to my fennel dressing.)
PLACE the oranges, dates, radishes, onion, greens and herbs into a bowl and toss.
DRIZZLE on the salad dressing and toss to coat. Add more if desired. Serve.
The Lunch on the Go: Five Minute Greek Salad from Anyas Eats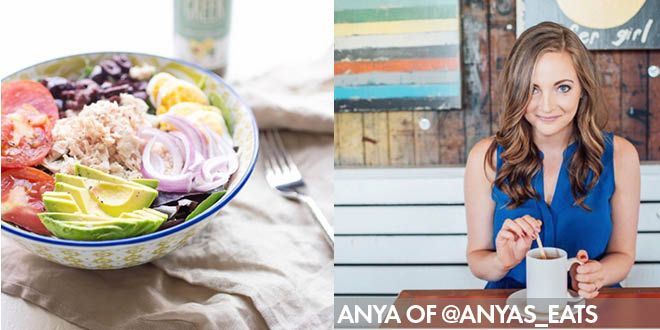 Ingredients
For the Salad:
Arugula
5 oz mesclun salad mix
1 can Organic Chicken or 1 cooked & shredded chicken breast
¼ cup kalamata olives, sliced
½ tomato, chopped
1 hard boiled egg, sliced
a couple slices of red onion
Primal Kitchen Greek Dressing or other complaint dressing of your choice
Instructions
ADD mesclun mix to a large bowl and top with chicken, olives, tomato, hard boiled egg and red onion.
DRESS with Primal Kitchen Greek Dressing.
The Crowd Pleaser: Niçoise-inspired Salad Platter with Lemon Chive Vinaigrette from No Crumbs Left

Note: This salad can be made for large numbers. Use the quantities listed below per person.
Ingredients
For the Salad:
4 oz salmon
2 – 3 oz French green beans
1 handful pear tomatoes, halved and sprinkled with salt
2 Tbsp marinated red onions (thinly slice onion and then place in a container. Cover with oil and red wine vinegar. Add 1 tsp dried oregano. Cover and let sit at room temperature to marinate for several hours.)
1/2 Persian cucumber
3 handfuls sorted soft lettuces, including boston, bib, romaine, and baby
1 – 2 oz black olives, pitted
Chives, chopped, for sprinkling over
Japanese sweet potato crisps
For the dressing:
1/4 cup fresh lemon juice, meyer lemons if possible
1/2 cup high-quality olive oil
1 garlic clove, crushed
1/2 tsp kosher salt
1/4 tsp crushed black pepper
2 tbsp chives
Instructions
BLANCH French green beans in boiling water for about 2-3 minutes, until bright green and still crisp. Then place immediately into cold water, dry, and set aside.
CUT tomatoes and pitted black olives in half, and cut Persian cucumbers into thin slices. 30 minutes before serving, add a bit of dressing to each to marinate before serving.
ASSEMBLE a nice assortment of beautiful soft lettuces. Wash, dry, tear into pieces and set aside. Everything before this point can be done ahead.
CUT salmon into 'fingers' about 3/4 inch thick. Pan sear them on the stove, about 1-1/2 minutes per side (longer if you want them done more).
PREPARE the dressing by whisking all ingredients together. Add chives and stir.
MAKE the Whole30 Compatible Japanese Sweet Potato Crisps: Cut the sweet potatoes as thinly as possible, somewhere between a chip and a cottage fry. Heat the oil to hot, but not smoky. Sauté one slice in the coconut oil to test it out. You want to it to be crispy. Once you know how long it takes to get them nice and crispy, sauté the remaining slices. Remove and set on paper towel at room temperature. Don't cover. Sprinkle with kosher salt.
THIS IS THE FUN PART: line a tray with the lettuces, torn into pieces that are not tiny, but not giant. Drizzle a little of the dressing on the lettuce. Assemble the platter as you like, sprinkle with a little bit of kosher salt, then lightly drizzle more dressing over the salad. Top with chives.
[Tweet "Take advantage of summertime produce with 5 inspiring #Whole30 Salads. #whole30recipes"]
Some links in this post are affiliate links, meaning Whole30 makes a small commission on items purchased via these links. Thank you for supporting our Whole30 Approved partners.
Save
Save
Save
Save
Save