This Whole30 Turkey Breast Tenderloin Piccata with Cherry Tomatoes and Green Beans recipe is from The Whole30 Slow Cooker, and it's a fantastic dish to serve your loved ones for the holiday season.
Whole30 Turkey Breast Tenderloin Piccata with Cherry Tomatoes and Green Beans
SERVES 4 | PREP: 20 minutes | SLOW COOK: 6 hours (low) or 3 hours (high) | TOTAL: 6 hours 40 minutes
Dishes prepared in the classic "piccata" style are usually thin scallops of meat or chicken that are floured and pan-fried, then served with a pan sauce made from butter, lemon, garlic, capers, and parsley. This dish features all of those great flavors without the cook having to stand over a stove.
Ingredients
1 1 ⁄ 2 pounds Whole30-compatible turkey breast tenderloins
1 ⁄ 2 cup Whole30-compatible chicken broth or Chicken Bone Broth
3 tablespoons fresh lemon juice 2 tablespoons chopped garlic
2 tablespoons melted Clarified Butter or ghee
1 bay leaf
1 teaspoon salt
1 ⁄ 2 teaspoon black pepper
1 pint cherry tomatoes
2 tablespoons chopped fresh at-leaf parsley
1 tablespoon Whole30-compatible capers, drained
2 teaspoons grated lemon zest
1 package (16 ounces) frozen whole green beans
Instructions
PLACE the turkey in a 5-to-6 quart slow cooker. In a medium bowl, combine the broth, lemon juice, garlic, 1 tablespoon of the butter, the bay leaf, salt, and pepper. Pour over the turkey in the cooker.
COVER and cook on low for 6 to 7 hours or on high for 3 to 3 1 ⁄ 2 hours. Remove the turkey from cooker; cover with foil and let rest for about 10 minutes. If on low, turn the slow cooker to the high setting. Stir in the tomatoes. Cover and cook until the tomatoes are softened and beginning to burst, about 20 minutes. Stir in the parsley, capers, and 1 teaspoon of the lemon zest.
MEANWHILE, cook green beans according to the package directions. Drain well and stir in the remaining 1 tablespoon butter and 1 teaspoon lemon zest. Season to taste with salt and pepper.
SLICE the turkey and serve with the tomato sauce and green beans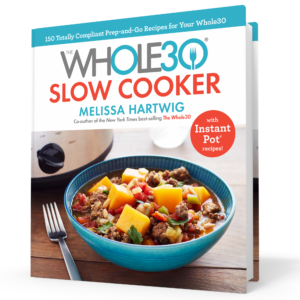 Save
Pre-Order The Whole30 Slow Cooker

Excerpted from The Whole30 Slow Cooker. Copyright © 2018 by Melissa Urban. Used by permission of Houghton Mifflin Harcourt. All rights reserved. Photography by Ghazalle Badiozamani. Whole30 is the legally registered trademark of Thirty & Co. LLC.