Today's Whole30 Success Story comes from Andrea Cochran, of Simi Valley, CA. Andrea suffered from something common to so many high-intensity exercisers… "that shoulder thing". You know what we're talking about – that shoulder pain that comes on gradually (or not so gradually), and just won't go away no matter how long you rest, ice, recover and mobilize.
We know that systemic inflammation plays a huge role in recovering from exercise and recovering from injury, but Andrea realized firsthand the difference the food you put in your mouth makes to the pain you may be feeling in your shoulder (or your ankle, or your back, or your knee… you get the picture). Read on for Andrea's story, in her own words.
Andrea's Story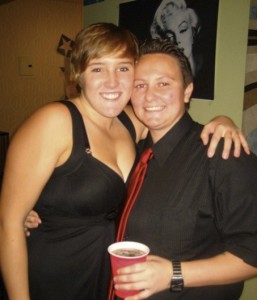 I just wanted to take the time to thank you for everything you and Dallas are doing. I just finished my first Whole30. I am a 23 year old 5'4 female who started her Whole30 journey at a whopping 191.3 pounds. I am a religious CrossFitter who knew nutrition was my main problem. With little willpower on my own, I was able to gain power and strength from both my lovely partner (whom lost 9 pounds on her own Whole30) and one of my CrossFit Simi Valleytrainers (Wendy Hoffman) who did nothing but support us through the whole process.
Both Rachel and I knew we had to step up our nutritional responsibilities if we wanted to get out all we could from CrossFit. Then in June, I suffered a high ankle sprain – the type which my doctor said is difficult to heal and can take years to fully recover. After weeks of physical therapy I was making little progress, still in considerable pain and rolling my ankle while standing. Not soon thereafter, I noticed my shoulder was a little sore following a slow pitch softball game – and it continued to worsen after a shoulder-intensive workout at the gym. Before I knew it I had also strained my shoulder. I was feeling almost constant pain, especially when sleeping.
Shortly after all my injuries, Rachel and I started our Whole30. I am an impulsive eater, but once I established my routine with packing lunch and eating a healthy breakfast, I was on a roll. I was getting a TON of support from Rachel, which helped tremendously. It was difficult at first, but our trainer (Wendy Hoffman) assured me it would get better. After two weeks, things were going so well, another two weeks didn't seem bad at all.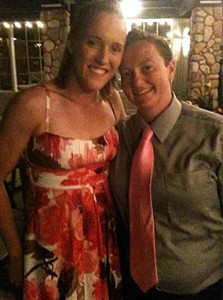 After day ten, I was on a roll. I could literally feel my life and my body changing. People started to comment on how good I was looking. I was not thinking much of it – I just kept going. By week three, my ankle and shoulder pain was decreasing. Before I knew it, I was running again in my workouts. (Not just running, but running followed by box jumps and more running!) Things the doctors told me stay away from, I was now able to do pain free.
We ended our Whole30 on August 3rd – and on Day 31, I had absolutely no pain. On August 4th, I played my first softball game in over a month.
In addition I lost a total of 19.9 pounds and 14-¾ inches. My clothes are fitting better, I have more energy and my sleep is amazing.
I can't tell you how thankful I am for the Whole30 and people like Wendy, who were able to share their knowledge and give support. I knew that I needed this experience to change my life, and it did. I can't wait to complete my next Whole30!
Thanks again,
Andrea Cochran & Rachel Davis