by Whole30 co-founder Melissa Urban, who can't stop eating Tessemae's Buffalo Sauce
As you know, we're big fans of Tessemae's around here. They've been one of our Whole30 Approved partners since 2012, and have designed some of their products (like their mayo) specifically with Whole30 compliance in mind. While not all of their products are Whole30 Approved, the majority of them are (and all of them are fantastic choices for your Life After). I've spent time hanging out with the family behind the brand, text with their marketing VP often, and consult with them when they're thinking of rolling out something new.
When they told me they were taking their most popular six dressings and taking them 100% organic, the first question I asked was, "Why?" (It's incredibly expensive and time-consuming to "go organic," and their dressings were already so healthy and popular.) But that wasn't good enough for the Tessemae's team, who are just as dedicated to their community as I am to mine. So I sat down with Greg Vetter, Tessemae's CEO, to talk about their new line of organics, and what this means for Whole30'ers.
We've also asked them to share their top two Tessemae's recipes for the #JanuaryWhole30, so make sure you check those out at the end of our interview!
Why was it so important to go through the time and expense to recreate your most popular dressings as 100% organic?
It's pretty simple actually… our fans were asking for it. Sadly, being called "All Natural" isn't enough any more. There have been enough companies that have twisted those words to their advantage without actually living up to it that people no longer truly trust that label. We then went through the process of getting everything non-gmo certified, which we still consider very important, but now even that has come under scrutiny. So, as we stepped back knowing that we still wanted to be considered the high benchmark of quality and nutrition, we knew that going 100% USDA Organic was the option.
What was the hardest part of making this change?
Well, there two sides of this one for sure… The first, well, I mean, we're talking about changing Mom's recipe. The recipe and dressing that I've been eating for the last 18 years of my life. There's a lot of history there. This dressing has literally been on my family's dining room table since I was in sixth grade. And second is also kind of big…. You have to literally change everything. Source new ingredients, test flavor, get your manufacturing facility certified, get new labels, change all marketing communications, sell it back into retailers, and we did it in under 4 months.
Why aren't all of your dressings organic?
It's just been a time and flavor shortfall so far. We are working towards having everything 100% USDA Organic, but through the process of sourcing new ingredients there are instances where the organic version simply has a slightly different flavor profile. And at this point we weren't willing to compromise or change that just yet. We owed it to ourselves to keep looking and trying to make the switch as seamless as possible.
Some of your dressings now include sunflower oil in addition to olive oil. Why did you need to make that change?
Yeah, we knew this one could potentially cause the most concern amongst our core consumers, so we didn't take this decision lightly. Here is the full breakdown… we came into this process looking to solve for three primary goals: first, to become 100% USDA Organic; second, to maintain our current taste; and three, to improve our ease of use. In working through the R&D process we could solve for number one using organic olive oil, however, number two and three always fell short. Consequently, through the research we conducted, plus the advice we received from trusted partners (cough, cough… Whole30) we found that 100% organic, high oleic sunflower seed oil* in combination with an organic extra virgin olive oil allowed us to elevate our quality, maintain our flavor, and improve our usage because we no longer congeal when chilled.
*"High oleic" means the sunflower seeds are bred to have a much higher percentage of heart-healthy monounsaturated fat, and a much lower percentage of potentially inflammatory polyunsaturated fat. This process of seed selection means the fat profile of high-oleic sunflower oil is almost the same as that of extra-virgin olive oil. Note, this process of breeding seeds is not the same as genetic modifiation. For more information on high-oleic sunflower oil, click here.
People think of your dressings as, well, dressings. How else can Whole30'ers use your products?
Sooooo, how much time do you have exactly? If you take a look at our blog, I would roughly estimate that probably 20% of all our recipes are actually salads. The rest of the time we are talking about marinades, sauce development, breakfast, appetizers, soup bases, cooking oils, and even cocktail creation. We literally have hundreds upon hundreds of ways to use our products. The truth of matter is that by sticking with natural ingredients, we really serve as a platform for flavor in whatever you do. But to be honest, our favorite stories from consumers aren't necessarily the ones showcasing our products being used by the most adventurous eaters in the most creative ways (although those are cool), it actually when the more limited eaters, like diabetics, can finally enjoy a BBQ sauce or ketchup at a backyard picnic because we use date puree instead of refined sugar to sweeten it. That's when it really hits home.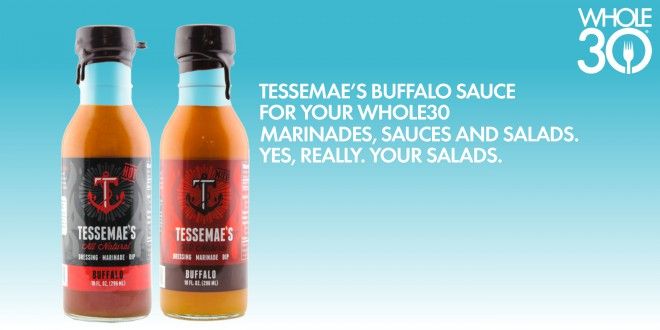 Seriously, what specifically is in your hot sauce that makes it so good?
Ha! I tell you what, you and this hot sauce of ours, there may need to be a support group pulled together. A HOT-line if you will… I apologize, so bad, I know. Of course, there are some proprietary secrets to our recipe that I can't share, but I can tell you that there really isn't some voodoo magic behind it. Good peppers, good oils, good spice…. Annnnnd repeat. It's our belief that a lot of hot sauces just have their priorities screwed up. They are looking for heat before flavor. It becomes an arms race of who can torch the roof of my mouth the fastest. We just look at it in the opposite way. Go in looking to nail the flavor, the peppers will inherently deliver the heat.
Recipes from Tessemae's Kitchen: Lemon Chesapeake Tuna Salad
Ingredients
3 hearts of romaine lettuce
½ cup parsley leaves
8 ounces green beans, steamed
1/3 cup pitted olives
2 hard boiled eggs
2 cans tuna
6 tablespoons Lemon Chesapeake
Instructions
HALVE the romaine lengthwise, then chop crosswise. Divide between two containers or bowls. Top each portion with parsley, green beans, and olives.
TO PACK, keep the eggs in shell and tuna in the can. For serving, peel and halve the egg and put it right on the salad with the tuna.
DRESS with Lemon Chesapeake and enjoy.
Recipes from Tessemae's Kitchen: Paleo "Pad Thai"
Ingredients
For the Meat:
3 medium zucchini
12 ounces shredded broccoli slaw or carrots (look for bagged for ease)
1 bunch scallions, white and green separated, thinly sliced crosswise
1 inch piece fresh ginger, peeled chopped
1 ½ pounds boneless skinless chicken thighs, cut into strips crosswise
coarse salt and ground pepper
2 large eggs
3 tablespoons Tessemae's Lemon Garlic
1/3 cup cashews, toasted and chopped
2 whole limes for serving
For the Sauce:
1 cup coconut milk
1/2 cup Whole30-compatible almond butter
2 tablespoons Tessemae's Slow Roasted Garlic
1/2 teaspoon red pepper flakes
1/2 teaspoon Whole30-compatible fish sauce
1 tablespoon freshly squeezed lime juice
Instructions
PREPARE all the ingredients by spiralizing or julienne the zucchini. Toss with the broccoli slaw, scallion whites, and ginger in a large bowl.
BEAT the eggs in a small bowl.
SLICE the chicken (use kitchen shears for ease) and season with salt and pepper in a medium bowl.
PLACE the sauce ingredients in a small bowl and whisk to combine.
HEAT 1 tablespoon Lemon Garlic in a very large nonstick skillet over medium-high. Add half of the chicken to the pan and cook tossing, until browned and cooled through, about 5 minutes. Transfer to a plate and cover with foil. Repeat with remaining chicken and more Lemon Garlic.
POUR the eggs into the pan and quickly stir to scramble. Add to the plate with the chicken and cover.
ADD another tablespoon Lemon Garlic to the skillet and add zucchini, slaw, scallion, and ginger and season with salt and pepper. (Skillet will be very full!) Cook, tossing gently, until wilted, about 3 minutes.
PUSH veggies to the sides of the pan and add the sauce to the middle. Fold sauce into the veggies, then fold in the chicken and eggs until heated through.
SERVE with cashews, lime wedges, and extra Chili Sauce on the side!
---
Shop Tessemae's
Head on over to the Tessemae's website and see their new 100% Organic line, along with their huge line of Whole30 Approved dressings, sauces, and mayonnaise (including the Buffalo Sauce that Melissa Urban is always talking about). Note, save the Soy Ginger and Green Goddess Organic dressings for life after your Whole30; both contain soy and are off-limits for the program.
This featured post was sponsored by Tessemae's.
Melissa Urban
Co-Founder / CEO
Melissa Urban is a 7x New York Times bestselling author (including the #1 bestselling The Whole30) who specializes in helping people establish healthy boundaries and successfully navigate habit change. She has been featured by the New York Times, People, the Wall Street Journal, Forbes, The Today Show, and Good Morning America, and is a prominent keynote speaker on boundaries, building community, health trends, and entrepreneurship. She lives in Salt Lake City, UT with her husband, son, and a poodle named Henry.