When we joined forces with Thrive Market, we loved their extensive selection of Whole30 Approved staples, and the fact that they continually add compatible products they know our Whole30'ers will love. But, we also loved their one-stop shopping, making your life easier on you whether you're stocking up for your Whole30 or ordering the pantry staples that suit your food freedom. (Plus, it doesn't hurt that you can toss toilet paper, cleaning products, or personal care items into your cart alongside the nutpods creamer and Yai's Thai curries.)
Prices at Thrive Market are always 25-50% lower than what you'll find in most supermarkets, and they ship directly to your door. Plus, they're offering first-time Whole30 customers 40% off your first order AND a special free gift when they join. This is in addition to their already discounted prices and free shipping on order of $49 or more. Talk about an incentive to maintain your healthy food freedom habits long after your Whole30 is over!
Get started with Thrive Market today
Our Favorite #MyFoodFreedom Picks
Curious to know what Thrive Market picks the Whole30 team loves to support your healthy habits in life after Whole30?
Primal Kitchens Primal Fuel Whole30'ers often ask us for clean protein powder suggestions. We love the Primal Kitchens Primal Fuel in Chocolate Coconut. Not a Chocolate fan? They also have a Vanilla variety. (P.S. The Primal Kitchen Honey Mustard Vinaigrette is also a food freedom favorite around #Whole30HQ)
Thrive Market Organic Grain-Free Granola If your Whole30 has left you wanting easier, faster breakfast times, perhaps try inviting grain-free granola into your routine on the mornings you need to get out of the house quickly. Thrive has 4 flavor options, each as delicious as the next, that pair perfectly with their almond milk.
The New Primal Jerky and Snack Mates You're probably familiar with The New Primal's delicious Whole30 Approved marinades and meat snacks. If you're comfortable including a bit of honey in your food freedom, we love The New Primal Classic Jerky as a convenient on-the-go option to toss into your carry-on bag or stash in your glove box. We also keep their Chicken Maple Snack Mates around which are especially perfect for little ones.
Thrive Market Coconut Wraps One of our favorite features of Thrive Market is their fantastic house brand items. If wraps and roll ups are something you plan to bring back once your Whole30 is over, these Coconut Wraps make a great gluten-free holder for tasty protein, veggies and sauces
Four Sigmatic Mushroom Hot Cacao Mix Most hot chocolates are full of sugar and taste like chemicals, but this Four Sigmatic blend combines the power of medicinal mushrooms with cacao for a delicious winter treat, and only 2 grams of sugar. Melissa loves adding this mix to her Whole30 thermos bottle (stays hot for 12 hours!) to drink during snowshoe expeditions.
Thrive Market Plantain Chips If you've looking for a salty, crunchy snack but want to keep the ingredient list short in your food freedom, these satisfying plantain chips are made with just oil, plantains, and sea salt. We love these with some chunky guacamole for an easy side or mid-day snack.
Are you ready to join Thrive Market?
Thrive Market is offering new customers 40% off their first order plus free gift when they sign up for an annual membership. Click here to join Thrive Market, and browse more of our Whole30 favorite picks.
This post was sponsored by Thrive Market, and contains affiliate links. Thank you for supporting our Whole30 partners.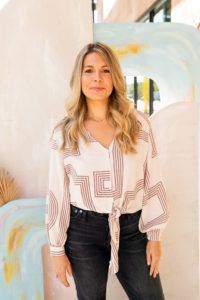 Alyssa Anthony
Brand Partnership Manager
Alyssa Anthony, our Brand Partnership Manager, is a proud West Virginian (GO HERD!) living in Austin, Texas with her husband Evan and their two boxers. With a background in marketing and sales, Alyssa has spent the the better part of a decade working with food and beverage brands in the Whole30 Approved network. When she's not managing projects for Whole30, you can find her scoping out new coffee shops for her Instagram feed or practicing photography.