By Whole30 Certified Coach and Ultrarunner Richelle Winston of Wholly Performance
As soon as the mountain trails dry up and winter has called it good for the season my ultrarunning adventures begin, taking my boyfriend Aaron and I to beautiful places around New Mexico and southern Colorado. Maintaining our nutrition during these trips can sometimes feel daunting, but we've been able to hone in on our preparation skills and make Whole30 fuel as much of a priority as our camping gear.
[Tweet "Training for an ultrarunning race during your Whole30? Whole30 Certified Coach Richelle Winston shares her tips."]
Aaron and I eat a mostly Whole30 diet. We have both found our Food Freedom through the program but rely heavily on Whole30 compatible, nutrient-dense foods to maintain steady performance as ultrarunners and as busy health and wellness professionals.
Make a Plan
I have been known to "wing it" before on a camping/ training trip, and more times than not I have failed miserably with a "wing it" strategy. I'm a creature of habit and so is my digestion. Camping is not an ideal place to risk a not-so-fun result of poor nutrition. Since most of our camping trips revolve around training for ultras, I have found that meal planning is the best way to make sure our performance needs are met.
Most of our adventures start on a Friday after work. After work dinners are two options: a #Whole30SaladBowl from Chipotle or leftovers. Since we want to hit the road and be at our camping spot before dark, eating on the road works. Saturday and Sunday include breakfast, lunch, workout fuel, and dinner. So basically we need to pack enough food for six meals and running fuel.
Breakfast
Breakfast is almost always eggs, potatoes, red chile, and coffee! This is a non-negotiable breakfast for us. It's what we eat during the weekday and it works for our bodies. Throw in an avocado or some compatible Whole30 bacon and breakfast is a piece of … bacon?
Breakfast Essentials
Pederson's Bacon
nutpods coffee creamer
Cage Free eggs
Potatoes (any variety)
Bueno or Homemade NM Red Chile
Avocados
Running Fuel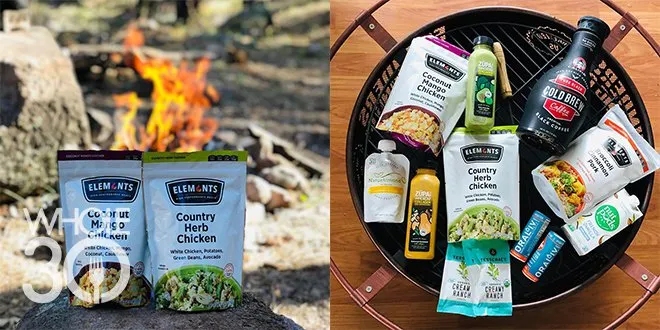 During training and racing, the proper fueling strategy is vital. I've learned over many years that my body thrives on real food. Don't get me wrong, at mile 30 your body goes through some interesting cravings, but I try to tune into what my body needs. I've found that organic compatible baby food, fruit and nut bars, and Whole30 Approved jerky work for me while training. (Race day is a little different, some of these training options just don't work in the quick of things.)
Hydration is also very important for our trips. Often we are out for hours away from our camp, so our packs are filled for "just in case" moments and items that keep our hydration in order. I'm a fan of compatible electrolyte options for the long haul.
Running Fuel Essentials
Water
Oral I.V. Rapid Hydration Activator
Lyte Show
RXbar Whole30 compatible varieties of nut bars & nut butter packets
Organic compatible baby foods
The New Primal jerky
Lunch
Most of our long run adventures or hikes are in the mid-morning so lunch needs to be quick and easy. We have been known to enjoy some Medlie drinkable veggies, Applegate deli meat, Safe Catch tuna, and some fresh fruit. Lunch consists of pre-cooked or no-cook meals. This is made possible by the many great Whole30 compatible and approved options. Add some easy veggies, and lunch almost looks like a well composed, Instagram-worthy meal.
Lunch Essentials
Safe Catch Tuna packs
Teton's fully cooked sausage
Applegate deli meats
Veggies (lettuce, green peppers, carrots
Tesse Mae's dressing individual packets
Medlie drinkable veggies
SeaSnax
Primal Kitchen's avocado mayo
Waterloo Sparkling water
Dinner
We usually bring out the entire camp kitchen for dinner. We have done fajitas, salmon, chicken stir-fry, and other well planned dinners. It's like being back home, just with a smaller kitchen. Protein and vegetables usually compliment each other for dinner, and ALL vegetables are on the table for dinner. The cast iron pan makes an appearance at this time and everything just tastes a little bit better after a long day outside.
I love planning and making dinners on these trips. However, some plans just don't work out. I can recall a very serious instance where it was raining cats and dogs and we weren't able to make a campfire in order to cook our dinner. That's why we always keep a couple of freeze-dried Elements meals in our camping gear. These meals saved our lives that night. It was cold, wet, and dark but our planning made dinner a viable option.
Dinner Essentials
Your favorite protein: chicken, beef, salmon, pork, etc.
Any and all vegetables: whatever sounds good
The Bottom Line
It's okay to put your health first, but you don't need to stay home to enjoy your Whole30. Thankfully, there are so many options to stay compatible and happy. Don't stress over it, just put some time in planning your travels, give yourself options, and enjoy the process.
---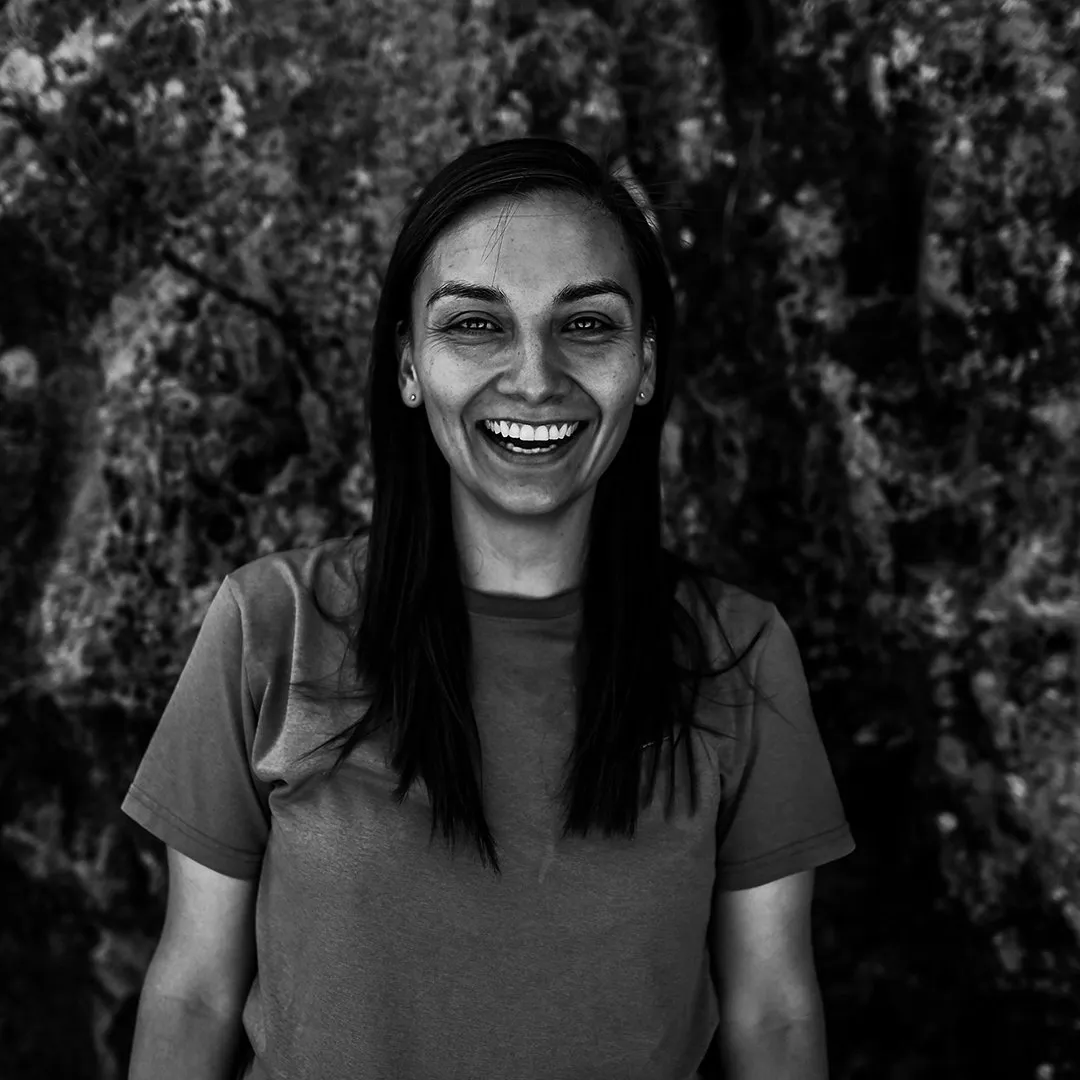 Richelle Winston is a Whole30 Certified Coach, Exercise Physiologist, and ultra runner.  If she's not out on a remote trail you can find her on Instagram, where she shares Whole30 compatible New Mexican recipes and her outdoor adventures. She currently resides in Los Alamos, NM. Connect with Richelle via her website: www.whollyperformance.com or follow her on Instagram.