This post is sponsored by Applegate. Click here to see the entire Whole30 Approved collection at Applegate and to download a coupon for $1 off any Applegate® product.
by Stephanie Greunke, RD.
Ready for a break in the kitchen? After making 3+ meals a day for months now (due to stay-at-home orders), I know that I am. If your situation is anything like mine, you probably thought you'd get a break when your kids went back to school and now realize that you're going to have to continue making their lunch and yours while you're in the middle of a busy workday or while juggling multiple tasks at home.
The traditional "meal prep" mindset is to make huge batches of food over the weekend to set up for a successful week. But did you know you can break the lofty goal of weekly meal prep into a more realistic goal of just prepping lunches? Let me introduce you to a concept I use to make the weekdays flow more seamlessly (or as seamlessly as possible while we're in the middle of a pandemic entering the world of virtual teaching and working from home).
Enter Make-Ahead Lunches.
What is a Make-Ahead Lunch?
A Make-Ahead Lunch is one that you assemble before lunchtime begins. If you're used to taking lunch to work or packing your kid's lunchbox you are already familiar with this strategy.
Even if you're not physically leaving the house for lunch, having lunch plated or in a lunchbox leaves you with no excuses not to fuel yourself mid-day. Due to being at home more during this pandemic, many of us have fallen out of this rhythm since we assume we can and will carve out time for meal prep when lunchtime hits, but then find ourselves skipping lunch or grabbing something quick and easy instead.
Packing a lunch can help you stick to your plan of eating nourishing, balanced meals even when you're stuck on a call that went annoyingly long. When you've already gone through the work of preparing your lunch, it's less tempting to skip a meal, order takeout, or snack on whatever is most convenient.
Who can benefit from Make-Ahead Lunches?
Anyone working from home–especially if you find yourself snacking all day vs. having full meals
Essential workers continuing to go to work (thank you!)
Anyone navigating meetings that may happen at random hours due to people working all over the country/world that interfere with a typical "lunch break"
Parents who want to make sure their child's caregivers serve well-balanced lunches
Parents packing cold lunches for kids that are going back to in-person school
Basically, anyone who wants to keep their healthy habits going at a time when it's easy to lose motivation/consistency.
Tips for building a Make-Ahead Lunch or Lunch Box
Choose a source of protein, fruit and/or vegetable, and healthy fat
Similar to the Whole30 Meal Planning template, a balanced lunch contains all three of these components. You have the flexibility to choose which protein/fruit/vegetable/fat you enjoy and are in your budget, but make sure you include each of these components.
By following the Meal Planning template, you will provide lasting energy, stable moods, and better focus for your entire family. This helps to prevent (at least some of) the tantrums in your toddler and mood swings in your teenager while allowing you to be more present for your tenth Zoom call of the day.
*If you or your child is not on a round of Whole30 and are enjoying your Food Freedom, use the protein + produce + fat template as a base for your meals and feel free to include grains, legumes, lentils, dairy, crunchy snacks, and sweet treats to your meals as you'd like and feel good consuming.
Consider your reheating strategy
You may opt for proteins that taste delicious cold to keep things simple. Protein like chicken or egg salad, egg muffins, hard-boiled eggs, deli meat, and beef sticks are easy choices; however, they're not your only option.
If you'd like to serve last night's stew for lunch, you can quickly reheat it in the morning and use an insulated container to keep it hot (keep it on the counter) until lunchtime. You can also keep the items that need reheating in a glass container, separate from the other lunch components to easily warm them prior to eating.
Use Whole30 Approved family-friendly products to simplify your Make-Ahead Lunches
We've partnered with Applegate® to showcase 5 simple Make-Ahead lunches the entire family will enjoy. From deli meats with no antibiotics ever to sausages with no chemical nitrates or nitrites to Applegate humanely raised chicken strips you'll find a protein option that will make assembling your lunch a breeze! Add a Whole30-compatible ranch dressing, ketchup, mustard, or dipping sauce to create a fun, finger-food meal adults and kids will enjoy.
Here are some examples of lunches you can assemble in minutes with the help of Whole30 Approved products from Applegate: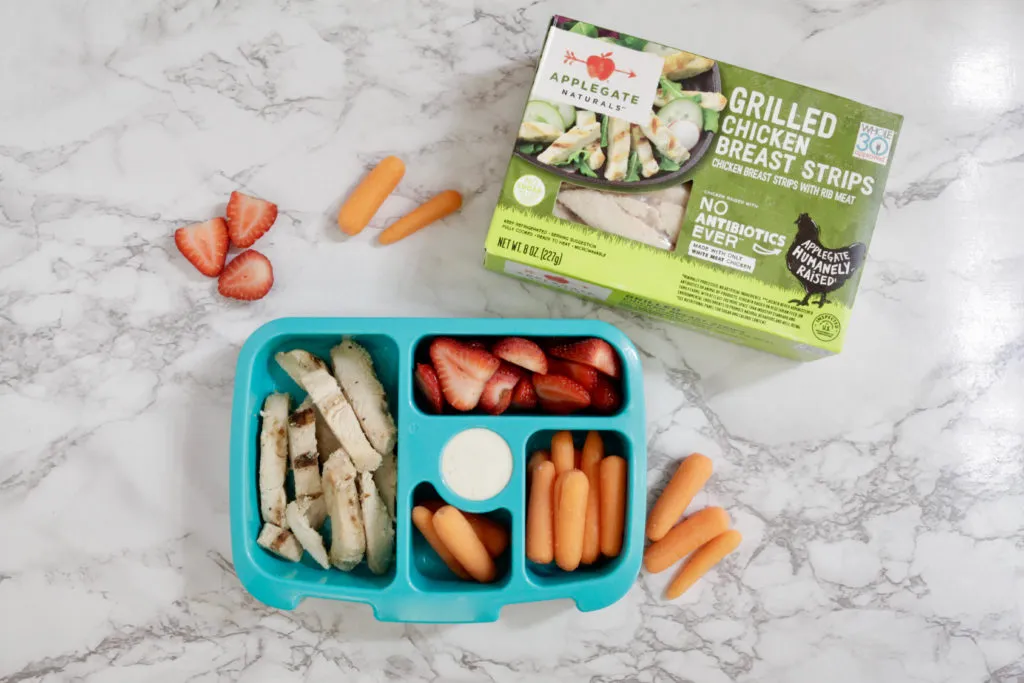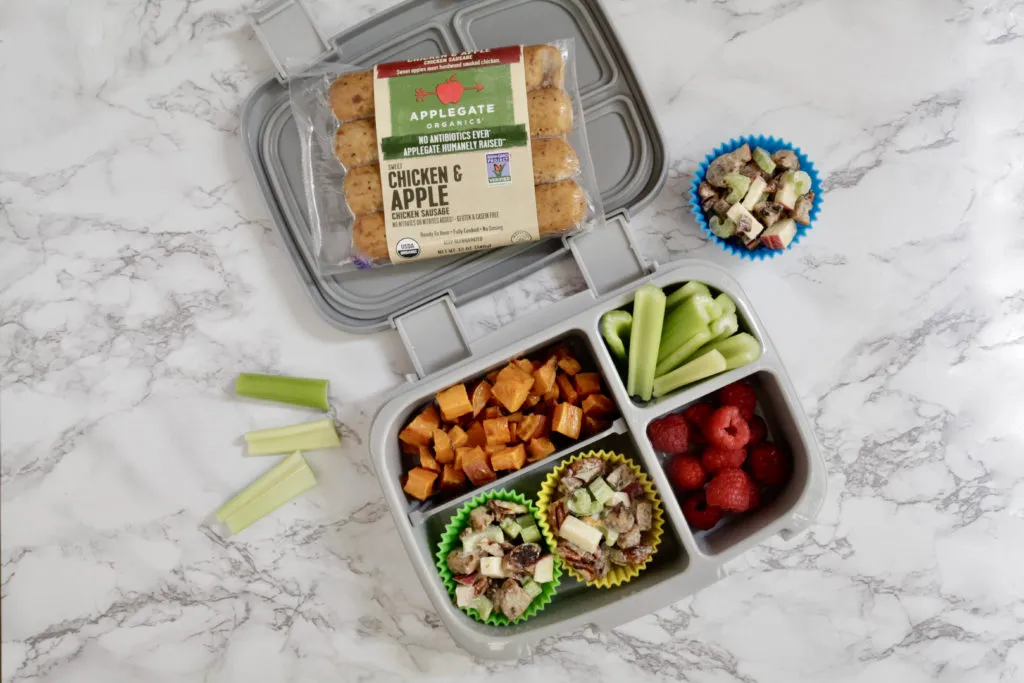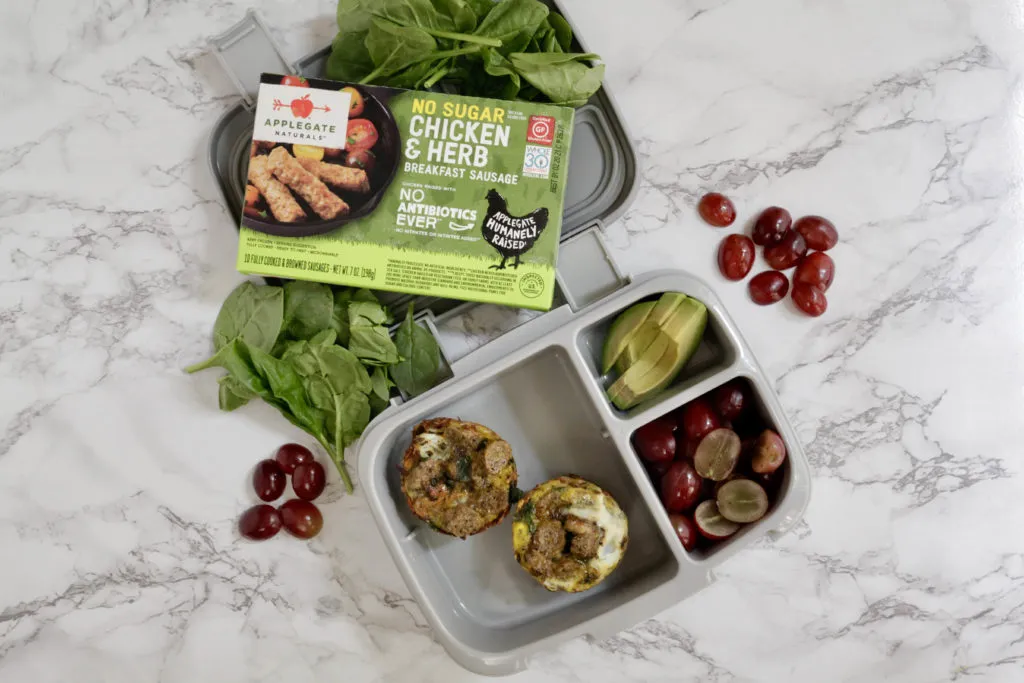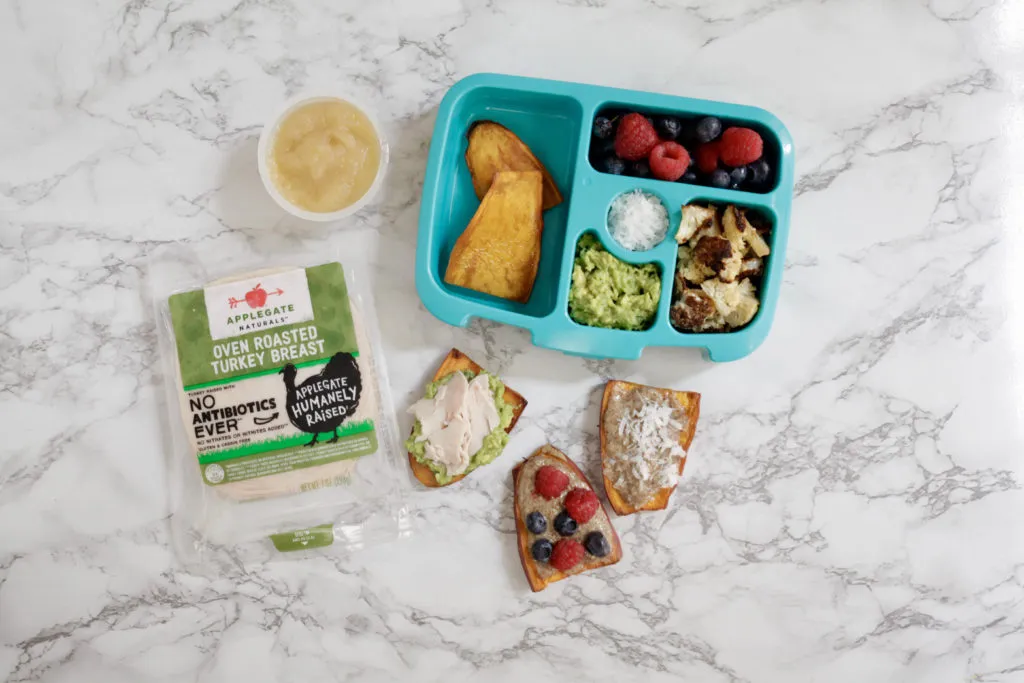 Visit Applegate's website to learn more about their Whole30 Approved products, download a coupon to save $1 and to find them in a store near you.
This post was sponsored by Applegate®. Thank you for supporting our Whole30 Approved partners!
You Might Also Like…