With gleeful excitement over the release of our new book, The Whole30: The 30-Day Guide to Total Health and Food Freedom, we'll be giving you a sneak-peek of some of our favorite recipes. Like what you see? You can order The Whole30 using one of the links at the bottom of the page, and start enjoying the tasty flavors of more than 100 brand-new, Whole30 compliant recipes when your book arrives. Finally, score some gorgeous PDFs of these recipes by subscribing to Wholesome, our free Whole30 newsletter. Okay, enough talking. Let's feature our second recipe, the Chicken Cacciatore from the Whole30 book cover!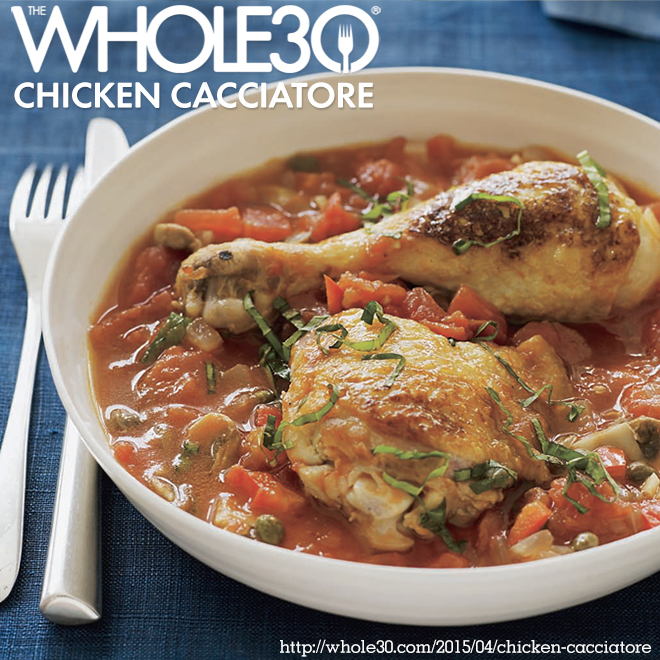 Chicken Cacciatore
From The Whole30: The 30-Day Guide to Total Health and Food Freedom. Serves 2
Prep Time: 15 minutes
Cook Time: 40 minutes
Total Time: 55 minutes
4 tablespoons cooking fat
1 pound chicken legs (bone-in, skin-on)
½ pound chicken thighs (boneless)
½ teaspoon salt
½ teaspoon black pepper
½ onion, minced
½ red bell pepper, finely diced
1 cup mushrooms, sliced
2 cloves garlic, minced
1 tablespoon capers, drained
1 14.5-ounce can diced tomatoes
1 cup chicken broth or water
1 tablespoon fresh basil leaves, rough chopped
IN a large skillet with high edges, heat 2 tablespoons of the cooking fat over medium-high heat, swirling to coat the bottom of the pan. Season the chicken with the salt and pepper and place in the pan. Sear the chicken until golden brown, about 3 minutes on each side. Remove the chicken from the pan and set aside.
WITH the same pan still on medium-high heat, add the remaining 2 tablespoons of cooking fat, onions, and peppers and sauté for 2 to 3 minutes, until the onion becomes translucent. Add the mushrooms and continue to cook, stirring for 2 minutes. Add the garlic and stir until aromatic, about 1 minute. Add the capers and diced tomatoes.
RETURN the chicken to the pan and cover everything with the chicken broth or water. Reduce the heat to medium and bring everything to a simmer. Turn the heat down to low and continue to simmer (not boil) until the chicken reaches an internal temperature of 160°F, about 30 minutes.
GARNISH with the chopped basil and serve.
---
Order The Whole30: The 30-Day Guide to Total Health and Food Freedom
Header photo credit: Stephanie Gaudreau
Recipe photo credit: Alexandra Grablewski
Liked this article? Get even more Whole30 goodness!
Subscribe to our Whole30 email list, and we'll send you 15 recipes from our Whole30 cookbooks for free.