"I was heavy for most of my life. When I was in high school my parents separated and everything I knew was thrown upside down. Food became my best friend, and by the time I left for college I was overweight. I made it to my sophomore year before migraines, low self esteem, depression and anxiety made it hard for me to stay in school. I was in a very rocky long-term relationship, away from my mom, and continuing to rely on food to get me through hard times.
I decided to move to Florida to be closer to my mom, and once I was there I finally ended my seven year relationship. I was depressed and anxious with a constant migraine, but worst of all I felt alone. Again, food was there to comfort me.
In December of 2012 I sustained a catastrophic ankle injury at work. I was unable to walk and had to be in a wheelchair or bed. I couldn't take care of myself and I ate takeout food morning, noon and night. Out of boredom I decided to try an online dating site and connected with a handsome paramedic named Sauz. We had an instant connection and the conversation flowed as if we had known each other for years, but I was ashamed of my weight and my self-esteem issues and relationship history made it hard for me to open up to him.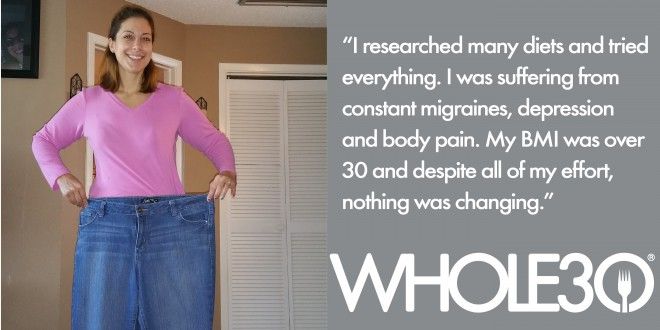 After a few months of dating him I decided that I needed to make a change for the sake of the relationship. I researched many diets and tried everything. It seemed like the common factor shared by every program was processed meals and snacks. I was still suffering from constant migraines, depression and body pain. My BMI was over 30 and despite all of my effort, nothing was changing.
Then I stumbled across the Paleo diet, and that led me to the Whole30 website, with the full program and PDFs available for free. I was still in a wheelchair so cooking was difficult. Sauz had recently changed careers and was managing the kitchen at a local restaurant, so he helped me prepare meals that I could easily reheat in the microwave. After the first 30 days my migraines were nearly gone, and so were my pain and inflammation.
[Tweet "After 2 yrs of #Whole30 lifestyle, I can manage migraines, depression, inflammation, & pain."]
Once I finished my first Whole30 I continued to follow the program, eating Whole30 compatible about 80% of the time. After two years living this lifestyle, I was able to completely manage my migraines, depression, inflammation, and pain.
After I finally had my ankle operation, Sauz, who is is an is an avid weightlifter, got me into the gym for the first time in my life. He worked with me in baby steps and now on my best day I can shrug the same weight as him. He is my best Whole30 motivation everyday.
On our second anniversary Sauz asked me to marry him! In true unconventional Andrea-and-Sauz fashion, we got married on May 29, 2015 on our way home from the gym, still in our sweaty gym clothes. It was a true testament to how grateful I am for my new life. We now cook Whole30 meals together as a family with his two young sons, and I have introduced this plan to several friends and family members. In fact, my mom just finished her first Whole30. She lost 20 pounds and feels amazing. This lifestyle has set us free and we are forever grateful."