From Our CEO, Melissa Urban
Since the inception of Whole30 in 2009, my dream has been that everyone who wants to experience the life-changing benefits of the Whole30 program would have access. To facilitate that, we've always made the entirety of the Whole30 program freely available.
However, learning and growing with our community has taught us that financial inequities are not the only barriers to successfully completing a Whole30, or joining the Whole30 community.
Internally, our diversity, equity, and inclusion (DEI) efforts are a new and more comprehensive means of furthering my original dream. We want to ensure everyone who wants to be a part of the Whole30 community:
Feels welcomed, and sees themselves in our community
Knows their unique perspective, life experience, and priorities will be recognized and honored
Believes they will be treated with kindness, compassion, and respect
Feels included and represented in our resources, social presence, and business practices
Internalizes the sense of belonging to, and further shaping and fully forming, a community and brand of which they can be proud
On a much larger scale, I hope Whole30 will lead by example and with integrity. I hope we encourage other organizations in our industry to make similar efforts, thereby increasing diversity, equity, and inclusion in the food and wellness industries as a whole.
We've got work to do. – Melissa
Whole30, Whole30 Approved & Whole30 Coaches Statements
Whole30 & Whole30 Approved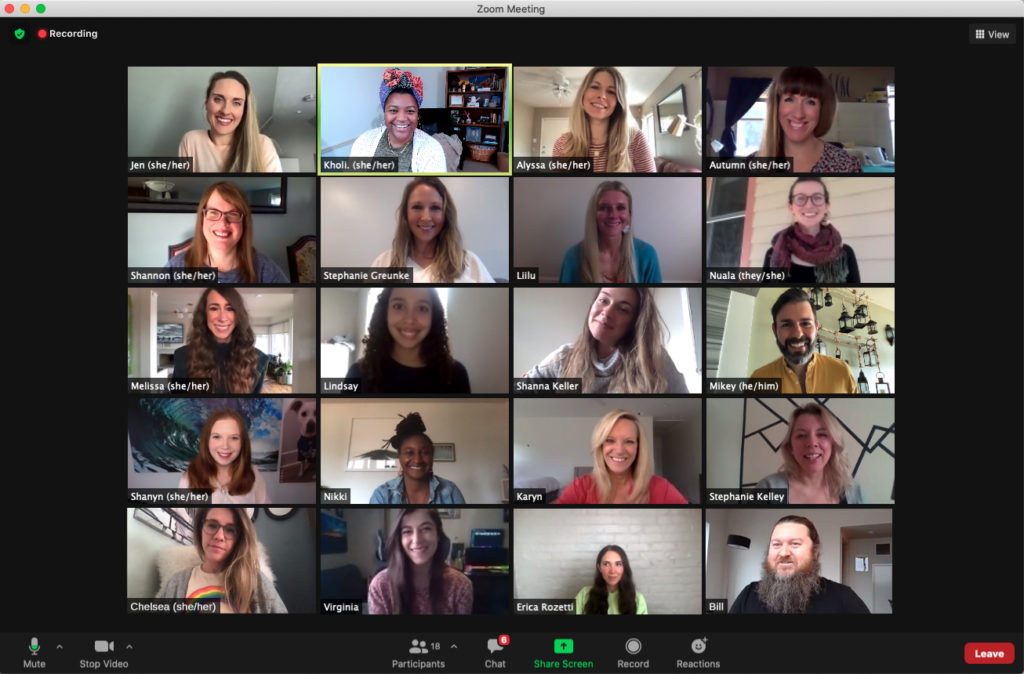 As a health and wellness company that thrives because of people's real life commitments to our program and its partners, Whole30 is committed to using our varied forms of communication and engagement to build and advocate for greater awareness around issues of diversity, equity, and inclusion.
Our Whole30 Approved® label is designed to help you identify products that are 100% compatible with the rules of our Whole30 program. It also lets you know that the product line and company who stands behind it have been vetted by our team. Usually, this only relates to ingredients and Animal Welfare Standards.
Moving forward, we want our community members to be able to trust that seeing a Whole30 Approved® label on a brand means that this inclusion was made with our larger commitment to social justice and food and wellness space impact in mind.
We are committed to leveraging our current networks in addition to proactively seeking out partners that help further our efforts in creating greater awareness around – and easier access to – the Whole30 program and Whole30 Approved® products.
Additionally, as we move forward in partnership development, we will continually audit our categories for Whole30 approval, as well as our overall Whole30 Approved® portfolio, in line with our overall DEI strategy as outlined below.
In the summer of 2020, we launched the Coalition for Change: an opt-in, collaborative alliance of Whole30 Approved brands who meet monthly to discuss foundational concepts related to representation, equity, diversity, and inclusion in the food and wellness industry, as well as the practical changes and best practices that can be implemented to reflect these concepts.
Whole30 Certified Coaching
The Whole30 Coaching program is committed to pursuing and empowering coaches and clients of all race, socioeconomic status, ethnicity, gender, sexual orientation, family responsibility or family status, marital status, religious or political conviction, pregnancy, age, body size and/or shape, and ability.
Through the development of our Community Culture Committee (CCC) and regular mandatory DEI calls and learnings, we intend to cultivate a coaching culture that lends itself to nonviolent, open, inclusive, and collaborative conversation and space in order to drive coach connection, growth, and overall community development.
Updates from the People & Culture Team
March 10, 2021: Whole30 Community Cares Presents Women's Work: Founders in Food, Health, and Wellness Event Replay
On Wednesday, 3/10, Whole30 Co-founder and CEO Melissa Urban engaged in conversation with some of our favorite leaders in the health and wellness industry: Beatrice Dixon (Founder and CEO of The Honey Pot Co), Kaisa Keranen (Founder of KaisaFit),  Nicole Cardoza (Founder of Antiracism Daily and Wellemental ), Richa Gupta (Founder of Good Food for Good), and Tonya Rapley (Founder of My Fab Finance and Owner of Club Loofah). Together they explored the ways in which personal health, wellness, and success are unique to each individual and not defined by a look or size or income, but by how we feel when we listen deeply to ourselves.

Watch the Women Founders Replay
February 17, 2021:Whole30 Community Cares Presents a Kitchen Table Talk
On Wednesday, 2/17, Bryon Neville Hughes III and Ryan Royster of Last Supper Society started off the event with a 30 minute cooking demo. It was followed by a discussion moderated by Whole30's Director of People & Culture, Dr. Kholi-Murchison, along with some Whole30 community favorites including, Althea Brown of Metemgee, Ashlea Carver Adams of All the Healthy Things, Byron Neville Hughes III, Ryan Royster, Floritza Gomez of Flor's Flavors, KJ Kearney of Black Food Fridays. The topic of conversation focused on the representation of Black food pathways, traditions, and flavors in commercial and digital food spaces.

Watch the Kitchen Table Talk Replay
February 1, 2021: Black History Month Statement
On Monday, 2/1, we began Black History Month by letting our community know that honoring Black history is about more than a finite set of days on the calendar. At Whole30 HQ, we view Black History Month as another opportunity to pause, listen, reflect, and continue to work towards equity. It's our intention to amplify the voices of Black, brown, and indigenous communities no matter what month it is. And, in honor of Black History Month, we let our community know that we would be sharing even more from Black food creatives and community members throughout the month in an effort to understand and champion Black food traditions, pathways, and contemporary Black food entrepreneurs and creatives. 
January 27, 2021: Whole30 Community Cares Presents Cooking Whole30 Recipe Contributors
On Wednesday, 1/27, Melissa Urban moderated a conversation with the five recipe creatives that contributed brand new recipes to the Cooking Whole30 project. They discussed their work, sources of inspiration, and the stories behind the specific recipes they developed for this cookbook.

Watch the Cooking Whole30 Replay
January 18, 2021: Martin Luther King Jr. Day Statement
On Monday, 1/18, we released our Martin Luther King Jr. Day statement, emphasizing the fact that helping our community own their health and wellness is about more than helping them complete a 30-day reset. It is a communal empowerment effort, with benefits we believe must extend to everyone, because what's at stake for one of us necessarily affects the other. For us, that begins with recognizing that for centuries we've ignored that truth in relationship with and to individuals and communities with historically marginalized identities. In the statement, we shared that our Whole30 HQ team had recently read Martin Luther King, Jr.'s Nobel Peace Prize acceptance speech together. We recommend you read it, too. 

Read MLK's Speech
January 13, 2021: Whole30 Community Cares Presents Cooking Whole30
On Wednesday, 1/13/2021, Josmine Evans moderated a discussion between Melissa, special editor Redwood Hill and Whole30 Director of People & Culture Dr. Carrie Kholi-Murchison. They discussed the process they used to revise Melissa's 2016 book The Whole30 Cookbook, making it reflective of Whole30's diversity, equity, and inclusion values, as well as our deep cultural appreciation of food and its historical pathways and ingredients.

Watch the Cooking Whole30 Replay
January 7, 2021: Statement on the Insurrection at the U.S. Capitol Building
From Dr. Carrie Kholi-Murchison, our Director of People & Culture: Yesterday was Day Six of the January Whole30. And while many of us might have started the day with that as our sole focus, it is certainly not how most of us ended it.

Yesterday, six days into 2021, and just fourteen days shy of the inauguration of a new president, armed white supremacist insurrectionists attempted to take over the U.S. Capitol building and disrupt the final certification process of a democratic election.

We can't imagine all of the ways the events of yesterday—that unfold into today—are affecting all of the individuals that make up our Whole30 community. But we do want to remind you that none of us exist in this moment alone.

It's not lost on us that this is the third Worldwide Whole30 where all of us have simultaneously experienced some form of grand emotional, physical, and psychological duress. This moment might feel scary and uncertain, or any other number of nameable and unnameable emotions. And after the last year we've had, we know that today might be infinitely harder. You might be questioning what investments feel worth it, and where your energy is best placed. If you're experiencing any of this in relationship to your January Whole30 commitment, we'd like to offer that your investment of energy in yourself is most worth it, whatever that looks like.

Food is emotional; it often feels like security and comfort. You might be wondering if you should continue with your Whole30, or pause it to start again another time.  If you're choosing to eat Whole30 today, tomorrow, the next 23 days, all we ask is that you be easy on you. Let good enough be good enough. Today, we're here to provide space for you. Our team will be in the comments all day to encourage you, support you, and help you troubleshoot.
November 2020: Release of Summit Replay
In November 2020, we released the Summit Replay, offering members the opportunity to catch up our exclusive 2020 Whole30 Community Cares Summit main stage programming. For $34.99, you'll have unlimited, 90-day access to 14 hours of panels, demonstrations and keynotes from serial social entrepreneurs Nicole Cardoza and Lily Diamond; teachers Rachel Ricketts and Sah D'Simone; industry leaders Dr. Will Cole and Maya Feller; Whole30's own Melissa Urban and twenty-seven other visionaries, creatives, and facilitators. Please note, your Summit Replay access ends 90 days from the date of the original purchase.

Access the Summit Replay
September 23-26, 2020: Whole30 Community Cares Summit
The 2020 Whole30 Community Cares Summit (9/23-9/26) was a virtual community-wide celebration featuring keynotes, workshops, community forums, and movement sessions. For three days, we dove into topics like: food and media ethics; social and racial justice in physical and virtual spaces; equity, diversity, and representation as practices that are essential for our success and survival; the deep grief many of us experienced in 2020. Every session was packed with value, featuring smart, experienced guests – like @nicoleacardoza , @drwillcole , @thekitchenista , @thereallailaali and SO MANY MORE – sharing candidly about essential topics.

Access the Summit Replay
August 13, 2020: Whole30 Pronoun Statement
Whole30 values the people within our community, and respects and honors each person's individuality. Self-disclosing our pronouns in our email signature is a small yet important step in recognizing that gender identity cannot be assumed, and that relying on assumptions can perpetuate harmful gender biases. Using people's correct pronouns helps ensure an inclusive culture where all voices are given equitable power. If you have questions about pronoun statements, here are two helpful resources:

Support Gender Inclusive Pronouns Sharing Gender Pronouns at Work
July 28, 2020: Coalition for Change
The Coalition for Change is an opt-in, collaborative alliance of Whole30 Approved brands who meet monthly to discuss foundational concepts related to representation, equity, diversity, and inclusion in the food and wellness industry, as well as the practical changes and best practices that can be implemented to reflect these concepts.
July 19, 2020: Organizations Eligible for Whole30 Matching Funds
Through 2020, we will match employee contributions to elligible organizations, up to $20,000.

Review our database
June 10, 2020: Our Anti-Racism Commitments for 2020
An outline of our multi-phase plan to end systemic racism and support the liberation of Black communities, led by Dr. Carrie Kholi-Murchison, our Director of People and Culture.

Review our commitments
June 2, 2020: Melissa Urban's Statement in Support of the Movement for Black Lives
Whole30 is committed to advocating for racial justice and the end of oppressive systems that disproportionately affect Black and indigenous people and people of color in the United States. This is an ongoing priority that we pursue collectively with our Whole30 HQ employees, Whole30 Certified Coaches, Whole30 Approved partners, and Whole30 community.

Read the full statement
Our Community Values and Actions
Organizations Eligible for Whole30 Matching Funds
In 2020, Whole30 committed to matching up to $20,000 of employee contributions to approved non-profit organizations. We are making our database of approved organizations publicly available to our Whole30 community in the hopes that you will find organizations to join, donate to, and give your time and resources.