Enjoy this preview recipe from Melissa's new cookbook, The Whole30 Friends & Family —it's the perfect entree for your end-of-summer cookout.
The Whole30 Friends & Family features 22 menus for everyday social occasions, so you can confidently host your friends & family—for BBQs, holidays, and even Oscar night—while sticking to your Whole30 commitment. It lands in bookstores on 10/15, but you can preorder it today to take advantage of our preorder bonus: a digital download of the Tailgating menu, plus exclusive discounts from some of our favorite Whole30 Approved brands.
Your The Whole30 Friends & Family Preorder Bonus
As a thank you for preordering the book, we'll give you early access to a menu from the cookbook that you can use right now, plus exclusive discounts to PRE Beef, Primal Palate, The New Primal and Pure Indian Foods. The Tailgating menu from The Whole30 Friends & Family features five delicious recipes from Whole30 collaborator and recipe creative Marissa Allen. Marissa is a Tailgating expert—she has a talent for creating Whole30 versions of your favorite compliant meals, and her husband Jeff plays in the NFL.
To claim your preorder bonus, simply preorder The Whole30 Friends & Family from your favorite bookseller, then complete the form at the link below. Claiming your preorder will also subscribe you to the free, resource-packed Whole30 newsletter.
Click here to claim your preorder bonus.
THE WHOLE30 FRIENDS & FAMILY
150 Recipes for Every Social Occasion
Coming October 15, 2019
Whole30 menus and recipes for everyday social occasions from birthday parties to baby showers, movie night, tailgating, and more
The Whole30 Friends & Family is packed with recipes for all of life's special moments, from birthdays to baby showers, barbecues to brunches. All of the recipes are Whole30 compliant, designed to mix and match to create the perfect menu whether you're hosting or contributing a dish as a guest. And in true Whole30 style, the recipes are creative, colorful, and so flavorful that your guests will never miss the added sugar.
DETAILS
Purchase: Amazon, B&N, Indie Bound, Powell's, BAM, Hudson, Indigo, Amazon.ca, iBooks, Google Play
Try a Recipe from the Book Today: Grilled Cilantro Chicken & Shrimp
The classic backyard barbecue already includes Whole30-friendly fare like salads, fruit, and grilled meats, chicken, and seafood. This elevated BBQ recipe was contributed by Healthy Little Peach blogger Ashley McCrary. The rest of Ashley's Southern-inspired menu in The Whole30 Friends & Family includes her Grilled Steak and Peach Salad, a peach-infused iced tea, barbecue-sauced meatballs, Buffalo chicken burgers, and itty-bitty hamburgers served on crispy fried plantain buns with jalapeño relish, plus options for fresh and crunchy salads.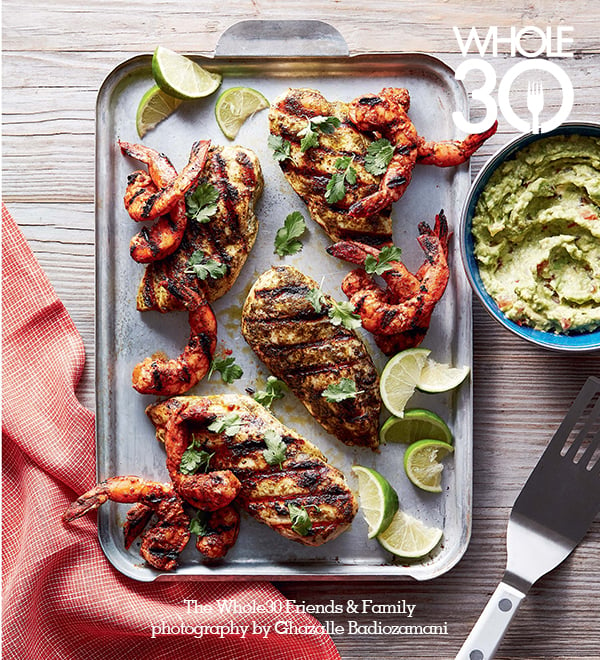 Tajín seasoning is a shortcut to great flavor in this recipe. It's a popular seasoning blend in Mexico and is often sprinkled on mango or melon. The only ingredients are dried and ground chiles, salt, and dehydrated lime juice—so it's totally compliant.
PREP: 25 MINUTES | MARINATE: 1 HOUR | COOK: 15 MINUTES | TOTAL: 1 HOUR 40 MINUTES
Ingredients
FOR THE CILANTRO MARINADE
1 cup coarsely chopped fresh cilantro
1 teaspoon black pepper
1 teaspoon coarse salt
1 cup extra-virgin olive oil
1⁄4 cup fresh lime juice
1⁄4 cup fresh lemon juice
4 cloves garlic, crushed and peeled
8 boneless, skinless chicken breasts (6 to 8 ounces each)
FOR THE GUACAMOLE
3 ripe medium avocados, halved and pitted
1 medium tomato, cored, seeded, and chopped 1⁄4 cup finely chopped red onion
1 teaspoon garlic powder
3⁄4 teaspoon coarse salt
1⁄2 teaspoon black pepper
2 tablespoons fresh lime juice
FOR THE CHICKEN AND SHRIMP
24 large shrimp, peeled and deveined
3 tablespoons fresh lime juice
1 tablespoon Tajín seasoning Coarsely chopped fresh cilantro, for garnish Lime wedges
Instructions
MAKE THE CILANTRO MARINADE: For the marinade, in a blender or food processor, combine the cilantro, pepper, salt, olive oil, lime juice, lemon juice, and garlic. Cover and blend or process until smooth. Place the chicken breasts in 2 large resealable plastic bags; add half of the marinade to each bag. Marinate in the refrigerator at least 1 hour but no more than 2 hours.
MAKE THE GUACAMOLE: Meanwhile, scoop the avocado flesh into a medium bowl. Mash with a fork. Stir in the tomato, onion, garlic powder, salt, pepper, and lime juice. Cover and refrigerate until ready to serve.
MAKE THE CHICKEN AND SHRIMP: Preheat the grill to high. Remove the chicken from the marinade; discard the marinade. Arrange the chicken on a grill rack. Grill, turning once halfway through, until cooked ( 165°F ), 14 to 15 minutes.
MEANWHILE, place the shrimp in a large bowl. Drizzle the lime juice over the shrimp and toss to coat. Sprinkle the Tajín seasoning over the shrimp and toss to coat.
TRANSFER the chicken to a large platter; tent with foil to keep warm. Add the shrimp to the grill. Cook, turning once halfway through, until trans- lucent and pink, 2 to 3 minutes.
SERVE the chicken with the shrimp and guacamole. Top with cilantro and serve with lime wedges.