Recipes that go viral on social media can be intimidating, we know! If you've scrolled through videos over the past few months, you've probably seen the smash burger taco trend, and maybe you've even wondered how to make them Whole30 compatible. We're here to help! These viral smash burger tacos are a breeze to make and perfect for your September Whole30.
Want to level up your viral-worthy recipes even more?
Primal Kitchen is here to help with dozens of Whole30 Approved products like dressings, sauces, and condiments! All of their products are purposefully made with high-quality ingredients, and their Whole30 Approved lineup is curated to meet all of your flavor needs.
Primal Kitchen's Squeeze Mayos, like the Chipotle Lime Mayo used in this recipe, are the perfect condiment to have on hand going into your Whole30, but they also have salad dressings, barbeque sauces, ketchup, and more.
Stock up and save 25% on Primal Kitchen's Whole30 Approved products with code WHOLE30 today!
Whole30 Smash Burger Taco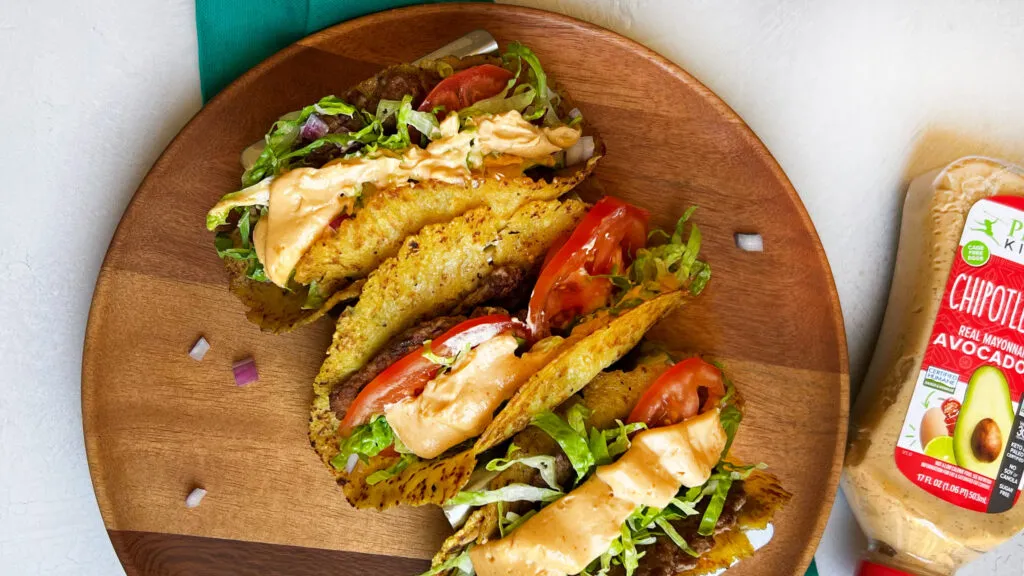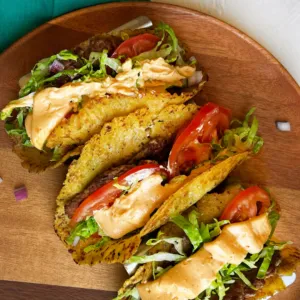 Whole30 Smash Burger Taco
These Whole30 Smash Burger Tacos are a breeze to make and perfect whenever you're craving something utterly delicious.
Ingredients
Whole30 Smash Burger Tacos
1

lb

ground beef

1

tsp

kosher salt

1/4

tsp

black pepper

1

tsp

garlic powder

1

tsp

onion powder

1/2

tsp

paprika

8

plantain tortillas

(see below for how to make)
Burger Toppings
1/2

red onion

diced

2

tomatoes

sliced

2

cups

shredded lettuce
Plantain Tortillas
4

green plantains

peeled and diced

4

cups

water

1

tsp

kosher salt

1

tbsp

Primal Kitchen Avocado Oil
Instructions
For the plantain tortillas:
ADD plantains, water, and salt to a saucepan on medium heat and cook until fork tender. Allow to cool, then add to a food processor and blend until it comes together to form a "dough" ball. Divide the plantain dough into 8. Cover your palms with oil, then roll each piece of plantain dough into a ball. Using a tortilla press, press the dough into a tortilla.

NEXT, bring a skillet to medium heat, add the pressed plantain tortilla, and cook for 1 ½ minutes. Then flip and cook for another minute. Remove from heat and repeat for the remaining plantain tacos.
For the smash burger tacos:
COMBINE the ground beef, salt, black pepper, garlic powder, onion powder, and paprika. Mix well, then separate into 8 equal portions. Spread each portion of seasoned ground beef onto a plantain tortilla. Be sure to spread all the way to the edges, as it will shrink during cooking.

NEXT, bring a skillet to medium heat. When hot, spray generously with Primal Kitchen Avocado Oil Spray. Then add the plantain tortilla, meat side down, onto the hot skillet. Use a burger press or flat pot cover/lid to press the burger down firmly while it cooks. Cook for about 1 ½ minutes to 2 minutes. Then flip, cook for 10 seconds, and remove from heat.

TOP your smash burger taco with your favorite burger toppings like diced onions, sliced tomatoes, shredded lettuce, and some delicious Primal Kitchen Chipotle Lime Mayo, and enjoy!
Don't forget to use code WHOLE30 at https://w30.co/pkblog23 to save 25% on your Primal Kitchen order!
Althea Brown
Recipe Creator | Metemgee
Althea Brown is a recipe developer and food blogger specializing in Guyanese and Caribbean food. She has a Masters in Public Administration and spent many years in Corporate Human Resources roles before taking time off to spend with her family. She spends most of her days recreating traditional Guyanese and Caribbean recipes into Whole30 recipes. She believes that culture and food traditions are important parts of your food journey. When she is not cooking up delicious meals for family and friends, she is caring for her three children and enjoying life in colorful Colorado.