by Melissa Urban, who ate at least three bagels during her pregnancy (the gluten-y kind) and her kid turned out JUST FINE.
My son is 2-1/2, so I still remember my pregnancy well. Do you know how I spent most of it? Buried in books, online message boards, and pregnancy-related websites. So much so that at one point, friends and family issued a moratorium on research. "Stop buying books," they said. "Women have been doing this for hundreds of generations without consulting BabyCenter.com."
I knew this, intuitively. But I perceived enormous pressure to have the perfect pregnancy.
Eat the perfect pregnancy diet with just the right balance of nutrient density and macronutrients. Work around food aversions, cravings, and morning sickness while staying within a general Whole30 framework. Be the first pregnant woman ever to enjoy eating liver.
Continue to exercise in some capacity through all 40 weeks. Become a regular at prenatal yoga. Retain most of my pre-pregnancy strength and cardiovascular capacity. Prevent my abdominals from separating at all.
Create the perfect birth plan. Master the art of hypnobirthing. Successfully style my hair so that it still looks good for photos after 17 hours of labor.
Effectively analyze all the research on all the various medical and birthing options for me and my baby. Make all the right choices. Never once second-guess my decisions.
Gain just the right amount of weight—not too much, not too little. Have people say, "From the back, you can't even tell you're pregnant!" Above all, I must glow.
Part of why I felt this pressure was because of what I do. When readers found out I was pregnant, I was inundated with questions about what I was eating, how I was exercising, what kind of birth I was planning, what books I was reading. It felt like all eyes were on me… but then I realized most pregnant women feel like this. That belly is like a beacon; "I'm growing a tiny human! Watch what I'm doing and pass judgment!" All of a sudden, your every move is broadcast to the world, and it's hard not to feel like everyone is watching.
Wearing heels while pregnant? That's really bad for your back. Making homemade mayo with eggs from your neighbor's backyard chickens? Guess you don't mind salmonella. Eating gluten while pregnant? May as well start smoking cigarettes.
In talking to girlfriends growing their own tiny humans, I realized this was not unique to me—this is a universal pressure felt by most, if not all, women at some point during their pregnancy. So, I read. And researched. And discussed. And I made myself crazy in the process—so much so that I wasn't even enjoying my pregnancy, because I was so convinced I wasn't pregnant-ing well enough. Every time I woke up on my back (bad for blood flow to the baby), laid down on the couch to watch a movie (discourages baby from turning into the perfect birthing position, or ate my pastured, organic, plain, full-fat sheep's milk yogurt for breakfast, because everything else made me want to puke (but still, DAIRY), I felt constantly guilty for not giving my baby the best of the best of the best.
How exhausting, unreasonable, and self-punishing is that?
[Tweet "'I wasn't enjoying my pregnancy, convinced I wasn't pregnant-ing well enough.' #Whole30HMHB"]
Helping You Enjoy Your Pregnancy
I was suffering from information overload: too much information, often conflicting, all coming in at the same time. I was paralyzed, demoralized, discouraged. I didn't know how to sift through all the information I was taking in to create the perfect plan for me. And I wasn't taking time to be proud of myself for all the things I was doing for my health and the health of my baby day in and day out.
It took a family intervention, a permanent boycott of online message boards, the identification of two or three sources I really trusted for my pregnancy information, and a decision to let my imperfect but strong commitment to health be good enough before I was finally able to sail through the rest of my pregnancy happy, confident and yes… glowing.
Then I realized, if I was struggling with this – with all of the knowledge, research, and experience I had accumulated doing the work that I do – does any woman stand a chance?
That's when I set out to create the Healthy Mama, Happy Baby virtual pregnancy handbook. One comprehensive course, giving you all the facts you need to make the right decisions for you and your baby. No judgment. No fearmongering. Based on the current research, and the best practices of experienced doctors, midwives, and doulas. Brought to you by the program you already trust to bring you common sense, practical, applicable information designed to make you mentally, physically, and emotionally healthier—the Whole30.
Oh, and we remind you 117 times to celebrate your commitment to health and your baby and stop aiming for perfection, because that doesn't exist.
[Tweet "Introducing Healthy Mama, Happy Baby from @Whole30 and @StephGPaleoRD. #Whole30HMHB"]
Healthy Mama, Happy Baby
I was determined that our readers wouldn't get stuck doing what I did—researching endlessly, feeling more confused and more inadequate with every Google search. So I called on Stephanie Greunke, mother of 1-year-old Otto, Registered Dietitian, and pre- and post-natal certified specialist, to develop a program to help you cut through the information overload so you can focus on what matters: enjoying this unique and life-changing experience. The name of our program says it all—over the course of the next 40 weeks, we want you to have a happy, confident pregnancy that fits your definition of healthy.
The most important part—the Healthy Mama, Happy Baby course was built by moms, for moms, born of our own pregnancies, our years of combined research and professional experience, and a desire to help you have the kind of pregnancy every woman deserves.
The program will launch in November, but we are excited to give you a preview of what's to come, and a chance to start planning your happy, healthy pregnancy now. Visit our HMHB launch page to learn more about our program, and sign up for updates.
Stephanie and I both wish we had a program like this when we were pregnant—so we built it ourselves. Join our HMHB community by signing up for our newsletter, and be the first to know when your one-stop shopping for pregnancy advice, recommendations, and resources launches.
Best in health,
Melissa Urban
Header photo credit: Erin K. Handley
---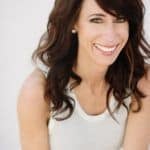 Melissa Urban is a Certified Sports Nutritionist, and the author of the New York Times bestselling book It Starts With Food and The Whole30: The 30-Day Guide to Total Health and Food Freedom. She has been featured in the Wall Street Journal, Details, Outside, Redbook, and Shape as the co-founder of Whole9 and the Whole30 program. Melissa lives in Salt Lake City, UT.
Photo credit: Taylor Gage, She Thrives Blog