This post is part of our ongoing Whole30 success stories series. To submit your own Whole30 success story, contact [email protected].
We've been following Jared's Whole30 success story for many months now. His enthusiastic spirit and commitment to health are evident in every word, and we love that he's maintained a 175-pound weight loss (!) with his healthy Whole30 habits. We were also impressed with his commitment to fueling long rides on his road cycling with a Whole30-ish, real food-based plan.
Read on to find out more about his story, and don't miss our bonus Q&A at the end, where Jared explains exactly how he fuels his endurance rides.
[Tweet "Jared used the #Whole30 to maintain a 175 lb weight loss and fuel his endurance rides."]
In Jared's Own Words
Two and a half years ago, I didn't just struggle with food and weight—I had absolutely no relationship or care for myself in those areas. Everything from a celebration to a downfall had to involve food; I used it as a reward, a means of socialization, and a best friend when I couldn't deal with the realities of life.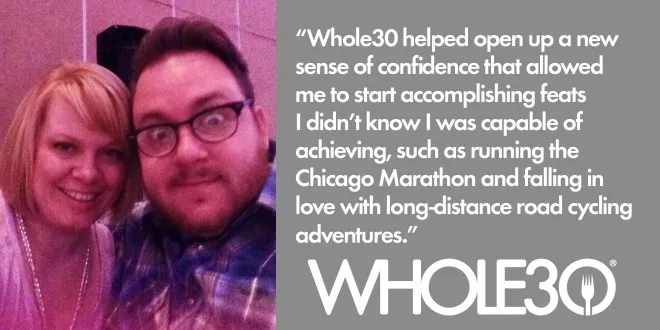 Much of the pain and misfortune in my life was due to an unhealthy relationship with and lack of respect towards food. I was morbidly obese, and I didn't even have enough courage to step on a scale. Once, after two weeks of trying a gluten-free diet, I worked up enough nerve to weigh myself. I took a long breath, knowing I would have to own the number that came up. Instead of a number, the scale read ERROR.
A scale rated to weigh 350 pounds blinked ERROR.
This broke my heart and spirit, but not my determination. I had to find something to hold on to that would drive me through the upcoming hard days, hard nights and all that I thought impossible. My children became that something. My heart broke when I considered all the memories I wouldn't be able to enjoy or experience with my kids.
In the past, I had told my wife (and myself) that I didn't enjoy family trips like going to Disneyland. The truth was harder to explain. I did not love the long distance walking or waiting in line for a ride, only to be told I was too heavy. I did not enjoy the airplane flights to California because of the inevitable looks and sideways glances from the "lucky" person sitting next to me as I was handed a seat belt extender. I knew I had to face these fears.
At that moment, contemplating all my dreams for myself and my family, something sparked inside of me that I have kept alive to this day.
Paving the Road to Success: Whole30, Round One
My weight-loss journey started the moment that I read the error message on my scale. I lost 175 pounds over the course of the next year and a half, and I topped this success off by conquering my longtime dream of hiking the Grand Canyon.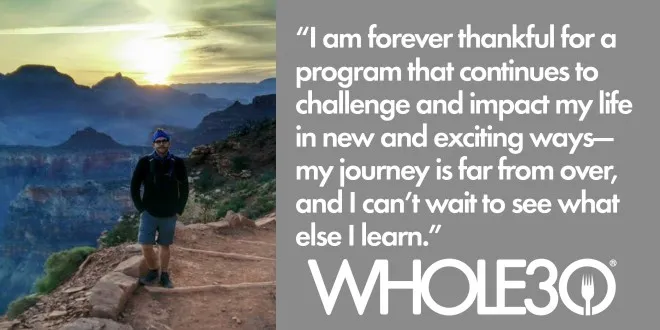 The very next day, on April 5, 2015, I started my first Whole30 with my wife Brittany. Soon after we started, we found out Brittany was pregnant. She still continued to complete the 30 days. For me, Whole30 never had anything to do with losing weight. Instead, I wanted to firmly establish my healthy habits and lose my fear of gaining the weight back and returning to who I was before.
After my first Whole30, I knew beyond a shadow of a doubt that I had fully paved my own road to health. Whole30 helped open up a new sense of confidence that allowed me to start accomplishing feats I didn't know I was capable of achieving, such as running the Chicago Marathon and falling in love with long-distance road cycling adventures.
Fueling His Rides: Whole30, Round Two
On February 1, 2016, my wife and I set out to accomplish our second Whole30 experience. We welcomed our third son into the world just a few weeks prior, and we both wanted to get back on board with the Whole30 lifestyle. We both read It Starts with Food and The Whole30 and were ultimately very well-prepared. We loved being on the same page in regards to our health, and it made our journey together more enjoyable than ever.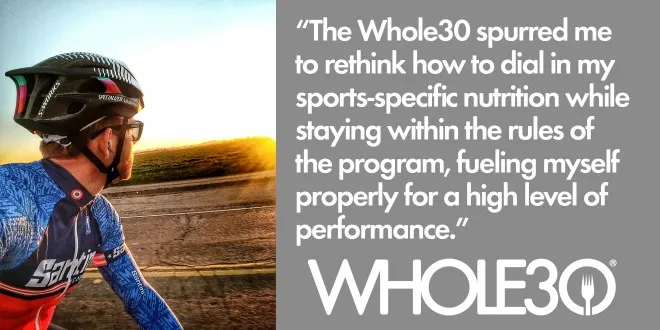 During my second Whole30, I pushed myself harder physically than ever before and completed 710 cycling miles for the month of February alone. Not only did I complete my highest miles in one month, but I also climbed 30,152 feet, which is equivalent to climbing out of The Grand Canyon 4.75 times— an astonishing level of success for someone who used to dread the thought of even riding a bike.
The Whole30 spurred me to rethink my sports-specific nutrition while staying within the rules of the program, fueling myself properly for a high level of performance. This second round taught me so much about listening to my body and giving it the nutrition it needed.
I am forever thankful for a program that continues to challenge and impact my life in new and exciting ways—my journey is far from over, and I can't wait to see what I learn from my third round!
A Whole30 Endurance Sport Q&A, with Jared
How do you prepare for your long ride days?
Pre-Whole30, I took for granted how quickly energy gels, recovery drinks, caffeine, and protein bars worked, and I knew on Whole30 they weren't an option anymore. For a while, I tried just to suck it up and ignore my body's needs, but I was met with little success and absolutely no gains. Knowing how to properly fuel my rides became a critical factor in my success. I start preparing for ride days a few days in advance by slowly increasing my carbs and adding a variety of protein sources to ensure full muscle recovery. Two days before ride days, I start adding in additional carbohydrates and banking them for future use on my long rides. Bananas, sweet and white potatoes, blueberries, leafy greens, and apples are my go-to carb sources combined with my meals. I am also aware of my consumption of Vitamin D, C, E, A and B Vitamins, because they affect my performance. To achieve this, I typically take a men's daily vitamin and a B-vitamin supplement.
What does your food intake on the morning of a long ride day look like?
Fat is something I make a point to consume before my long rides. Sixty to 90 minutes prior to a ride, I have a cup of coffee with creamed coconut milk from the can. The caffeine gives me a little boost and increases blood flow during my warm-up phase. My first meal usually consists of four eggs cooked in coconut oil and seasoned with garlic salt and paprika, served with pan-seared potatoes and fresh avocado. I may also include something like a large apple, a handful of raisins, and cashew butter.
[Tweet "A #Whole30 Endurance Sport Q&A with Jared: Fueling his long-distance cycling rides."]
What do you eat while you are out on the bike?
Riding for six hours without a real meal is hard on the body, so I found timing and a schedule of eating during my ride to be just as important as the food I eat. During the ride, carbohydrates are key, and I make sure to provide my body with fuel hourly. The natural sugars in no-sugar-added dried bananas and mango provide an excellent carbohydrate source that I can utilize quickly during the ride. Fats are also a vital addition to my rides as well. I combine the dried fruit with unsweetened nut butters, typically almond or cashew, and EPIC Bars for a protein source with an extra boost of fat. This combination is extremely gentle on my stomach and only requires only a short digestive break and a healthy dose of water before I am ready to ride at full-force again. I also used the @Whole30Approved Instagram feed as a great place to see what is out there and help me plan my on-the-go cycling fuel.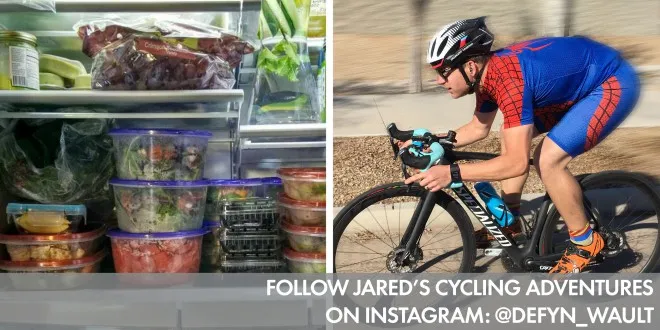 What do you eat to refuel after your rides?
After my rides, my body screams for protein! I am sure to give it what it needs and a typical meal, in this case, might be pan-fried eggs with salmon, Brussel's sprouts, and potato hash browns. I also regularly mash white potatoes together with full-fat canned coconut milk as quick and easy post-cycling fuel. As I continue to experiment with my Life After Whole30 options, I am always evaluating adding different types of carbs until I find the perfect blend. I strive to find the healthiest options that work for my body and the current point in my journey.
How about your off days, what do those look like?
I stick to a 2:1 carb to protein mix for after short rides or runs, and I typically consume chicken or salmon in these cases. Throughout the week, I like to eat a wide variety of proteins like salmon, ground turkey, chicken, swordfish, and tuna steaks. I cook these alongside an array of vegetables and healthy fats.
Where are your favorite places to ride?
I live in Surprise, Arizona, just outside of Phoenix, and I ride all around the state.  My favorite types of rides are adventure rides that put you way out there—those are so much fun!
To follow along with Jared's story as he continues his Whole30 journey and cycling adventures, follow him on Instagram.
Share Your Story
Are you a Whole30 success story? Share your story with us via Instagram, Facebook, or in an email to [email protected].