This information applies to kids without special needs, medical conditions, or situations where a more individualized or therapeutic-diet applies. The contents of this article present the research and ideas of its author(s) on meeting your child's nutritional needs with whole foods and was created for informational purposes only. All information, content, and material on this website is for informational purposes and not intended to serve as a substitute for the consultation, diagnosis, and/or medical treatment of a qualified physician or healthcare provider. Consult with your qualified physician or healthcare provider before starting any diet, supplement regimen, or to determine the appropriateness of the information contained herein, or if you have any questions regarding your child's health. Thirty & Co, LLC disclaims responsibility for any adverse effects resulting directly or indirectly from any information contained on this website.
By Stephanie Greunke, Registered Dietitian
The Good News
Kids thrive on the same food that adults do. Healthy fats, proteins, veggies and fruit fulfill their nutrient needs and promote healthy eating for life. If you're eating a Whole30-inspired diet, putting real food first, and balancing your meals according to the meal planning template—your little one's plate should look similar to yours, just on a smaller scale! (Unless, of course, they're going through a growth spurt … they may be eating a TON!)
This is good news since many of us don't have time to be short-order chefs, making multiple customized meals for everyone. If you're working on building healthy mealtime habits, take it one step at a time. Changing mealtime dynamics takes time and patience, often comes with meltdowns, and sometimes requires the help of feeding specialists if there are sensory issues or other health concerns. Be patient with the process and know that your little one(s) will learn to love veggies, protein, and healthy fats with time and creativity.
Navigating food battles?
Read our tips for introducing new foods and talking to your kids about the Whole30.
What Kids Need
You may find your little one gravitating towards more carbohydrates than you eat—and that's okay! Their growing bodies have a lot more flexibility when it comes to carbohydrate intake. They often thrive on a diet containing more whole food-based carbohydrates. So if it seems like some days they can't get enough fruit, like my boys, they're right on track!
I'll discuss more about specific macronutrients below; however, please don't stress about counting grams or weighing/measuring food. That's not necessary with kids, especially if you're feeding them a diet rich in whole foods. They're great at regulating how much they need to eat. This is really interesting to observe! You may notice your little one eating more some days and less others. You may notice them eating more protein on certain days and feeling satisfied with just carbs others. Watch, listen and allow them to explore what feels best. Meeting your child's nutritional needs with whole foods is possible! If you're concerned about their intake or have specific questions related to their eating habits, please reach out to a dietitian trained in pediatrics to customize a plan to meet your child's needs.
Here are some daily averages, according to the National Institutes of Health. These are simply average recommendations. Amounts may need to be adjusted to fit your child's unique needs!
Daily Averages
Total Calories
Age 1-3 = 1,000-1,400
Ages 4-8 = 1,200 – 2,000
Protein
6-12 months = 11 grams/day
1-3 years = 13 grams/day, 5-20% of calories
4-8 years = 19 grams/day, 10-30% of calories
Adults (for comparison) = 10-35% of calories
Fat
6-12 months = 30 grams/day
1-3 years = around 40-60 grams/day, 30-40% of calories
4-8 years = around 45-65 grams/day, 25-35% of calories
Adults (for comparison) = around 45-78 grams/day, 20-35% of calories
Carbohydrates
6-12 months = 95 grams/day
1-3 years = around 130 grams/day, 45-65% of calories
4-8 years = around 130 grams/day, 45-65% of calories
Adults (for comparison) = around 225-325 grams/day, 45-65% of calories
What this Means for You:
While I believe there's likely a lot of flexibility with protein intake, the set RDA shows a level that's realistic to meet. I work with a lot of moms who are nervous about their little one consuming enough protein. To meet this intake, a 1-3 year old requires about 2-3 oz of animal protein, which may be the amount some eat in one meal! Note: this amount may not be enough to meet iron (and other nutrients like zinc, B-vitamins, selenium) needs. If your little one is refusing iron-rich animal protein like beef, it's a good idea to work with your pediatrician to ensure sufficiency via blood testing. This is something that's often done around the 1-year visit, but you can always request additional checks.
A child's requirement for fat is much higher than some mamas think. While there's a wide variability in accepted macronutrient percentages for adults, government guidelines suggest a higher percentage of fat for infants and toddlers when compared to adults. This speaks to the importance of healthy fat for your little one's growing brain and overall development.
The recommended carbohydrate intake (~130 grams/day) may be more than what you're currently giving your little one. As long as they're thriving and consuming nutrient-dense healthy fat and protein, that may be perfectly fine. My little ones thrive on a higher-fat diet and often don't reach 130 grams of carbs a day. On the other hand, your little one may be reaching or exceeding this. As I mentioned, unless your child is navigating a medical condition, we don't need to be too concerned about carbohydrates. Focus on a diet balanced in protein and fat with the majority of the carbohydrates coming from whole food sources.
How I Balance My Kids' Plates
When my kids are eating meals at home, I use placemats with three sections to help me remember the three components I always offer at meals:
Healthy protein: poultry, fish, beef, eggs, pork, deli meat/sausages (Healthier vegetarian sources include: beans, lentils, and organic soy such as tempeh, natto, tofu, and edamame)
Produce: fruits, veggies
Healthy fat: avocado, coconut products (milk, unsweetened flakes, butter, cream, yogurt), dressings/dips, nuts/seeds (when developmentally appropriate), sliced olives, egg yolks, grass-fed butter/ghee, full-fat cow's/sheep's/goat's yogurt and cheese (if tolerated/personal preference)
Some of our favorites snacks include:
Fruit with nut butter (adding healthy fat to the fruit helps keep their energy and mood more stable)
Guacamole cups and veggies or homemade plantain chips
Applegate hot dogs
Trail mix
Nut and date bar or meat stick (if we're on-the-go)
Example Meals
Here are a few examples of what I serve my almost two and four-year-old boys. You'll notice a generous portion of fat, protein, and veggies in each of these meals. They'll sometimes receive gluten-free grains or legumes, as I like to aim for variety and they seem to tolerate these options well. You can use these examples for ideas, but please don't compare how your kids eat or what you're currently doing for mealtime with what our family does. We're all on our own path! Children thrive on a variety of diets based on cultural traditions, religious preferences, and parents' food philosophies.
Almond flour coated mahi mahi bites, baked yam with melted ghee and red pepper slices with Primal Kitchens ranch

Scrambled eggs with avocado, sauerkraut, and berries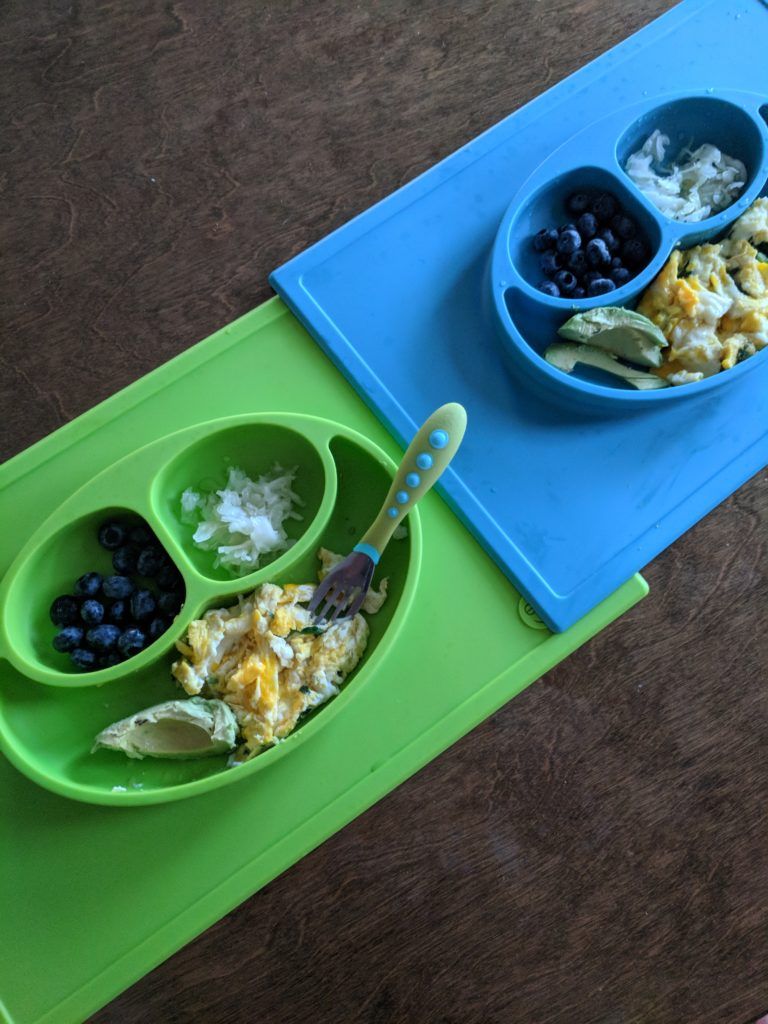 In addition to my suggestions, here are a few blogs showcasing fun, whole-foods based lunchbox ideas from Against All Grain, Nom Nom Paleo, and Primal Bliss Nutrition. I hope that you can see now that meeting your child's nutritional needs with whole foods is possible!
Header photo: Tong Nguyen van
---
You Might Also Like…