You might be interested in trying out the Plant-Based Whole30 for many reasons. It's great if you're looking to get more confident in your knowledge about food, have more mindfulness around meals, and even improve your relationship with food. If you're considering trying the Plant-Based Whole30, you might be wondering what a typical day of eating looks like. In this blog post, I'll walk you through what I eat in a day during a Plant-Based Whole30.
That could help you better understand what you might eat in a day, too. It will give you an idea of what a plant-based meal plan can look like—from breakfast to dinner. And you'll also glean tips for making the most of the 30 days of your plant-based program.
So, whether you're looking to kickstart your health journey or simply want to try something new, read on to learn more about what you can expect from your Plant-Based Whole30.
Preparing Ahead for Your Plant-Based Meal Plan
Before you get started making your meals, plan what you're going to eat ahead of time. Meal planning is an essential aspect of making healthier choices. It involves creating a plan for what you will eat throughout the week, taking into consideration your nutritional needs and preferences.
This can include:
Taking inventory of your pantry
Noting items that are running low
Picking out recipes to make
Making a grocery list
Scheduling your groceries for pickup or delivery
Meal planning during your Plant-Based Whole30 helps to save time and money by allowing you to shop for groceries in advance and avoid last-minute decisions about what to eat. It also helps to ensure that you have enough Whole30-approved options in your pantry and fridge before day one rolls around.
Three Examples of What I Eat in a Day
Here's an example of what a day of eating might look like, all Plant-Based whole 30 approved. You don't need to follow these exactly, but they can help you when you start planning your days out during a Plant-Based Whole30.
Day 1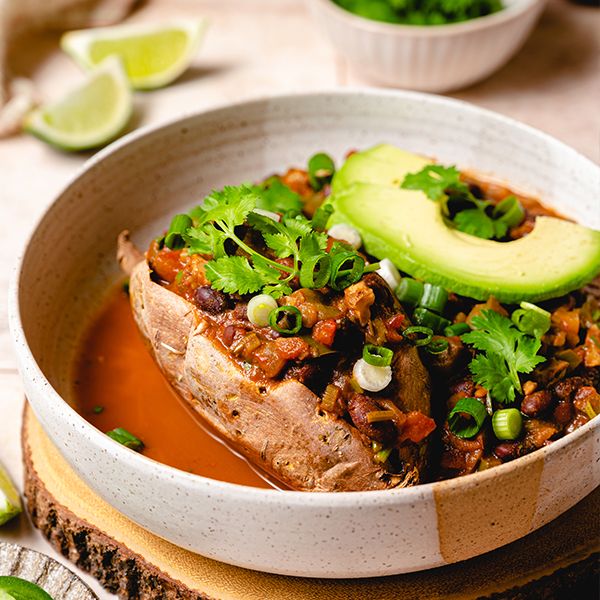 Breakfast: Scrambled tofu with mixed vegetables (such as mushrooms, bell peppers, and spinach), topped with sliced avocado and a fresh fruit salad on the side.
Lunch: Chilli stuffed sweet potato and black bean bowl with roasted vegetables (such as broccoli and carrots), drizzled with homemade avocado dressing (made with avocado, lemon juice, and garlic), and topped with fresh cilantro.
Dinner: Plant-based sheet pan pesto bowl with a mixed greens salad that includes cherry tomatoes, cucumber, and homemade pesto sauce.
Snack: Sliced apple with almond butter OR pistachios and blackberries.
If you want to follow along exactly, you have your first day of your Plant-Based Whole30 completed! And it's likely done with foods you're already familiar with and have eaten before.
TIP: When meal planning, picking recipes that use similar ingredients in recipes can help reduce food waste and your grocery cost. Plus, it can make preparing meals even easier and faster.
Here's an example of what my day two (and your's, too) might look like.
Day 2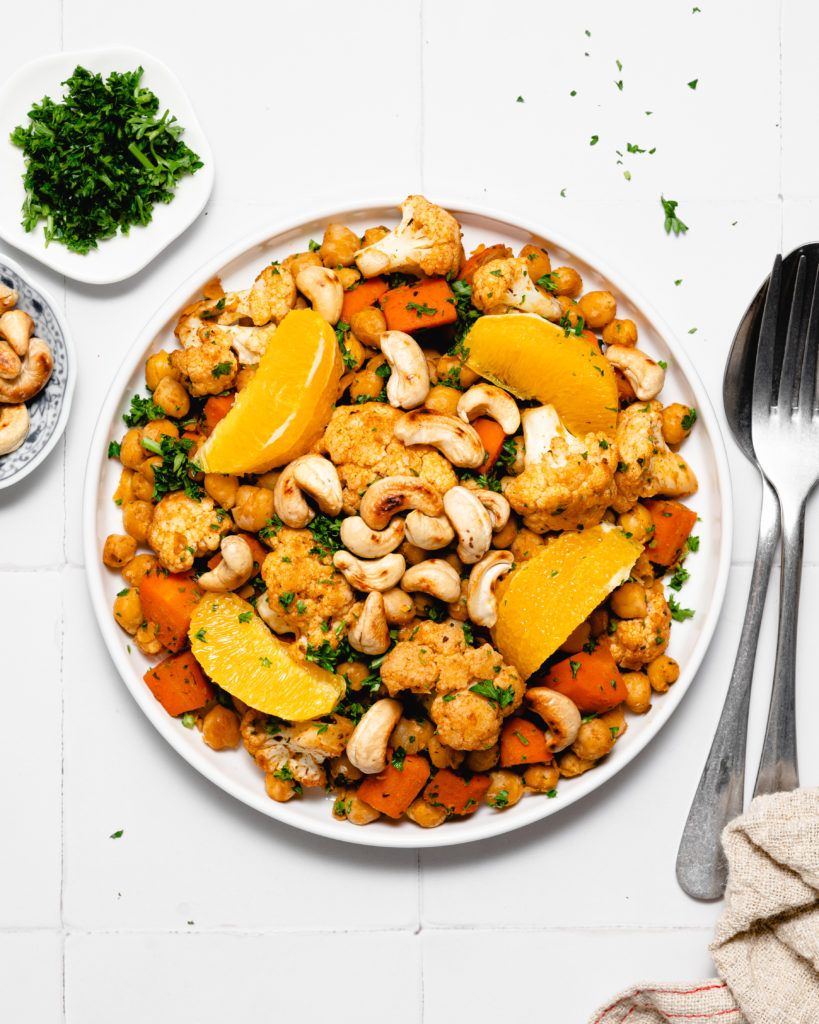 Breakfast: Chia pudding with coconut milk and fresh blackberries.
Lunch: Cauliflower, Carrot, and Chickpea Skillet (roasted cauliflower and carrots) topped with fresh cilantro.
Dinner: Roasted butternut squash soup with coconut milk and ginger. Served with a mixed greens salad with radishes, roasted carrots, and homemade avocado sauce.
Snack: Raw vegetable crudités with homemade hummus OR a homemade fruit cup with nuts.
TIP: Chia pudding is a great option for a quick breakfast because it has to be prepared the night before. This is great if eating breakfast is a challenge for you or if you feel there just isn't enough time.
Here's one more example of what I eat in a day. Hopefully this gives you a complete, three-day Plant-Based Whole30 meal plan.
Day 3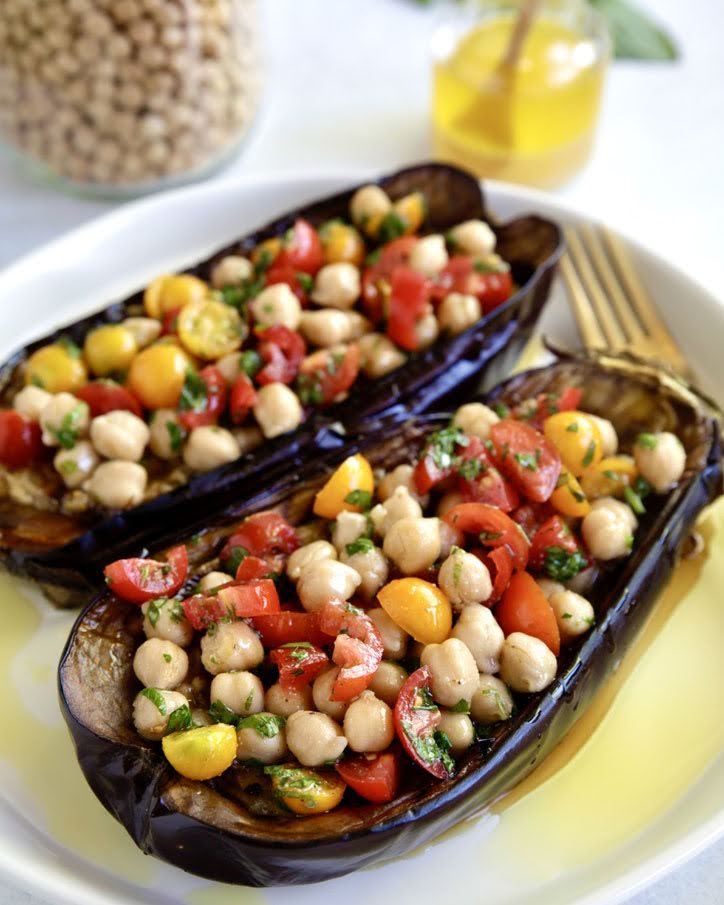 Breakfast: Plant-Based Whole30 green smoothie.
Lunch: Southwestern bowl with black beans, cauliflower rice, and chipotle ranch or avocado dressing—topped with fresh cilantro and served with mixed greens.
Dinner: Roasted eggplant boats with chickpeas, and vegetables, then topped with a lemon garlic dressing.
Snack: Homemade trail mix with nuts, seeds, and dried fruit.
Rounding Out Your Plant-Based Meal Plan
The three examples of what I eat in a day gives you a great start. But there are a few other tips to help you on your Plant-Based Whole30.
Remember to drink plenty of water throughout the day. Hydration is one of the most important parts of your health. If you feel up to it, also finding a type of movement that you enjoy can also help keep you healthy—physically and mentally.
Portion size is another thing to consider when planning for your Plant-Based Whole30. For each of the plant-based meal plan suggestions above, you may need to adjust portion sizes to meet your individual needs. These meals are just suggestions and can be modified to suit your nutritional needs, tastes, and preferences. Additional snacks can be added and vegetables can be added at any time.
Experiment with the suggestions and tips until you have the right meal plan for each day of your Plant-Based Whole30. With such a great variety of plant-based protein options and interesting produce, you're in for a fun, healthy, and delicious journey.
Rhyan Geiger
Rhyan is a registered dietitian and two-time vegan author who specializes in vegan nutrition. She is the owner of Phoenix Vegan Dietitian where she helps others easily transition to vegan living. She has many years of experience in vegan nutrition and believes in positively impacting the world one bite at a time. Rhyan is an expert in this field and has been featured in many media outlets including Women's Health and Business Insider. You can connect with her at www.phxvegandietitian.com or on Instagram @phxvegandietitian.