We're thrilled about our newest Whole30 Approved partner, Primal Palate Organic Spices. We know that a successful Whole30 requires extra time in the kitchen to plan, prep, and cook. Primal Palate Organic Spices are a quick way to add flavor and creativity to your Whole30 meals, maximizing your time, effort, and meal enjoyment.
These spices and blends are certified organic, gluten-free, Kosher and non-GMO. (Translation: they're "un-messed around with," which makes them the highest-quality spices available.) Plus, the line includes unique flavors that aren't widely available elsewhere, like Turmeric and Adobo Seasoning. Want to know how else these spices are different from the stuff you'd see on the grocery store shelves? Quick, subscribe to Wholesome for an exclusive interview with Primal Palate's Bill and Hayley.
All of the Primal Palate Organic Spices are approved for use during your Whole30, except for the Cinnamon Sugar blend. (Obviously, right? However, that might make for a tasty mashed sweet potato topping in life after your Whole30.)
We want to show you how Primal Palate spices and spice mixtures can up the ante in your kitchen, whether you're a veteran gourmet cook or a newbie. Bill and Hayley, the duo behind Primal Palate, shared a few simple recipes that showcase their offerings beautifully. Note the simplicity of these dishes; Bill and Hayley prove you don't need tons of fancypants ingredients with complicated steps to make a delicious Whole30 meal!
[Tweet "@PrimalPalate spices: the newest #Whole30Approved partner. New recipes today on #Whole30!"]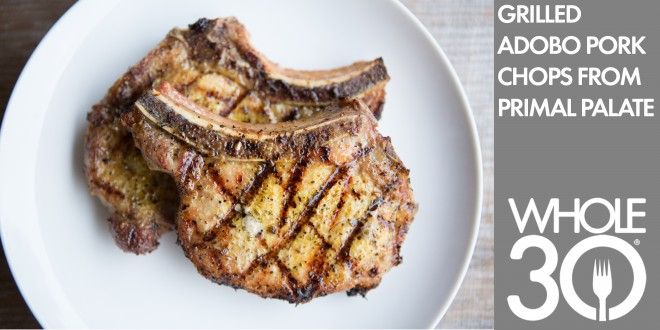 Grilled Adobo Pork Chops
Ingredients
1 1/4 lb pork chop, (bone in, 2 chops that are 3/4″ thick)
1/2 Tbsp Primal Palate Adobo Seasoning
Instructions
REMOVE pork chops from the refrigerator and allow to come up to temperature while the grill is preheating.
SPRINKLE Primal Palate Adobo Seasoning on both sides.
REDUCE heat to medium, and grill for 4-5 minutes per side, or desired doneness.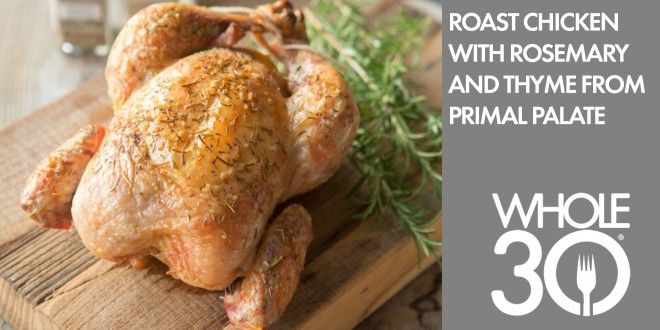 Roast Chicken with Rosemary and Thyme
Ingredients
3-4 lb whole chicken
1 lemon, halved
2 Tbsp ghee, melted
1 tsp Primal Palate Dried Rosemary
1 tsp Primal Palate Dried Thyme
1 1/2 tsp Primal Palate French Grey Sea Salt
1 cup Whole30-compatible chicken broth, or filtered water
Instructions
PREHEAT the oven to 375 F. If desired, rinse the chicken under cold water and pat dry.
PLACE the chicken on a roasting pan, and stuff the chicken cavity with a whole lemon.
RUB the chicken with the ghee, then season on all sides with the rosemary, thyme, and salt.
TIE the legs together with kitchen twine. Add the chicken stock (or filtered water) to the bottom of the roasting pan.
ROAST the chicken for approximately 25 minutes per pound (the time will vary depending on the size), until the internal temperature of the chicken reads 165 F with a meat thermometer inserted into the deepest part of the chicken breast.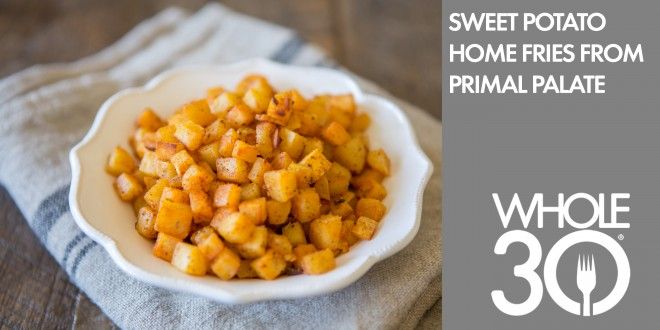 Sweet Potato Home Fries
Ingredients
2 cup White Sweet Potatoes, (Aka Japanese Sweet Potatoes)
2 Tbsp Organic Coconut Oil
2 Tbsp Primal Palate Meat & Potatoes Seasoning
Instructions
PEEL sweet potato, and dice into 1/2 inch cubes.
HEAT a cast iron skillet over medium heat, and add the coconut oil, allowing it to coat the bottom of the entire pan.
ADD the sweet potato to the pan, and toss to evenly coat with the coconut oil.
COOK for about 15 minutes, gradually reducing the temperature to medium low as the sweet potato begins to get golden brown.
SEASON with our signature Meat & Potatoes Seasoning, and allow to cook for a few more minutes. This will maximize the flavor without burning the spices
Subscribe to Wholesome for One More Exclusive Recipe
Want one more fall-worthy recipe from Primal Palate? Subscribe to our free newsletter, Wholesome, between now and November 1st and we'll send you one more exclusive recipe created by Bill and Hayley, just for Wholesome subscribers.
And be sure to check out Primal Palate Organic Spices and our other Whole30 Approved partner to get you ready for the next big Whole30, coming January 1st! (Yep, we're already planning for it!)