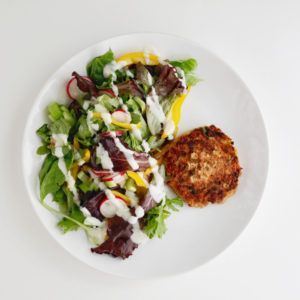 5 Ingredient Salmon Patties
These salmon patties are made from pantry items and are a great option on a busy weeknight. Shea Rostan is a clinical exercise physiologist who is passionate about using food and exercise as medicine. She believes that overall health is a combination of many developed habits, not just eating "right" and exercising.
Ingredients
1 can sockeye salmon
1 egg
1 green onion sliced
1/2 tsp garlic powder
4 tbsp cassava flour
salt and pepper to taste
Instructions
HEAT a medium-sized skillet over medium heat and add oil or cooking spray.

WHILE the skillet is heating, open can of sockeye salmon and drain the liquid from the top, reserving a small amount of the liquid in the can.

COMBINE salmon + reserved liquid with egg, garlic powder, green onion, cassava flour, and a dash of salt and pepper.

FORM mixture into 4-5 patties.

PLACE in the pan and cook for about 3-4 minutes each side.

SERVE over a green salad with fresh veggies and dressing of your choice.
Notes
Photo by Sarah Steffens.
Visit Claudia's website to find her recipes in Spanish: https://vivedeli.com/
You Might Also Like…
Chelsea Long
Chelsea Long lives in San Diego with her husband and three kids. Formerly an English as a Second Language instructor at the University level, Chelsea shifted her interest to holistic health after giving birth to her son. Her degrees in Communications and Education serve her well as she works with the Whole30 team to support content and branded content projects. Chelsea is a registered yoga teacher (RYT 200) and is passionate about helping others find healing through yoga, meditation, and nutrition.