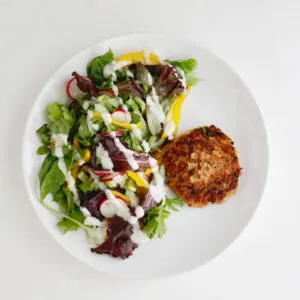 5 Ingredient Salmon Patties
These salmon patties are made from pantry items and are a great option on a busy weeknight. Shea Rostan is a clinical exercise physiologist who is passionate about using food and exercise as medicine. She believes that overall health is a combination of many developed habits, not just eating "right" and exercising.
Ingredients
1

can

sockeye salmon

1

egg

1

green onion

sliced

1/2

tsp

garlic powder

4

tbsp

cassava flour

salt and pepper

to taste
Instructions
HEAT a medium-sized skillet over medium heat and add oil or cooking spray.

WHILE the skillet is heating, open can of sockeye salmon and drain the liquid from the top, reserving a small amount of the liquid in the can.

COMBINE salmon + reserved liquid with egg, garlic powder, green onion, cassava flour, and a dash of salt and pepper.

FORM mixture into 4-5 patties.

PLACE in the pan and cook for about 3-4 minutes each side.

SERVE over a green salad with fresh veggies and dressing of your choice.
Notes
Photo by Sarah Steffens.
Visit Claudia's website to find her recipes in Spanish: https://vivedeli.com/
You Might Also Like…