Our @whole30recipes Instagram feed brings you delicious, Whole30 Approved recipes all day, every day. And, in our new series,  The Best of @Whole30Recipes, we'll be bringing them to our blog! Each week, we'll feature a new mini-collection of our favorite recipes.  This week, recipes to warm you on these cold fall days.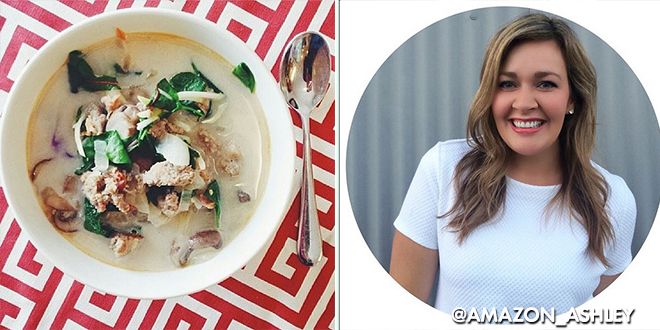 Whole30 Zuppa Toscana, @amazon_ashley
1lb Italian sausage
3 parsnips, peeled and cut into 1/4 inch slices
1 small package baby bello mushrooms, chopped
1 large onion, chopped
2 garlic cloves, minced
3 cups kale, chopped
24 oz chicken broth
 6 cups water
1.5 cups coconut milk
Slice sausage into small pieces.
Brown sausage in the large soup pot.
Add chicken broth and water to pot and stir.
Place onions, parsnips, mushrooms, and garlic in pot. Cook on medium heat until vegetables are cooked through.
Salt and pepper to taste – you will need a generous amount. Turn to low heat.
Add kale and cream, stir together. Simmer for about 10min and serve.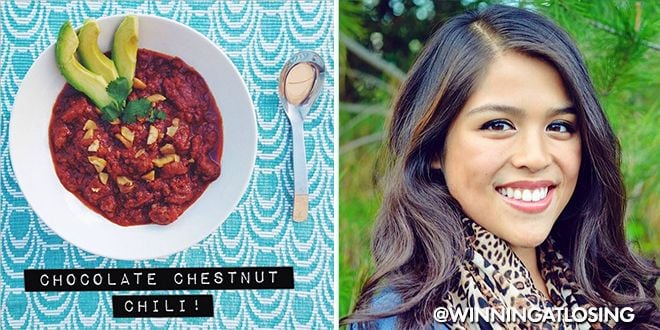 Chocolate Chestnut Chili, @winningatlosing
2 pounds grass-fed ground beef
1-2 onions, diced
8 cloves garlic (I use roasted for extra flavor), minced
1 tsp dried oregano
2 tbsp chili powder
1 tbsp ground cumin
1 pinch cayenne
1 pinch salt
1 1/2 tbsp cocoa powder
1 6oz. can tomato paste
2 (14.5 oz.) cans fire-roasted diced tomatoes
3.5 cups beef broth (homemade bone broth is best!)
Roasted chestnuts for topping
In a large pot, brown ground beef in its own fat with onions & garlic.
Add oregano, chili powder, cumin, cayenne, salt & cocoa powder to beef, stirring & allowing spices to become aromatic.  
Add tomato paste, fire-roasted diced tomatoes, & broth to pot, stirring well.  
Allow chili to simmer on low for two hours, stirring occasionally.
When chili is done, top each individual bowl with a few chopped chestnuts and stir in. Not a chestnut fan? Top with a few slices of avocado, some sweet potato chunks, or even a dollop of homemade mayo!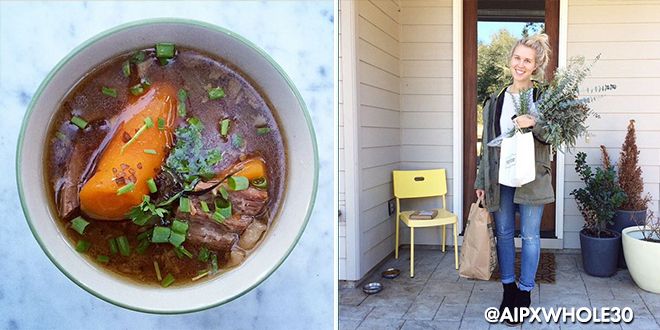 Crock Pot Roast Beef, @aipxwhole30
1 Chuck Roast (3-4 pounds)
1 carton beef broth (make sure it has no sugar and only clean ingredients . Pacific Foods offers a great "bone broth")
5 carrots, roughly chopped
1 onion, chopped into 1/4" pieces
3 cloves of garlic, smashed
3 pieces of rosemary, leaves removed from the stem
Salt to taste
Chopped parsley/green onion to garnish
Combine all ingredients in your crock pot and then cook on low for 8-10 hours.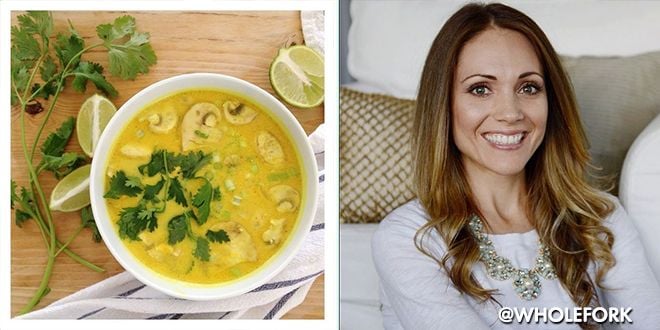 Tom Ka Gai, @wholefork
2 cans coconut milk (full fat and check for compatible ingredients)
2 C water
Splash of fish sauce (with no added sugar)
2 Tbsp ginger, minced
1/8 C lime juice
1/4 tsp turmeric
Handful of carrot chips
Chopped yellow onion
Handful of mushrooms
Green onion, chopped
Cilantro, chopped
In a pan bring coconut milk, water and fish sauce to a boil. Turn temperature down, add carrots and let simmer until carrots soften. Add yellow onion and mushroom and simmer for a few more minutes. Top with green onion and, cilantro and serve. Add other veggies to taste, or add a protein (like chicken) to make this a complete meal.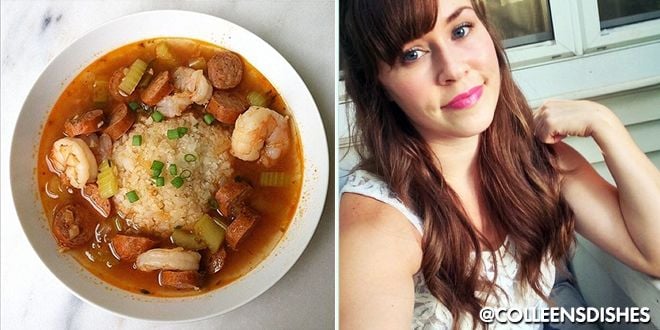 Quick Gumbo, @colleensdishes
Per person:
1 chicken andouille sausage link (make sure it's compatible!)
A few precooked shrimp
Scoop of cauliflower "rice"
1 cup of compatible veg or chicken stock
1 clove minced garlic
dash of cayenne
1 jalapeño pepper diced and seeded
1 stalk of celery chopped
1/4 onion diced
1 tbsp olive oil
salt and pepper
2 tbsp tomato paste
a few dashes of compatible hot sauce
1 green onion sliced
For the rice: Pulse a head if cauliflower in a food processor until grainy. "Dry fry" (no oil) it in a sauté pan until soft. Keep it on hand to add to any dish where you'd use rice! It accepts flavor well, as you'll see in this dish.
For the gumbo: Heat a sauté pan over med low heat and add all of the veggies. Cook until soft and fragrant (a few minutes).  Add the cut up sausage and cook a few minutes to brown. Add the stock, tomato paste, seasonings. Raise heat to medium and cook, stirring occasionally until heated through. Add salt and pepper to taste. Add shrimp just before serving to heat through. To serve, put a scoop of cauli rice into a bowl and ladle the gumbo over top and garnish with the green onion.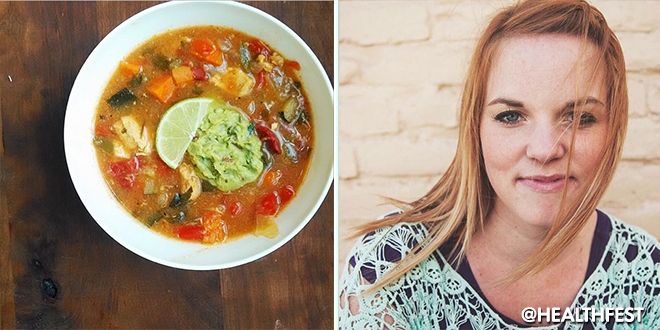 Chicken Vegetable Chili, @healthfest
3 lbs chicken breasts, cut into cubes
2 small chopped zucchini
3 chopped carrots
1 can fire-roasted tomatoes
1 chopped onion
1/2 bunch chopped cilantro
1 chopped jalapeño, deseeded
2 chopped red peppers
1 15ish oz jar salsa verde (double check ingredients)
1 15ish oz jar regular salsa (double check ingredients)
4 cups vegetable or chicken broth
3 cloves minced garlic
Seasonings to taste: chili powder, salt, cumin, coriander, pepper
Guacamole
 Lime
Combine everything in a large crockpot and season to taste. Cook on low for 6-8 hours. Serve with guacamole and a lime.
Have a favorite from the @whole30recipes feed?  Is there a collection you'd like to see? Let us know in comments!
Melissa Urban
Co-Founder / CEO
Melissa Urban is a 7x New York Times bestselling author (including the #1 bestselling The Whole30) who specializes in helping people establish healthy boundaries and successfully navigate habit change. She has been featured by the New York Times, People, the Wall Street Journal, Forbes, The Today Show, and Good Morning America, and is a prominent keynote speaker on boundaries, building community, health trends, and entrepreneurship. She lives in Salt Lake City, UT with her husband, son, and a poodle named Henry.