Our @whole30recipes Instagram feed brings you delicious, Whole30 Approved recipes all day, every day. And, in our new series,  The Best of @Whole30Recipes, we'll be bringing them to our blog! Each week, we'll feature a new mini-collection of our favorite recipes.  This week, meals you can prepare in one pan!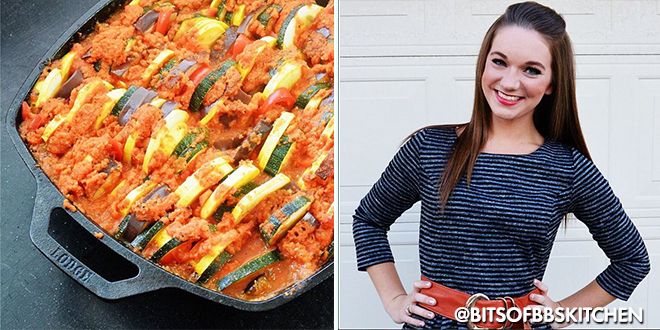 Ratatouille, @bitsofbbskitchen
1 large (or two small) eggplant sliced and slices cut into fourths
1 red bell pepper, diced
3 small zucchini, sliced
3 small yellow squash, sliced
For the sauce:
3 TBS of minced garlic
1/2 a yellow onion, diced
1 red bell pepper, diced
1 15oz can of organic diced tomatoes (be sure they are compatible!)
3 TBS of oil
1 TBS of lemon juice
1/2 TBS of salt
1/2 TBS pepper
1 TBS of dried oregano
1 TBS smoked paprika (the secret ingredient)
Preheat oven to 375 degrees. Add the sauce ingredients into a high powered blender and blend until smooth.  Cover the bottom of your baking dish (we use a cast iron skillet, you can use a normal glass dish) with the sauce, save just under half of it for later. Wash all the vegetables and slice them thinly.  Start arranging the slices into your pan how erected they fit best (rows or spiral round) alternating the vegetables. When the dish is filled, drizzle the remaining sauce over the top. Cover with parchment paper and bake for an hour.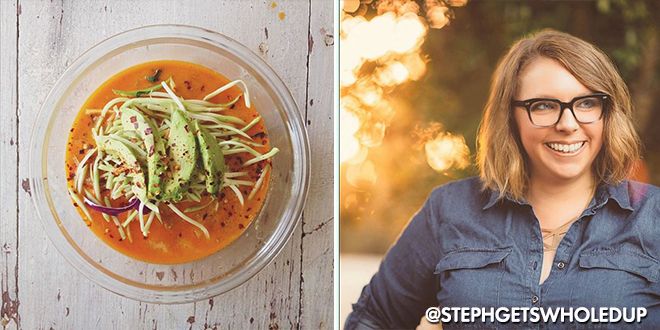 Red Curry Soup, @stephgetswholedup
2 tablespoons coconut oil or ghee
1 pound ground pork or lamb
2 tablespoons Thai red curry paste (watch those ingredients!)
4 scallions, sliced, white and green parts separated
1 teaspoon finely grated fresh ginger
1 pound precut butternut squash cubes
1 15-ounce can coconut milk
2 teaspoons Whole30 compatible fish sauce, like Red Boat
Torn fresh basil, sliced jalapeño, and lime wedges, avocado, crushed red pepper for serving
Start by heating the fat in a large pot over medium-high heat. Add the meat and cook, stirring occasionally, until browned and nearly cooked through.  Next, add the curry paste, scallion whites, and ginger. Cook about 1 minute, stirring until the paste darkens. Add the squash and 2 cups water. Cover and bring to a boil. Reduce heat and simmer until the squash is tender, 10 to 12 minutes. Stir in the coconut milk and fish sauce. Serve the soup topped with broccoli slaw, avocado, jalapeños, red pepper flakes and fresh lime.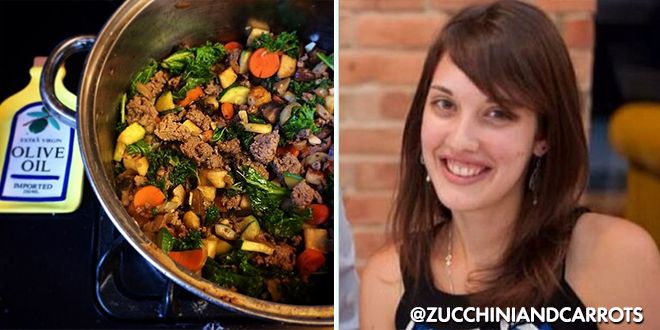 Ground Beef and Veggies, @zucchiniandcarrots
1 lb ground beef
1/2 medium celeriac, cut into cubes
1 large Portobello mushroom, chopped
1/4 yellow onion, chopped
5 carrots, sliced
1 large zucchini, chopped
2 cloves garlic, finely chopped
2 tbsp coconut aminos, separated
Salt to taste
In a large pot with a lid, sauté the ground beef on medium heat. Depending on the fat content of your meat, you may need to add some Whole 30 compatible oil to prevent it from sticking. Once the meat is almost cooked through, remove it from the pot and set it aside. Add the celeriac and stir to coat evenly in fat. (If you're using grass-fed beef, feel free to use the fat in the pan. If not, drain and add another fat source).  Let it cook for a minute or two, then add enough water to completely cover the bottom of the pan evenly. Let this boil off. When the water is almost gone, add coconut aminos and stir. Once the celeriac is fork tender, take the pan off the heat. If the water evaporates before the celeriac is fork-tender, add more water and continue cooking. Remove the celeriac and add to the cooked beef.  Dry your pan and heat another tablespoon of Whole 30 compatible fat on medium heat. Add the mushroom and onions, stir, then cover for about 2-3 minutes. Add the garlic and saute about 30 seconds before adding the carrot and zucchini. Stir well, then put the kale on top of the other veggies in the pot and cover to let it steam for about 5 minutes. Add beef and celeriac to the pan, stir to mix, and serve.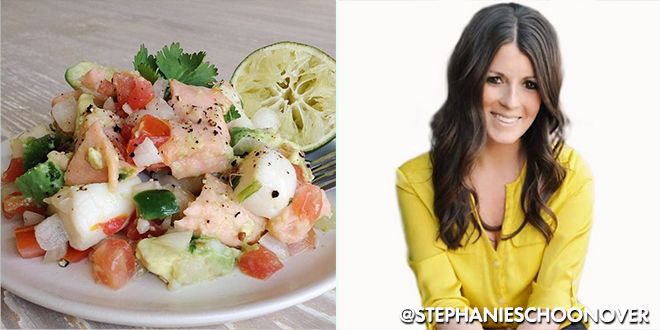 Ceviche, @stephanieschoonover
3/4 lb fresh salmon fillet, skinned and cut into 1/2″ cubes
1/2 lb sea scallops cut into 1/2″ cubes
Juice of 4 limes
Juice of 1 lemon
Juice of 1 orange
Minced garlic
1/3 white onion, diced
1 large ripe tomato, diced
 Fresh cilantro leaves, finely chopped
3 tablespoons olive oil
1 avocado
Sea salt
Black pepper
Place salmon and scallops in a large glass bowl. Add onion, minced garlic, and juice of limes, lemon, and orange. Cover and refrigerate until the fish is opaque throughout when a piece is sliced open, about 4 hours. Just before serving, drain and discard extra juice from the bowl. Add tomatoes, chopped cilantro and olive oil, and mix well.  Halve the avocado and remove pit, cut lengthwise then make cross cuts to create cubes. Add the avocado cubes to the fish mixture, season with salt and a good pinch of pepper. Gently mix together and serve immediately.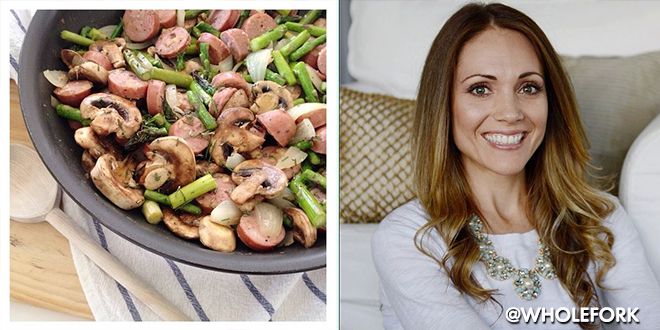 Sausage With Asparagus and Mushrooms, @wholefork
Splash of olive oil
1/8 onion, chopped
1 garlic clove, minced
1 turkey sausage, whole30 compatible
Large handful of asparagus, chopped into 1 inch pieces
Large handful of mushrooms
Pinch of fresh rosemary, finely chopped.
Heat oil in a frying pan over medium heat.  Stir onions and garlic into oil and cook until onions start to turn translucent. Stir in sausage and asparagus and cook for 5 min. When asparagus starts to soften, stir in mushrooms. Continue to cook, stirring every few minutes until veggies have softened to your liking. Season with rosemary, salt and pepper.
Melissa Urban
Co-Founder / CEO
Melissa Urban is a 7x New York Times bestselling author (including the #1 bestselling The Whole30) who specializes in helping people establish healthy boundaries and successfully navigate habit change. She has been featured by the New York Times, People, the Wall Street Journal, Forbes, The Today Show, and Good Morning America, and is a prominent keynote speaker on boundaries, building community, health trends, and entrepreneurship. She lives in Salt Lake City, UT with her husband, son, and a poodle named Henry.