Burgers are a summertime grilling staple—but, let's face it, that same old LTO (that's "lettuce, tomato, onion") routine can get a little stale. Thankfully, they also happen to be the perfect blank canvas, easy to mix up with different toppings, sauces, and flavors; all it takes is a little creativity!
This take puts a fun twist on some classic burger add-ons. Instead of topping your patty with mushrooms, you'll add seasoned sauteed creminis straight to the ground beef before grilling it up, giving it incredible umami flavor and guaranteeing a juicy bite every time. Then, you'll top your burger with red onion caramelized in ghee and balsamic vinegar, which adds a surprising pop of slightly-acidic sweetness and satisfying fragrance.
The whole package then gets wrapped up in a blanched Napa cabbage leaf and is served with roasted sweet potatoes garnished with fresh parsley and drizzled with a quick hot-and-creamy dipping sauce. It's an easy but fresh and funky recipe that's sure to satisfy the masses. Trust us, you'll want to make it again and again!
Tips and tricks:
Of course, there are a handful of different ways you can update the recipe based on your preferences or what ingredients you have handy. First, you can always swap out the ground beef for any variety of ground meat, whether it's chicken, turkey, lamb, or pork. Just be sure to adjust your cooking time appropriately for leaner meats.
No red onion? No sweat. A yellow or white onion will work just fine. You can also swap in pretty much whatever veggie you prefer for the sweet potatoes. A few options: butternut squash, zucchini, or Russet potatoes. You could also garnish your pick with cilantro or basil instead of parsley. Finally, if you have them around or just prefer their flavor feel free to wrap your burger in Romaine or butter lettuce instead of that cabbage leaf.
Also, if you're crunched for time, you can speed up the preparation process with a few tricks. If available at your local market, you can purchase pre-diced sweet potatoes to save time chopping. Then, if you have an Air Fryer, you can air fry the potatoes at 400 degrees Fahrenheit for 13 minutes instead of baking them for 20. And, while dipping the cabbage leaves in hot water does make them more pliable for burger-wrapping, it's not necessary. (In fact, you might enjoy the extra crunch!)
Another simple hack? Skip the DIY dipping sauce and serve this meal with our Whole30 Buffalo Vinaigrette or House Ranch Dressing. Either is a delicious alternative!
Whether you're hosting a cookout or gathering your family for a weeknight meal, this fun, customizable burger recipe is sure to please the entire crew.
Grilled Beef and Mushroom Burgers with Caramelized Onions & Roasted Sweet Potatoes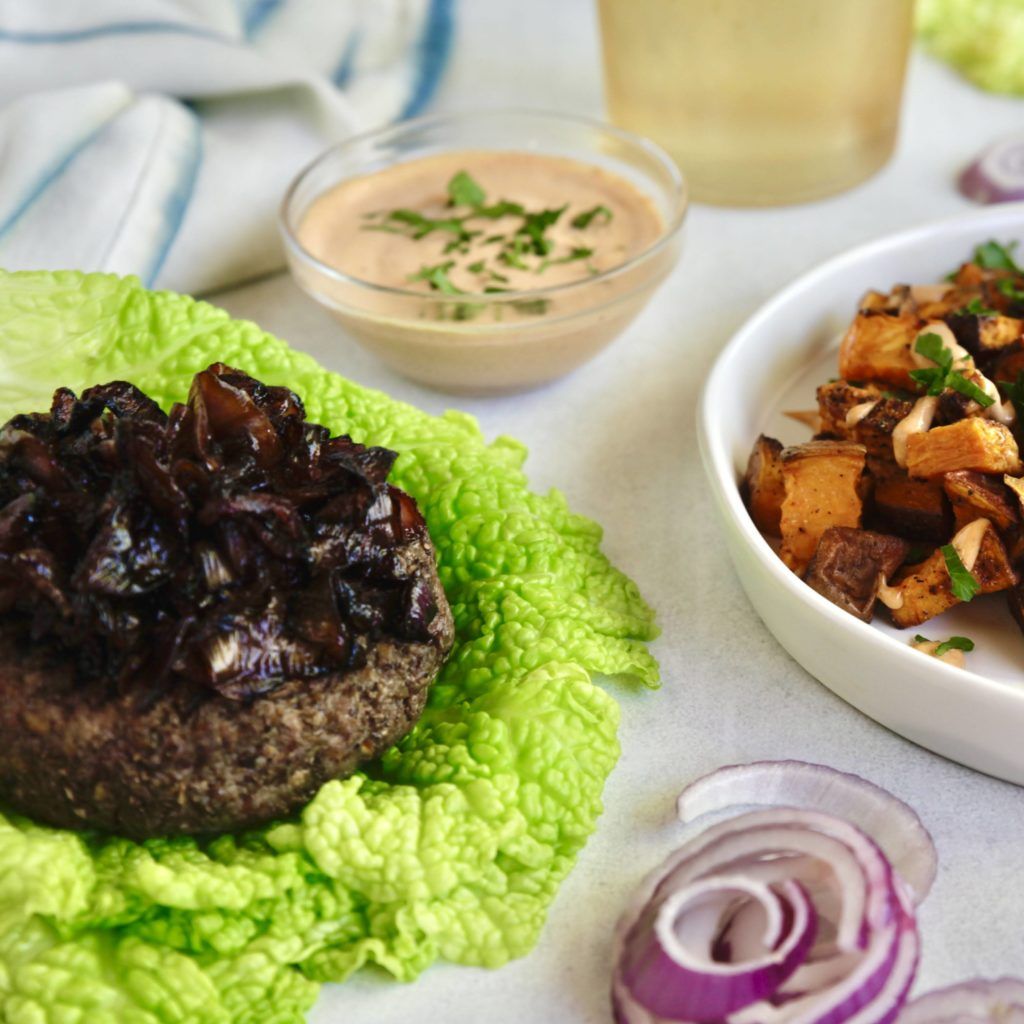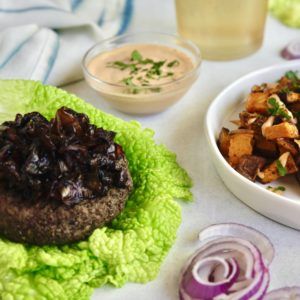 Grilled Beef and Mushroom Burgers with Caramelized Onions & Roasted Sweet Potatoes
Grilled beef burgers packed with umami flavor and served alongside roasted sweet potatoes drizzled with a quick, hot-and-creamy sauce.
Ingredients
Burgers
4

Napa cabbage leaves

2

cups

cremini mushrooms

1

tsp

sea salt

1/2

tsp

black pepper

1

tsp

garlic powder

1

tbsp

coconut aminos

1

lb

ground beef
Carmelized Onions
1

tbsp

ghee

1

medium red onion

peeled & sliced

1/2

tsp

sea salt

1

tbsp

balsamic vinegar
Sweet Potatoes
4

medium sweet potatoes

diced

2

tbsp

ghee

melted

1

tsp

sea salt

1/2

tsp

black pepper

1

tsp

garlic powder

2

tbsp

fresh parsley

minced
Dipping Sauce
4

tbsp

Tbsp Whole30-approved mayonnaise

2

tbsp

Tbsp Whole30-approved hot sauce

1/2

tsp

sea salt

zest from 1/2 medium lime
Instructions
HEAT a large pot of water on the stove to a simmer. Once simmering, turn off the heat and carefully dip each cabbage leaf in the water, quickly remove, and set aside on a clean towel.

ADD mushrooms to a food processor and pulse until minced. Alternatively, you can mince them by hand with a large knife on a cutting board.

ADD minced mushrooms to a cast-iron skillet set to medium-low heat and season with sea salt, black pepper, garlic powder, and coconut aminos. Saute until their water has mostly evaporated, about 5 minutes. Remove from the heat and place in a fine mesh sieve and allow any excess water to drain. You press on the mushrooms with your fingers to push out excess liquid. Set aside.

PREPARE your caramelized onions by adding ghee to the cast-iron skillet set to medium-low heat. Add sliced red onion and season with sea salt and balsamic vinegar. Saute on low heat until the onions are very soft and browned, about 15 minutes.

PREHEAT an oven to 400 F (205 C).

ADD diced sweet potatoes, melted ghee, sea salt, black pepper, and garlic powder to a mixing bowl and toss until the sweet potatoes are coated in the ghee mixture. Spread in an even layer on a baking sheet lined with parchment paper and bake in the oven until soft and browned, about 20 minutes (tossing after 10 minutes). When done, remove from the oven and garnish with fresh parsley.

MIX the drained mushrooms with the ground beef until well-combined. Use your hands to form 4 patties.

GRILL the patties on a hot grill or in the cast-iron skillet you used for the mushrooms and onions set to medium-high heat for 4 to 6 minutes per side.

ARRANGE each burger patty on a cabbage leaf and top with caramelized onions.

MIX the dipping sauce ingredients together in a bowl until well combined.

SERVE with roasted sweet potatoes and dipping sauce.

STORE any leftovers in the fridge for up to 3 days.
Sarah Steffens
Recipe Developer
Sarah Steffens, our Recipe Developer, has a B.A. in Business Administration, Public Relations from The Master's University in Southern California. After years of experimenting with nutrition and recipes in her own kitchen, she now works as a Personal Chef and Food Photographer in Sacramento, creating meals that support her client's intention to physically and mentally thrive. She has catered several independent film sets, making it her goal to optimize the energy and well-being of each creative crew. You can find many of Sarah's recipes in various Whole30, Paleo and Keto cookbooks. When Sarah is not cooking and styling recipes, you can find her enjoying a long walk, working on creative projects with loved ones or exploring beautiful Northern California.