Our @whole30recipes Instagram feed brings you delicious, Whole30 Approved recipes all day, every day. And, in our new series,  The Best of @Whole30Recipes, we'll be bringing them to our blog! Each week, we'll feature a new mini-collection of our favorite recipes.  This week, we're bringing you some spectacular seafood dishes!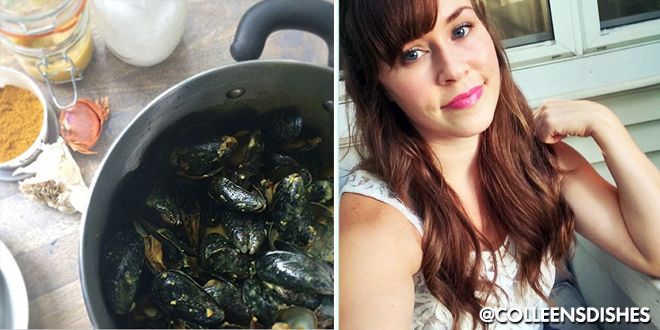 Jamaican Mussels, @colleensdishes
2 lbs PEI mussels
2 tb curry
1 cup full fat coconut milk
3 cloves of garlic minced
1 shallot finely diced
2 tb ghee
1/2 lemon
2 tb pico de gallo
Pico de gallo: Chop and combine all ingredients
1 tomato
1 scallion
1/2 jalapeño (seeded)
1 shallot
squeeze of lime juice
a tablespoon of cilantro
pinch of salt and fresh ground pepper
Clean the mussels and remove any remaining beard (string stuff outside of the shell). In a large wide pan over low heat melt the ghee and add in the garlic and shallot and cook a few minutes until soft.  Add in the curry powder and cook for another few minutes stirring often. Turn the heat up to med high. Add the mussels. Make sure they are all closed. If they are open, tap on the shell. If they shut they are still alive and you can use them. If they stay open they are dead, so discard those. Pour in the coconut milk, add salt and pepper, and stir well to combine. Bring to a boil, stirring well, and cook 4-5 minutes until the shells open. Transfer the mussels to a serving bowl and add a few tablespoons of pico. Pour all of the sauce in the pan over top and serve! If there are any mussels that don't open after 5 minutes just discard them, as they are no good.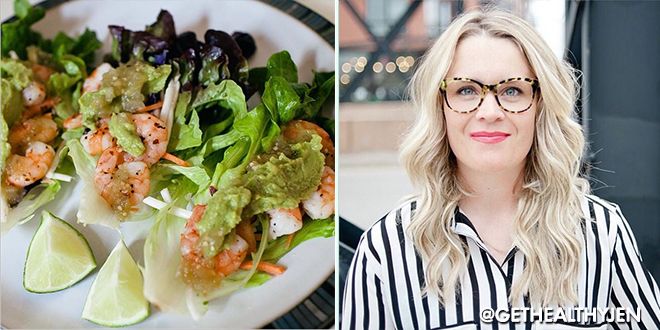 Spicy Shrimp Lettuce Tacos, @gethealthyjen
Thawed, cooked/deveined shrimp
Your choice of lettuce for the "shells"
Slaw or cabbage mix -Guacamole (check your labels)
Salsa Verde (check your labels)
1/2 lime
1 tbsp red pepper flakes
2 tbsp coconut oil
1 tbsp chili powder
Ground pepper for taste
Preheat oven to 375. Toss the shrimp in a mixing bowl with a bit of coconut oil, red pepper flakes, chili powder, & ground pepper. Put shrimp on baking dish & cook for about 20 minutes or until shrimp is hot. Wash and separate lettuce leaves so they are big enough for taco filling. Once shrimp is cooked, fill lettuce cups with slaw and shrimp, andtop with guacamole, salsa, and a little lime juice.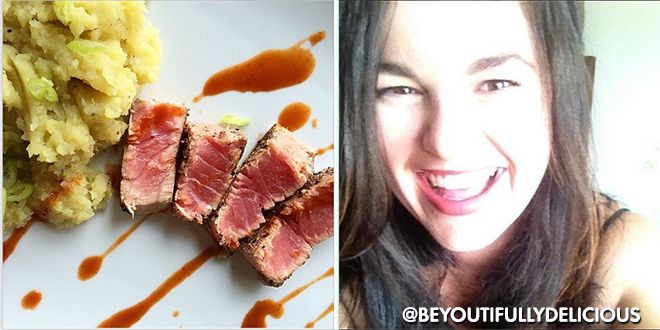 Cavalla Crio Crusted Ahi and Smashed Roasted Sweet Potatoes, @beyoutifullydelicious
4oz Ahi Tuna
4 tbs Crio Bru, Cavalla roast
1 tsp garlic powder
3/4 tsp chipotle powder
1 tsp cracked pepper
3/4 tsp sea salt
Rub some of the spice mix on your Ahi and let set for 2 mins. Then sear in a hot skillet about 3-4mins on each side or on the grill same time. For the potatoes, cut 2 large white sweet potatoes lengthwise and rub ghee or coconut oil on the skin. Preheat oven to 450 degrees. Line baking sheet with parchment. Roast potatoes open side down for 50 mins. Smash potatoes and add ghee, chopped scallions or chives and roasted garlic slivers. Sea salt and pepper to taste.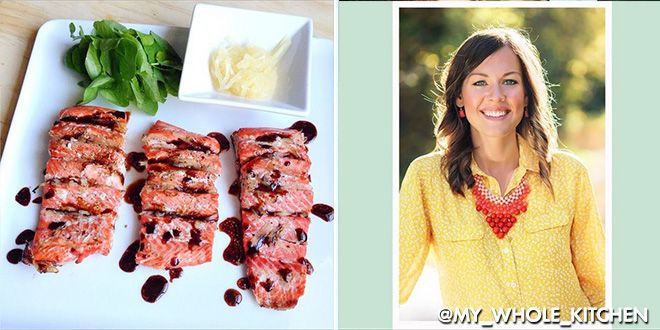 Sweet Ginger Salmon with Balsamic Reduction, @my_whole_kitchen
1 salmon fillet per person
1 jar pickled ginger, grated or sliced (the Ginger People brand is great, and you can find this in the asian food section of a grocery store)
Balsamic Reduction Sauce (recipe posted previously)
1 bunch watercress
1/2 sweet potato per person, peeled and diced (I use white sweet potatoes)
Prep sweet potatoes and cook in steamer until fork tender. Heat oven or grill to 350 degrees. Slice salmon every inch along the fillet, making sure not to cut all the way through, it works best if the skin is still on. Stuff each cut with a little bit of ginger. Place on grill or oven until salmon is cooked through and begins to flake apart. Remove from heat and drizzle salmon, watercress and sweet potatoes with balsamic reduction.
Balsamic Reduction:
1 1/2 cups balsamic vinegar
2 tbsp olive oil
Pour vinegar in small saucepan and bring to a boil. Reduce to ½ cup. Keep an eye on this as it will burn if it reduces too fast. Once reduced, pour into small bowl and add 2 tbsp. olive oil, and stir to combine.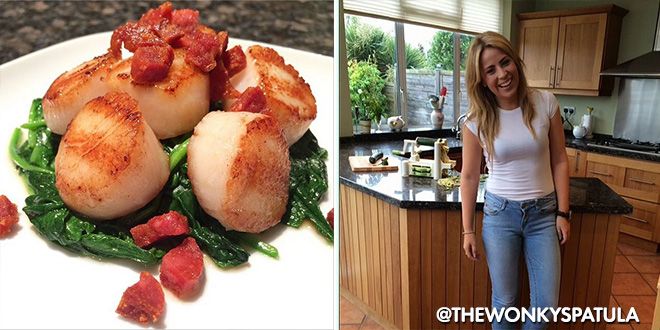 Scrumptious Atlantic Scallops, @thewonkyspatula
190g (7oz) Wild Atlantic Scallops
120g (40z) Baby Spinach
60g (2oz) Chorizo – diced
1 clove of Garlic, crushed
Half a red Chili, finely chopped
5 tbsp clarified butter/ ghee, Olive oil, or Coconut oil
Place 3-4 tbsp of your chosen oil in a small bowl with the garlic and chili, microwave on high for roughly 1 minute to infuse the oil. Rinse the scallops and pat dry with some kitchen roll. Heat a griddle pan; add the infused oil – making sure that none of the garlic or chili gets onto the pan. To do this I used a small sieve. Then add the ghee/butter. When the pan is nice and hot, add the scallops and cook on high for roughly 90 seconds a side – depending on the thickness. In a small pan heat some plain oil roughly 1/2 tsp – add the chorizo and fry off until crispy. Remove the chorizo and add the spinach and a little water. Cook until wilted. Plate up and enjoy!
Have a favorite from the @whole30recipes feed?  Is there a collection you'd like to see? Let us know in comments!
Melissa Urban
Co-Founder / CEO
Melissa Urban is a 7x New York Times bestselling author (including the #1 bestselling The Whole30) who specializes in helping people establish healthy boundaries and successfully navigate habit change. She has been featured by the New York Times, People, the Wall Street Journal, Forbes, The Today Show, and Good Morning America, and is a prominent keynote speaker on boundaries, building community, health trends, and entrepreneurship. She lives in Salt Lake City, UT with her husband, son, and a poodle named Henry.