Our @whole30recipes Instagram feed brings you delicious, Whole30 Approved recipes all day, every day. And, in our new series,  The Best of @Whole30Recipes, we'll be bringing them to our blog! Each week, we'll feature a new mini-collection of our favorite recipes.  This week, 5 recipes that feature the egg.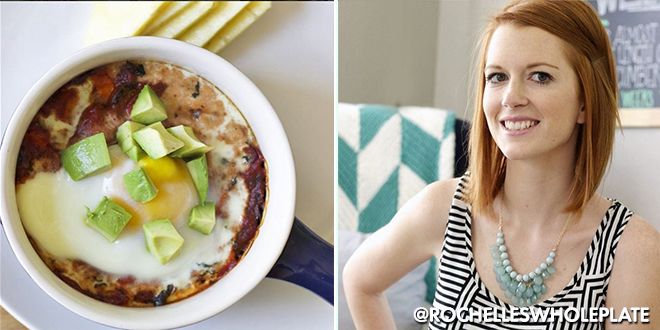 Baked Eggs with Tomato Stew, @rochelleswholeplate
For 2 servings:
1 whole tomato, diced
1 can of tomato puree (remember to check the ingredients)
1 tablespoon of tomato paste
1 cup sweet potato, chopped
1/4 cup onion, diced
1 italian sausage link (whole30 compatible, of course!)
1 cup kale, chopped
1 teaspoon salt
1/2 teaspoon pepper
1 teaspoon granulated garlic
1/2 teaspoon crushed red pepper
1 tablespoon coconut/olive oil
Preheat the oven to 350 degrees.  Heat the oil in a pan over med-high heat. Add sweet potatoes, cook and stir for 5 minutes. Add onion, sausage, and kale. Lower heat to medium-low, cover and cook for 5 minutes, stirring occasionally. Uncover and add tomatoes, tomato paste, and tomato puree. Add seasonings and simmer for 5 more minutes. Transfer stew to oven safe bowls/ramekins. Crack egg on each and bake for 25 minutes or until the egg white is firm but the yolk is runny.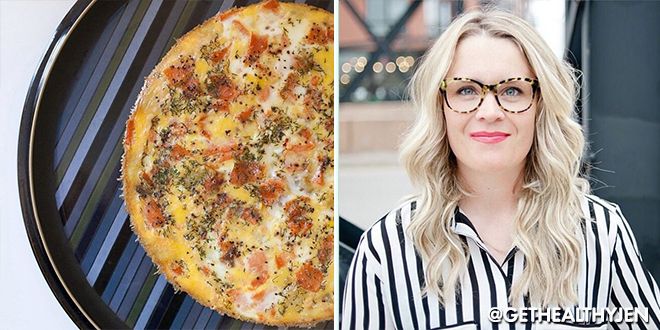 Smoked Salmon Egg Bake, @gethealthyjen
2 compatible smoked salmon filets
6 eggs
1 cooked sweet potato
1 garlic clove
1/4 cup diced white or yellow onion
1 tbsp Whole30 compatible oil
2 tbsp Dill or 3 sprigs of Dill
Salt/Pepper to taste
Preheat oven to 350F. Peel & cut sweet potato into small cubes. Cook in a bit of Whole30 compatible oil on stovetop with garlic & onions until tender. Fill the bottom of a pie dish with sweet potatoes, garlic, & onions. Cut smoked salmon into small pieces and spread over the sweet potatoes, garlic, & onions. In a bowl, whisk eggs, salt, & pepper. Pour eggs mixture evenly over the ingredients in the pie dish. Sprinkle dill & ground pepper on top of dish. Place in oven for about 40 minutes or until the egg is set.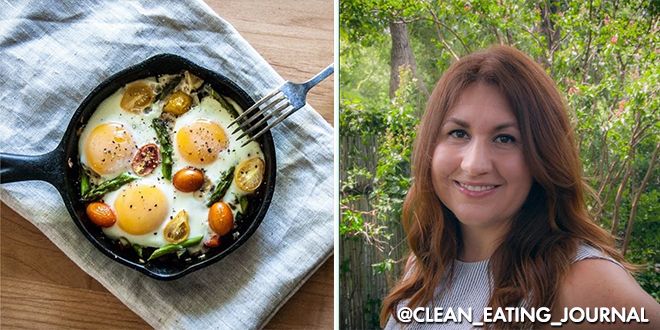 One Dish Breakfast, @clean_eating_journal
Serves one:
1/8 cup onion, diced
1 1/2 cups veggies of your choice (I used diced bell peppers, zucchini, asparagus, and cherry tomatoes)
2 or 3 eggs
1 tsp coconut oil
Salt and pepper to taste
Preheat oven to 350 degrees. Heat oven safe pan over medium heat (I use 3,5″ cast iron skillet). Add oil. Spread it around to cover the bottom of the pan. Add onions. Sauté until translucent. Add all the other veggies (except tomatoes) salt + pepper. Sauté for 1-2 minutes.  Add eggs and halved cherry tomatoes. Remove from heat and place the skillet into the oven. Bake for 10-12 minutes until the egg whites set and become opaque. If you don't like runny yolks, please cook for additional 3-5 minutes.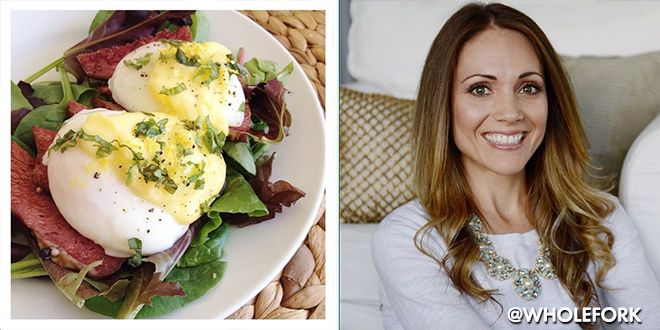 A Twist on Eggs Benedict, @wholefork
A few slices of left over corned beef or other meat
Handful of spring mix
2 poached eggs
4 egg yolks
1 Tbsp lemon juice
1/2 cup avocado oil
3 more Tbsp lemon juice
Salt
Fresh herbs to taste
For the sauce: beat 4 egg yolks and 1 T lemon juice in a glass bowl, until it starts to thicken. Boil water in a small pot. Place bowl with yolks on top of the pot so the bowl isn't touching the water. Slowly pour in the oil while beating the yolks. Add remaining lemon juice and salt to taste.
To poach the eggs: on stovetop, bring about 2 inches of water to a gentle boil in a pan. Turn heat off. When boil slows down carefully crack your eggs into the water. Cover with a lid and let sit for 4 minutes for a runny center. Remove the eggs with a slotted spoon. Layer everything together, starting with the spring mix. Then add meat, poached eggs, sauce, fresh herbs (like basil), salt and pepper to taste.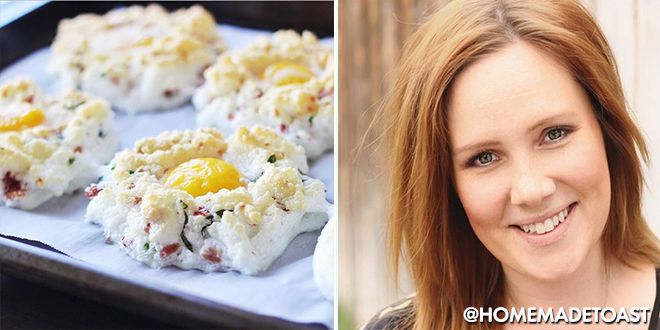 Prosciutto Egg Clouds, @homemadetoast
Per serving:
2 eggs, whites and yolks separated
1 teaspoon olive oil
2 strips of prosciutto
1 Tablespoon diced sun-dried tomatoes
1 Tablespoon finely-chopped basil
1 teaspoon finely-chopped chives
Salt & pepper to taste
Heat olive oil in a skillet over medium heat, making sure to coat pan. Lay prosciutto in hot pan and cook for 1-2 minutes on each side, until it begins to firm up slightly. Remove from pan and allow to cool. Chop crisped prosciutto into fine pieces. Place egg whites in a medium bowl and whip until stiff peaks form. Gently fold in prosciutto, sun-dried tomatoes, basil and chives. Spoon into two mounds on a cookie sheet lined with parchment paper and flatten slightly. Create a spoon-sized well in the middle of each, about 1/2 to 1-inch deep. Bake at 450-degrees for 3 minutes. Remove from oven and gently place a yolk into each well. Salt and pepper to taste. Then, return to oven and cook for 3-5 more minutes, until the yolk is slightly cooked.
Have a favorite from the @whole30recipes feed?  Is there a collection you'd like to see? Let us know in comments!
Melissa Urban
Co-Founder / CEO
Melissa Urban is a 7x New York Times bestselling author (including the #1 bestselling The Whole30) who specializes in helping people establish healthy boundaries and successfully navigate habit change. She has been featured by the New York Times, People, the Wall Street Journal, Forbes, The Today Show, and Good Morning America, and is a prominent keynote speaker on boundaries, building community, health trends, and entrepreneurship. She lives in Salt Lake City, UT with her husband, son, and a poodle named Henry.