While many of us are taking advantage of the end-of-August heat wave by boycotting the oven and grilling All the Things, still… the feeling of fall is decidedly in the air. (And in the stores. Dunkin Donuts debuted some of its new pumpkin-flavored offerings this week. Really, Dunkins? Really?)
Which reminded us that sometimes, all you want is some hearty, warm, rich Whole30 comfort food, even if it is approaching 100 degrees outside. So we recruited Whole30 expert and kitchen ninja Jen from Pretend It's a Donut (@pretend_its_a_donut on Instagram) to share her most delicious, inside-warming, snuggle-worthy Whole30 meals just right for a balmy summer night.
Wait what? (Never mind. If there's one thing we can count on, it's that winter is coming.)
Shrimp Puttanesca
Serves 2
-1 bag of uncooked froen shrimp (thawed)
-1 small can tomato paste
-2 cans diced tomatoes
-1/4 c capers
-6-8 fingerling potatoes, sliced in half
-1/2 cup kalamata olives
-2 cloves garlic, minced
-1 can quartered artichoke hearts, drained
-2 Tbsp caper juice
-handful of spinach
PREHEAT oven to 400 degrees F and put fingerling potatoes on a baking sheet with a drizzle of oil. Bake for 20 min or until potatoes are cooked.
WHILE potatoes are roasting, take a large saucepan and combine diced tomatoes, tomato paste, kalamata olives, artichoke hearts, and caper juice. Mix and let cook for about 10 min on low. Stir occasionally.
IN a large skillet cook up shrimp with minced garlic. Once shrimp turns pink add tomato mixture. Stir to combine.
WHEN potatoes are done, put them in with the shrimp. Add a big handful of spinach and stir until wilted. Serve standalone, ,over a bed of "zoodles," or over a fresh green salad.
Bacon Meatballs Over Zoodles
Serves 2
-1 lb ground beef
-1 Tbsp dried minced onion
-1/2 Tbsp dried parsley
-1/2 Tbsp garlic powder
-1 tsp paprika
-1/2 can tomato paste
-1 egg
-1 strip Whole30 Approved bacon, cut into bits 'n pieces
-2 zucchini (for the noodles)
-salt and pepper to taste
PREHEAT oven to 400 degrees F. In a bowl, mix ground beef, herbs and spices, tomato paste, egg, and bacon together. Use your hands! Roll into golf-sized balls and place on a parchment paper-lined baking sheet. Bake for around 20 minutes, turning once halfway through, until the meatballs are no longer pink in the center.
WHILE the meatballs are baking (at about the 15 minute mark), turn your zucchini into noodles using a spiralizer or julienne peeler. In a large pan on medium heat, sauté your zoodles in a bit of oil for a few minutes (until crisp-tender and slightly browned). Remove from the pan and serve immediately, topped with the meatballs.
Pulled Pork Cabbage Rolls (Holubky)
Serves 2
-head of cabbage, leaves removed
-pork butt or shoulder, fat removed, cut into 4 "steaks"
-1 white onion, sliced
-1 tsp salt
-1 tsp pepper
-3 cups chicken, beef, or vegetable broth
-2 large carrots, fine diced
-2 Tbsp paprika
-2 Tbsp Italian seasoning
-1 small can tomato paste
ADD your cut pork shoulder or butt into your crock pot with the diced onion, salt and pepper, and broth (about 1/3 of the way full in your crock pot)
COOK on low for 6-8 hours. One hour before the meat is done, shred the pork with two forks. Add the finely chopped carrot, paprika and Italian seasoning to the crock pot and re-cover.
BLANCH your cabbage leaves by steaming them for about 3 minutes, then sticking them in an ice bath (a large bowl half-full with water and ice).
PREHEAT the oven to 375 degrees F.
REMOVE your meat from the crock pot and place in your leaf. Roll it up and put in a baking dish seam-side down. Repeat until all leaves are full (or you run out of meat). Pour a little broth from the crock pot into the bottom of the baking dish and place in a 375° oven for 8-10 minutes. (It doesn't need very long because the meat is already cooked)
WHILE the pork is in the oven, make the tomato sauce. Heat 1 small can of tomato paste and the broth/juice from the meat left in the crock pot. (I used about 1/2 cup of the juice.) Once the rolls are done, plate and spoon the tomato sauce over the top. Serve immediately with a side of cauliflower rice or mashed potatoes.
---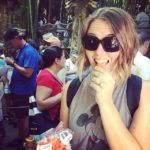 Hi, I'm Jen and I live in the Bay area with my hunk of a husband, my 5 kids, and a very boisterous boxer. Mostly Paleo, sometimes Whole30….the recipes on my blog and social media feeds are quite scrumptious and my family eats all of it! Enjoy this tasty little morsel of a blog and my Instagram feed!



Melissa Urban
Co-Founder / CEO
Melissa Urban is a 7x New York Times bestselling author (including the #1 bestselling The Whole30) who specializes in helping people establish healthy boundaries and successfully navigate habit change. She has been featured by the New York Times, People, the Wall Street Journal, Forbes, The Today Show, and Good Morning America, and is a prominent keynote speaker on boundaries, building community, health trends, and entrepreneurship. She lives in Salt Lake City, UT with her husband, son, and a poodle named Henry.