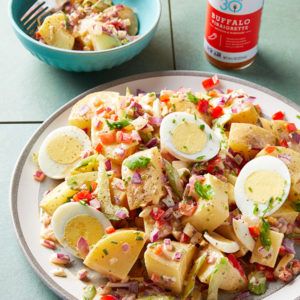 Creamy Buffalo Potato Salad
Ingredients
1

lb

Yukon Gold potatoes, quartered

1/4

tsp

salt

1/4

cup

WHOLE30 Buffalo Vinaigrette

3

tbsp

WHOLE30 Ranch Dressing

3

tbsp

finely chopped red onion

1/4

cup

diced red bell pepper

1/3

cup

thinly sliced celery

1

scallion, chopped

2

tbsp

chopped chives

4

hard-cooked eggs (see recipe, below)

Coarse black pepper
Instructions
IN a large saucepan, combine potatoes, salt, and enough cold water to cover the potatoes. Bring to boiling; reduce heat. Simmer, covered, about 10 minutes or just until potatoes are tender. Drain well; cool slightly. 

MEANWHILE, for the dressing, in a large bowl stir together the vinaigrette and ranch dressing. Add the onion, bell pepper, celery, scallions, and chives. Coarsely chop two of the hard-boiled eggs and add to the salad along with the potatoes; stir gently to coat. Cover and chill at least 4 hours or up to 8 hours. 

TRANSFER the potato salad to a serving bowl. Halve the remaining two eggs and place on top of the salad, yolk-side up. Sprinkle with black pepper.

Instructions for Hard-Cooked Eggs: Place eggs in a medium saucepan and cover with water. Bring to a rolling boil; reduce heat and simmer for 1 minute. Remove from heat; cover and let stand for 12 minutes. Drain and cover with cold water. Let stand until completely cooled. Crack and peel the eggs.