Our @whole30recipes Instagram feed brings you delicious, Whole30 Approved recipes all day, every day. And, in our new series,  The Best of @Whole30Recipes, we'll be bringing them to our blog! Each week, we'll feature a new mini-collection of our favorite recipes.  This week, we're suggesting sides to pair with your perfect proteins!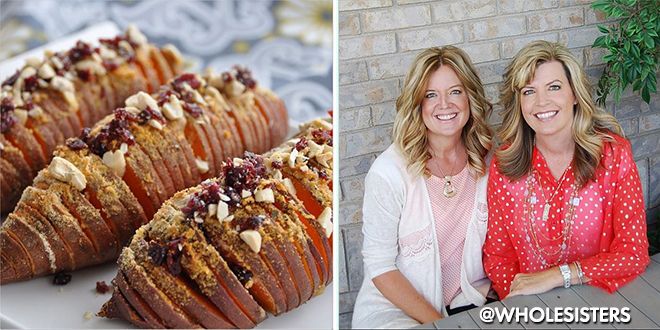 Sliced Sweet Potato Bake, @wholesisters
4 sweet potatoes
avocado oil
2 tbsp almond flour
1 tbsp coconut flour
1 tsp onion powder
1 tsp garlic powder
1/2 tsp salt
Cashews, chopped
Unsweetened dried cherries, chopped
Slice potatoes carefully at 1/4 inch intervals, stopping just above the bottom of the potato (instead of cutting through) until the whole potato is sliced. Repeat with each potato. Chopsticks placed on each side of the potato make a good stop for your knife. Place potatoes on a baking sheet. Pour enough avocado oil over each potato to coat it, making sure to pour in between cuts. Mix flours, onion powder, garlic powder, and salt. Sprinkle over sweet potatoes.  Bake at 375 for 1 hour. Remove from oven and top with chopped raw cashews and unsweetened dried cherries.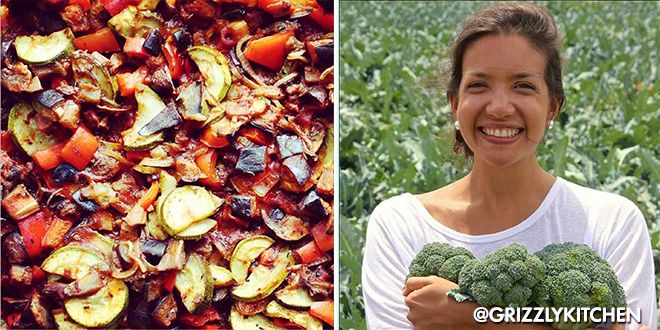 Baked Ratatouille, @grizzlykitchen
Melted ghee to coat the roasting pan, plus 2 tablespoons, divided
1 large eggplant, cut into 1-inch cubes
2 zucchini, halved and cut into ½-inch half-moons
2 red or green bell peppers, cut into 1-inch pieces
1/2 pound fresh mushrooms, brushed clean and quartered
1 yellow onion, thinly sliced
1/3 cup tomato paste
1/3 cup red or white wine vinegar
1/4 cup water
2 garlic cloves, minced
1 tablespoon chopped fresh thyme or oregano (or 1 1/2 teaspoons dried)
1 teaspoon salt
1/2 teaspoon freshly ground pepper
1/2 cup chopped fresh basil or parsley
Set your oven to 400 degrees F. Coat a 9" x 13" roasting or Pyrex pan with ghee. Add  the eggplant, zucchini, peppers, mushrooms, and onions. In a small bowl, combine the tomato paste, vinegar, water, ghee, garlic, thyme or oregano, salt and pepper. Stir until blended and smooth. Add to the roasting pan, then stir and toss to coat the vegetables evenly. Bake until the vegetables begin to soften, about 30 minutes, stirring once at the halfway point. Reduce the heat to 325 degrees F. Cover the roasting pan with foil and bake until the vegetables are soft and tender but not mushy, about 30 minutes longer, stirring every ten minutes. Remove from the oven, uncover, and let stand for 10 minutes. Stir in the basil or parsley and serve hot or cold.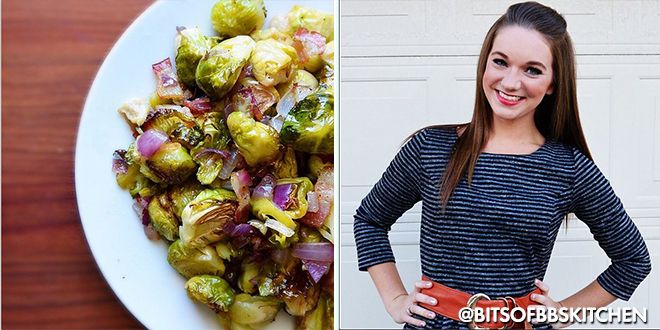 Roasted Bacon Brussels Sprouts, @bitsofbbskitchen
Brussels sprouts (I usually use around two pounds)
Whole30 compatible bacon (between 2-4 strips)
1/2 a red onion
Oil of choice (ghee or clarified butter is my preference for this dish though)
Preheat oven to 400 degrees.  Wash Brussels sprouts, trim off ends that are too tough to eat and remove any outer leaves that may come off. Cut the brussels sprouts in half and place on a greased cookie sheet. Dice the onion and add to the cookie sheet. Cut bacon into quarter inch slices and add to the cookie sheet. Melt 2 tsp of oil and pour over cookie sheet. Mix the ingredients well to coat everything evenly. Place in oven for 30 to 35 minutes until fork tender.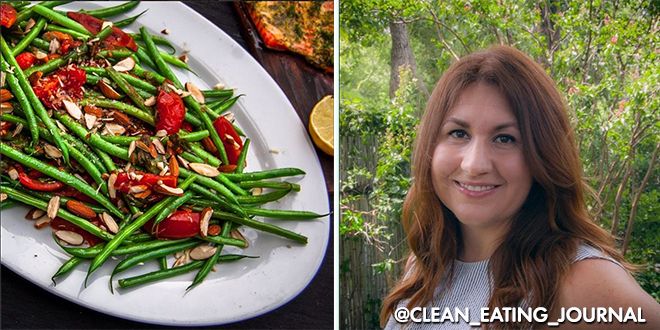 Sautéed Green Beans With Tomatoes and Almonds, @clean_eating_journal
1 Tbsp avocado
1 minced garlic clove, then added
1 lb green beans
 4 sliced Campari tomatoes
Toasted slice almonds
Heat avocado oil in a large skillet over medium heat with garlic clove. Add green beans and cook, turning constantly for a few minutes. Add tomatoes, a pinch of salt and cook to desired tenderness. Remove from heat, add a pinch of salt and a handful of toasted sliced almonds.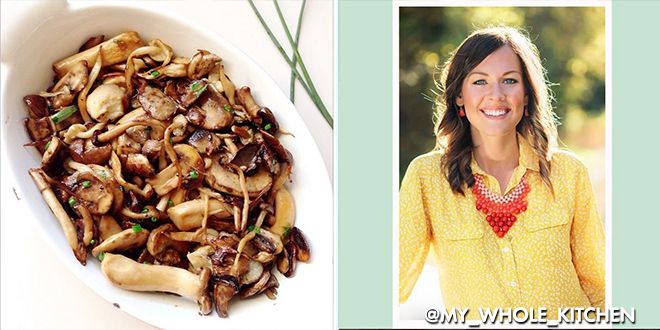 Crispy Oyster Mushrooms, @my_whole_kitchen
3-4 c oyster mushrooms
2 tbsp ghee or avocado oil
garlic powder or fresh garlic salt f
resh tarragon & chives for garnish
Melt 2 tbsp ghee in pan and add mushrooms (I actually used a variety here but made sure I had plenty of oyster because they get crispy easier). Sautee, sprinkle with a little salt and keep sautéing. Add a little garlic powder, or wait until they are done and throw in fresh garlic for 30 seconds. Keep sautéing until they start to get crispy. Maybe 15-20 minutes. Top with fresh tarragon and chives.
Have a favorite from the @whole30recipes feed?  Is there a collection you'd like to see? Let us know in comments!
Melissa Urban
Co-Founder / CEO
Melissa Urban is a 7x New York Times bestselling author (including the #1 bestselling The Whole30) who specializes in helping people establish healthy boundaries and successfully navigate habit change. She has been featured by the New York Times, People, the Wall Street Journal, Forbes, The Today Show, and Good Morning America, and is a prominent keynote speaker on boundaries, building community, health trends, and entrepreneurship. She lives in Salt Lake City, UT with her husband, son, and a poodle named Henry.