Part 2 of this Whole30 summer meal series comes from Maria Barton of MariaMakes.com. If you'd like to submit a recipe, helpful tip, testimonial, or Whole30 article for consideration, email it to [email protected].
One of my favorite things about this season? Sweet summer strawberries are widely available and reasonably priced, especially if you live in a region where pick-your-own is an option. I love adding fruit to savory salads, and chicken + strawberries is one of my absolute favorite combos. Plus, my homemade Sweet and Savory Mustard Dressing pairs so well with summer berries. So head on over to your favorite "u-pick" farm, farmer's market, or grocery store and grab a pint (or two, or three, or four…) of strawberries.
Turn off your oven, fire up your propane tanks and let's grill!

Sweet and Savory Mustard Grilled Chicken & Strawberry Salad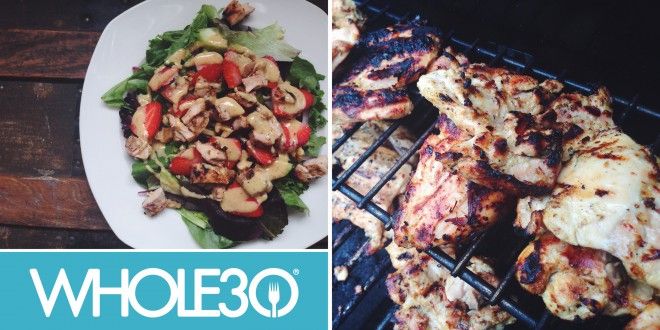 Ingredients
For the Grilled
1.25 lb boneless skinless chicken thighs
For the Greens
12 cups mixed greens (or enough for 4 salads)
8­ strawberries, sliced
1 cup (or more) sliced cucumber
1⁄2 red onion, thinly sliced
1⁄2 cup chopped walnuts
For the Dressing/Marinade
1⁄4 cup dates
2 Tbsp water, or more as needed
1⁄4 cup spicy brown mustard
1⁄4 cup apple cider vinegar
2 Tbsp olive oil
1⁄2 tsp garlic powder
1⁄2 tsp onion powder
1⁄2 tsp salt
1⁄2 tsp pepper
[Tweet "Part 2 of our #Whole30 Summer Meals Series: Grilled Over Greens. #Whole30Recipes"]
Instructions
Make the Dressing/Marinade
PLACE dates in a small microwave ­safe bowl along with 2 Tbsp of water (or until dates are just covered). Microwave for 1 minute to soften dates.
ADD dates/water to a mason jar or the blending container for your immersion blender along with the remaining dressing ingredients (from mustard through pepper).
BLEND until the dressing is smooth and creamy. Set aside.
Make the Grilled
TRIM any excess fat from chicken thighs and add them to a bowl or gallon zip­top bag.
ADD about half of the "Honey" Mustard Vinaigrette and coat the chicken. Set aside while you prepare the salads (see below).
PREHEAT the grill to medium ­high heat and grease the grates with olive oil or other cooking fat.
GRILL the chicken until it reaches an internal temperature of 165 degrees.
Assemble the Greens
PILE four plates high with mixed greens. Top each salad with sliced strawberries, cucumbers, red onion, and walnuts.
SLICE the grilled chicken and divide it between the salads.
DRIZZLE with dressing and enjoy!
Recipe note: No grill? No problem. You can cook the chicken on an indoor electric grill or
griddle, or just bake it at 375 degrees for 15­-20 minutes.
---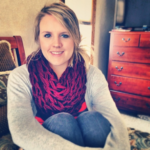 Maria Barton is a home chef, blogger, DIY-er, gardener, wife, and dog mom who is working on finding balance in her life after Whole30. Connect with Maria for more delicious recipes: Website | Instagram | Facebook
Save