Our @whole30recipes Instagram feed brings you delicious, Whole30 compatible recipes all day, every day. And, in our series, The Best of Whole30 Recipes, we bring our favorites to the blog.
Are you gathering your loved ones for an Easter Sunday meal this year? We rounded up six recipes from the @whole30recipes feed just for you! Pick from our selection of mains, veggies and sides to build a menu that's perfect for feeding your crew, whether you're currently doing a Whole30 or you just want some nutrient-packed recipes to accompany those "worth-it" food freedom favorites (like chocolate bunnies and jelly beans).
MAIN DISH | Cast Iron Lamb Chops from Frolic and Flow
Ingredients
5-6 lamb chops
4 tablespoons avocado oil
1 dozen garlic cloves, halved
Zest from 1⁄2 small lemon
Salt
Pepper
Dried Thyme
Dried Rosemary, chopped
4 tablespoons bone broth
3 tablespoons lemon juice
2 tablespoons parsley, finely chopped
Instructions
SEASON lamb chops with salt, pepper, thyme, and rosemary (both sides)
ADD avocado oil, garlic cloves, and lemon zest to pan (medium/high heat). Once hot, add lamb chops. Cook on each side for 3-4 minutes, remove chops once done.
ADD broth, lemon juice, and parsley to pan and let simmer. Either pour sauce over lamb chops (my fav) or add lamb chops back into cast iron and serve.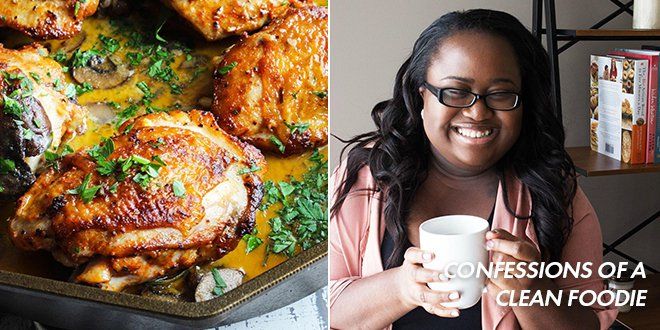 Ingredients
1.5 lbs. organic free-range chicken thighs(5 or 6 thighs)
sea salt
cracked black pepper
Smoked paprika
3 tbsp. Avocado oil
3.5 Ounces shiitake mushrooms
2 Garlic Cloves
1 tsp. coconut flour
1/2 cup coconut milk
1 tsp fresh sage leaves
1 cup compatible chicken broth
Chopped parsley and fresh lemon juice to serve
Instructions
TO start, slice the mushrooms, mince the garlic and set them aside. Pat the chicken thighs dry with a clean paper towel, and season them with salt, pepper, and smoked paprika.
HEAT 2 tablespoons of avocado oil in a large skillet and sear chicken thighs for ~7-10 minutes on both sides or until the chicken is cooked through (instant thermometer should read between 162˚F- 170˚F). Remove chicken from pan and set aside.
IN the same skillet (with the drippings from the chicken), add the last tbsp of avocado oil. Then, add the mushrooms and garlic and sauté until the mushrooms are tender. Now, add coconut flour and cook for a couple minutes.
STIR in the chicken broth to deglaze the pan. Stir in the coconut milk and sage leaves and bring to a simmer. Now, taste and season with more salt if necessary. Simmer sauce for a few minutes, stirring frequently until it thickens (approx. 5-7 minutes). To finish, nestle chicken into the sauce, add fresh parsley and continue to simmer on low for a few minutes until all the flavors marry. Serve with a squeeze of lemon juice and enjoy.
SIDE DISH | Scalloped Potatoes from Mark Sission
Ingredients
3 pounds large yellow potatoes
1 tablespoon avocado or olive oil
3 tablespoons ghee, plus more for greasing dish
2 leeks, white and light green parts, cleaned of all sand and sliced thinly
4 cloves garlic, minced
Salt and pepper
1 cup chicken bone broth
1 tablespoon arrowroot powder
1/2 cup full-fat canned unsweetened coconut cream
4 sprigs fresh thyme, leaves removed
4 leaves fresh sage, stems removed and chopped finely

Instructions
PREHEAT oven to 350ºF.
SLICED peeled potatoes to1/4-inch thin rounds. Set aside. Heat oil and 1 tablespoon butter or ghee in a skillet over medium-high heat. Add the leeks, 2 cloves minced garlic, and season with salt and pepper. Saute until leeks are very tender, about 5–7 minutes.
COMBINE the leeks and sliced potatoes in a large bowl and toss to coat. Season generously with salt and pepper. Butter (with ghee) a casserole dish lightly, then spread the potato and leek mixture across the dish evenly.
HEAT 2 tablespoons ghee over medium heat in the skillet. Add garlic and fry for about 30 seconds, being careful not to burn. In a small bowl, combine bone broth with 1 tablespoon arrowroot starch, and whisk until arrowroot is dissolved.
POUR the chicken broth mixture into the skillet along with coconut cream. Whisk to combine. Add the fresh thyme and sage leaves and salt and pepper to taste, and simmer for 5 minutes, stirring often, until the sauce thickens.
POUR the sauce over the potatoes in the dish. Seal tightly with foil and bake for 40 minutes. Uncover and bake for 15 more minutes. When cooking time is complete, if your potatoes are not golden brown on top, broil for 3–5 minutes, watching carefully so the top gets golden brown.
REMOVE from oven and cool for 15 minutes for the sauce to thicken before serving.
SIDE DISH | Creamy Garlic Spaghetti Squash Casserole from Real Simple Good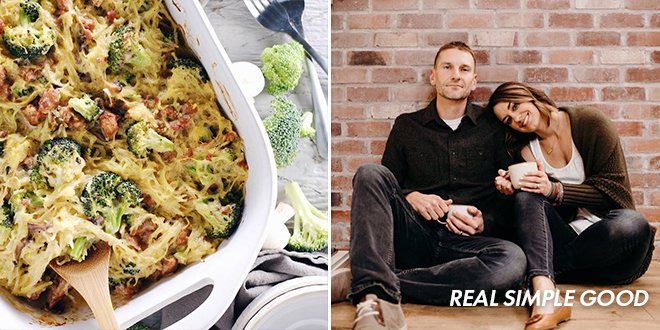 Ingredients
1 medium spaghetti squash
4 cups broccoli florets
1 lb sausage (spicy Italian or Chorizo are excellent choices)
2 cups mushrooms, diced
1/4 cup arrowroot or tapioca flour
2 tbsp minced garlic
16 oz coconut milk
Salt and pepper (about 1 tsp each)
Instructions
PREHEAT oven to 425° F. Slice the spaghetti squash lengthwise and scoop out the seeds. Place the two halves face-down on a baking sheet and place in the oven to bake for 30 minutes.
WHILE the squash is cooking, heat a large skillet over medium heat and add in the sausage. Break it into pieces with a spatula and cook, stirring occasionally, until browned and cooked through, about 8 minutes. Remove from pan and set aside. Reserve at least 1 tbsp of fat in the pan for the sauce you'll make later.
REMOVE squash from oven after 30 minutes and set aside to cool. Keep the oven on at 425°. While the squash is cooling, prepare the creamy garlic sauce. Heat the same pan you cooked the sausage in over medium heat. Once hot, add mushrooms and cook until they begin to soften, about 2 minutes. Add in the arrowroot flour and minced garlic and stir around to mix well with the mushrooms, about 1-2 minutes.
ADD in coconut milk, stirring constantly for 2 minutes. Be sure to mix well to dissolve all of the flour into the milk (you don't want any flour clumps). Use a whisk to mix if needed. The sauce will bubble and thicken, keep stirring to prevent burning. After 2 minutes turn heat down to low and simmer. Stir in salt and pepper.
PUT it all together. With a fork, scrape out the spaghetti squash "noodles" into a 9×13" casserole dish. Add the cooked sausage, broccoli, and creamy garlic sauce. Mix everything together well. Place back in the oven to bake for 15-20 more minutes or until the broccoli is at your desired doneness. Remove and serve.
VEGGIE | Asparagus and Grapefruit salad from Simon Hall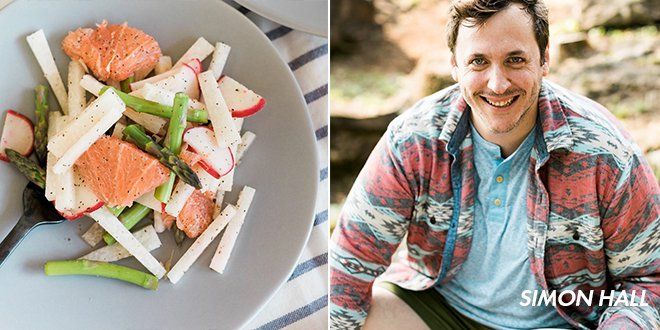 Ingredients
1 cup raw asparagus
4 radishes
2 grapefruits
1 cup jicama
Juice of 1 lime

Instructions
CHOP asparagus into bite size pieces. Chop radishes into a half moon shape. Segment grapefruit. Slice jicama into matchsticks. Combine and marinate in lime juice overnight in the fridge. Serve cold.
VEGGIE | Rosemary Roasted Radishes from Eat The Gains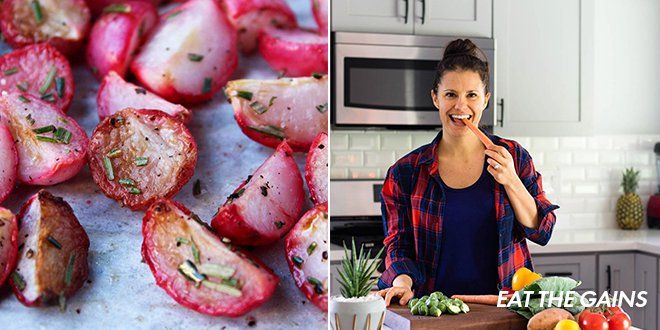 Ingredients
3 bunches radishes, washed, cleaned, and quartered
1 tablespoon coconut oil, melted
2 teaspoons lemon juice
2 teaspoons fresh rosemary, roughly chopped
salt and pepper, to taste
Instructions
PREHEAT oven to 350 degrees Fahrenheit and line a large baking sheet with parchment paper.
In a large bowl add radishes, coconut oil, and salt and pepper. Mix well to combine. Place on baking sheet and roast for 35 minutes, stirring halfway through.
ONCE done toss with lemon juice and rosemary. Enjoy!
VEGGIE | Oven Roasted Rainbow Carrots by Balanced Life Leslie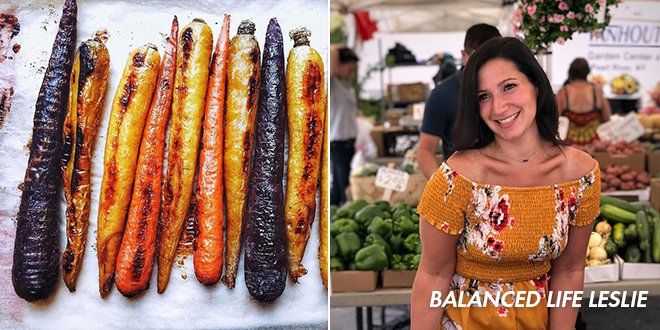 Ingredients
1 bunch rainbow carrots (about 12 carrots)
1-2 Tbsp cooking fat (ghee, avocado oil, or coconut oil)
1 tsp salt
1/2 tsp pepper (I love using @primalpalate BBQ Seasoning)
Instructions
PREHEAT the oven to 400°. Line a baking sheet with parchment paper. Place your carrots on the baking sheet in a single layer.
BRUSH the cooking fat over the carrots evenly. Season with salt and pepper. Bake in the oven for 45 minutes depending on desired crispiness (I love when mine start to brown on the top).
REMOVE from the oven and serve as a side dish or let cool and place in a container as part of your meal prep for the week. Enjoy!
Shanna
Chief Content Officer
Shanna Keller, our Chief Content Officer, hails from Boise, Idaho, where she lives with her husband Alan and a poorly-behaved terrier named Olly. She has spent her career telling stories of life transformation on social, web, e-mail and print media platforms. In addition to celebrating Whole30 successes and stories online, Shanna loves to cook, read, and climb.