Our @whole30recipes Instagram feed brings you delicious, Whole30 compatible recipes all day, every day. And, in our series, The Best of @Whole30Recipes, we bring our favorites to the blog.
The #SeptemberWhole30 starts on Labor Day, which is a national holiday here in the U.S., so you probably have some kind of picnic, cookout, or gathering planned with loved ones. DO NOT PANIC. Whole30 compatible food translates really well to a party menu. No, you can't have much on the dessert table (unless someone was considerate enough to bring fruit salad), but we've included recipes for every other part of the meal, including appetizers, entrees, sides, and even a kiddo-friendly dish.
But before we get to the recipes, let's have a chat about your party plan.
[Tweet "Kick off your #SeptemberWhole30 with these delicious Labor Day Cookout #whole30recipes!"]
Your Whole30 Party Plan
According to our Whole30 Timeline, the first day of your Whole30 is actually a GREAT day to attend a party. Most likely, you'll feel buoyed by the forward momentum of your nourishing Whole30 breakfast, the empowering Wholesome e-mail we'll send you that morning, and all of the first-day feels on Instagram and Facebook. With a little planning and preparation, you'll rock your Labor Day plans with 100% Whole30 compliance, and your non-Whole30 friends will never be the wiser (unless you tell them). Here are a few of our favorite planning tips:
Brush up on your if/then planning: Anticipate any obstacle you might encounter during the party and make a plan for how you'll handle it. For example: If Uncle Jim offers me a beer, then I'll say 'No, thank you" and drink the fancy LaCroix refresher I brought instead. (See page 26 in The Whole30 for a more on if/then planning).
Make sure you'll have access to plenty of Whole30 foods: If you're hosting the party, make a menu from the recipes below, the Backyard Barbecue menu on page 356 in The Whole30, or any of the delicious options from the @whole30recipes Instagram feed. If you're a guest, call the host and inquire about the menu, then offer to bring a side dish or two that you know you can eat.
Have a Whole30 buddy: If you're Whole30'ing with a friend or family member, check in on Day 1 for encouragement and support. You might even want to establish a plan for what happens if one of you needs to send an "S.O.S., I might not make it through this party" text. Don't have a Whole30 buddy? Come find us on Instagram. We'll be your buddy!
And now that you have a really solid plan for Day 1… onto the recipes.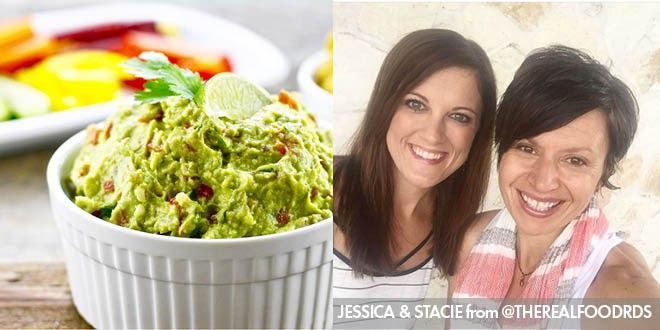 Ingredients
2 large avocados, ripe (slightly soft to touch)
2 cloves garlic, minced
⅓ cup finely diced, onion
⅓ cup finely diced, bell pepper
½ tsp. cumin
pinch of cayenne (more for kick)
¼ tsp. sea salt or to taste
⅛ tsp. pepper
2 Tbsp. cilantro, chopped
Juice of 1 lime
Instructions
PEEL avocados and remove pits. Score avocado into squares using a small paring knife. Scoop avocado into a medium bowl.
MASH avocados with fork or potato masher.
ADD the rest of the ingredients and mix well to combine.
Bacon Plantain Turkey Burger Bites with Cilantro Aioli from @sophisticatedcaveman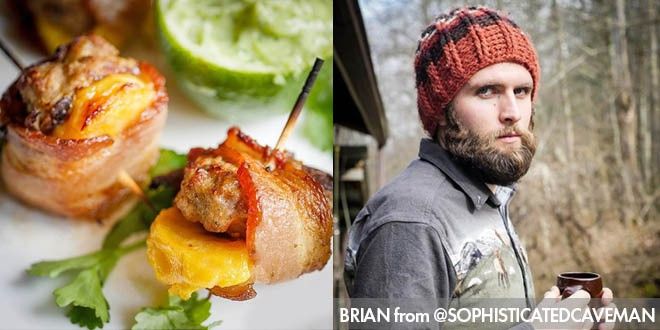 Ingredients
For the bites:
1 ripe plantain, sliced into rounds
1 pound bacon (make sure it's Whole30 compatible, like Pederson's or Naked Bacon), strips cut in half
1 pound ground turkey
1 egg, beaten
2 tablespoons red onion, minced
2 tablespoons red pepper, minced
2 tablespoons coconut aminos
1 tsp all-purpose herb seasoning (read your labels!)
1/2 tsp garlic powder
1/2 tsp sea salt
1/4 tsp black pepper
1 tablespoon coconut oil
For the aioli:
2 egg yolks
1 garlic clove
1 handful fresh cilantro (about 1/2 cup)
juice from 1/2 a lime
large pinch sea salt
1 cup avocado oil
Instructions
For the aioli:
COMBINE all the ingredients except for the avocado oil in a blender or food processor. Pulse until combined, then turn to a constant low speed.
SLOWLY drizzle the oil in until the mixture is emulsified. Transfer to an airtight container and refrigerate.
For the bites:
PREHEAT oven to broil.
IN a large mixing bowl, combine the ground turkey, onion, pepper, egg, and spices.
BRING a large skillet to medium-high heat and melt the coconut oil. Working in batches, drop tablespoonfuls of the turkey mixture into the skillet, pressing down with the backside of a spoon to form fun little patties. Cook just like a burger, flipping them once, until no longer pink.
STACK a mini turkey patty on a slice of plantain. Wrap with half a slice of bacon and secure with a toothpick.
PLACE the bites on a broiler pan or baking sheet lined with a rack and place in the oven. Broil until the bacon is crispy, turning them once or twice.
SERVE with the aioli and enjoy!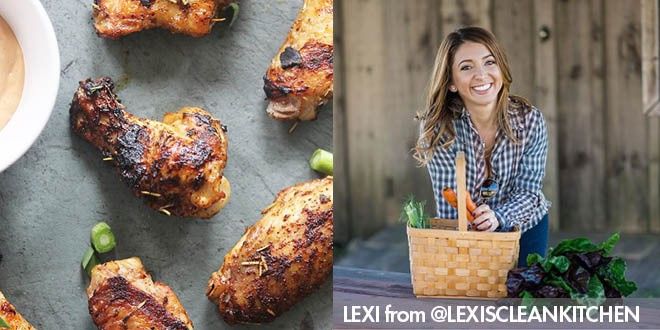 Ingredients
2 lb. organic chicken wings
2 Tbsp extra-virgin olive oil or avocado oil
3 garlic cloves, minced
1/8 tsp cayenne pepper (adjust based on desired spice)
1 tsp oregano
1 tsp rosemary
1 tsp chili powder
1 tsp fine pink sea salt
1 tsp onion powder
1/2 tsp garlic granules
Garnish with scallions and sesame seeds
Instructions
PLACE wings in a plastic bag and add in oil, garlic, and spices. Toss to combine. Let marinade for 30 minutes up to overnight.
PREHEAT grill to medium heat. Grease grill with a little oil and place the wings on.
LET cook for 7 minutes, then flip for a remaining 7 minutes until no pink remains. Serve immediately.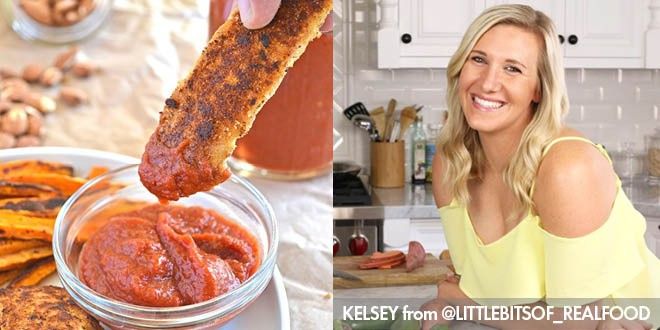 Ingredients
2 lbs. chicken tenders
1 egg
1/2 cup almond meal
1/4 cup coconut flour
2 tsp garlic powder
1 tsp salt
1 tsp pepper
1/4 tsp smoked paprika
olive oil
salt and pepper
Instructions
IN a shallow bowl combine almond meal, coconut flour, garlic powder, salt, pepper & smoked paprika.
LIBERALLY sprinkle salt and pepper on both sides of the chicken tenders. In a small bowl scramble up 1 egg.
DIP the chicken tenders in the egg, then roll them around in the breading mixture. Press the mixture all over the chicken and then shake off the excess.
PLACE a large skillet over medium-high heat. Add 1 Tablespoon of oil to the pan.
ONCE oil is hot, add a few tenders and cook for about 3 minutes on each side. Be sure not to crowd the pan.
CONTINUE with the rest of the tenders and serve with some paleo ketchup!
Taco Stuffed Avocados with Creamy Cilantro Lime Dressing from @livinglovingpaleo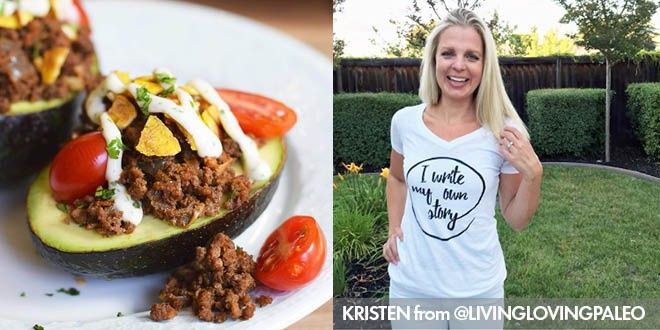 Ingredients
2 avocados, cut in half and pit removed
1 tbsp coconut oil or ghee
1 lb ground beef
1 onion, diced
4 garlic cloves, minced
For the taco seasoning:
1.5 tsp chili powder
1 tsp cumin
½ tsp paprika
¼ tsp garlic powder
¼ tsp cayenne
1 tsp salt
1 tsp pepper
For the Creamy Cilantro Lime Dressing:
2/3 cup Avocado Oil
1 egg
½ tsp mustard powder
2 Tbsp fresh lime juice, divided
½ tsp fresh garlic, minced (or ¼ tsp powdered)
¾ tsp sea salt
3 tsp cilantro, minced
Optional Toppings:
Homemade baked plantains
Chopped tomatoes
Pico de gallo
Diced onion
Cilantro
Instructions
IN a small bowl, mix together all of the ingredients for the taco seasoning. Set aside.
MELT the coconut oil/ghee in a medium sized pan over medium heat. Once the oil has melted, add the onion and sauté until soft. Add the garlic and sauté until fragrant, about 30 seconds. Add the meat and cook until no longer pink. Add the taco seasoning to the meat and mix well.
TO make the simple dressing, place the oil, egg, mustard powder, 1 tsp of the lime juice, garlic and salt in a tall container. Place an immersion blender at the bottom and turn on. Once the mixture starts to blend together and become thick, move the immersion blender towards the top, until it is well blended. This should take less than a minute! Stir in the remaining lime juice and cilantro.
TOP the avocados with the taco meat, any extra toppings you'd like, and the cilantro lime dressing. Enjoy!
Crispy Chipotle Green Beans with a Garlic-Lime Mayo Dip from @bucknakedpaleo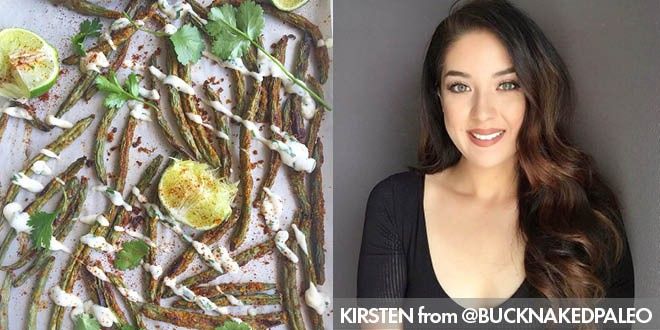 Ingredients
For the green beans:
1 lb green beans
1 Tbsp quality olive oil or Avocado Oil
1 Tbsp nutritional yeast
1/2 tsp garlic powder
1/2 tsp smoked paprika
1/4 tsp chipotle powder
Salt and pepper to taste
Cilantro to garnish (optional)
For the garlic-lime mayo dip:
1/2 cup homemade or compatible mayo
Juice and zest of 1 lime
2 cloves garlic, minced
1/2 tsp ground cumin
1 Tbsp finely chopped cilantro
Instructions
PREHEAT oven to 450 degrees F.
COMBINE nutritional yeast, spices, and salt and pepper.
PLACE green beans in a large bowl. add oil of choice and mix to coat. sprinkle in all of the nutritional yeast/spice mixture and toss. make sure everything is coated!
ON a baking sheet lined with parchment paper, spread the green beans out. Try not to overlap them or have them squished together or they won't crisp up as well.
BAKE for 30-35 mins until they look crisp and brown around the edges.
WHILE green beans are baking, combine all ingredients for the garlic-lime mayo.
REMOVE green beans from the oven and let stand for at least 5 minutes before serving. Drizzle with garlic-lime mayo dip and some chopped cilantro.
Note: There will be leftover garlic-lime mayo dip. Feel free to half the recipe OR store leftovers in an airtight container and use on roasted sweet potatoes, chicken, etc. throughout the week.
Turmeric & Ginger Iced Tea from @urban.apron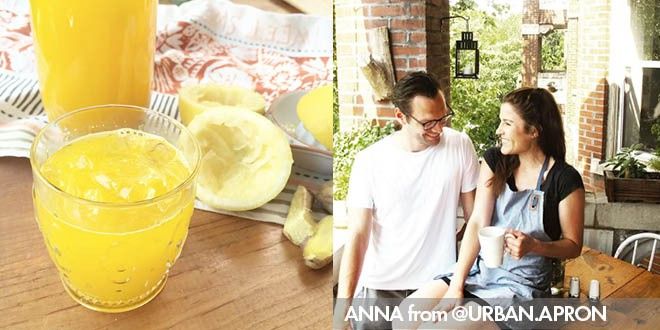 Ingredients
3 lemons, juiced
1/2 Tbsp ground turmeric
1 tsp fresh ginger root, finely chopped/minced. Ground ginger also works.
Pinch of sea salt
Hot water
Instructions
IN a quart size jar, mix the lemon juice, turmeric, ginger, and salt.
FILL the jar with hot water and steep 10-15 minutes. Store in refrigerator until ready to serve (shake up before serving)
WHEN ready to serve, fill a pitcher or glass with ice and pour tea over it.
Note: This is best served immediately, but if not, keep the tea in the fridge until ready to serve. It packs a spicy punch, but you can dial it down by adding more water when you steep.
Shanna
Chief Content Officer
Shanna Keller, our Chief Content Officer, hails from Boise, Idaho, where she lives with her husband Alan and a poorly-behaved terrier named Olly. She has spent her career telling stories of life transformation on social, web, e-mail and print media platforms. In addition to celebrating Whole30 successes and stories online, Shanna loves to cook, read, and climb.