by Sarah Steffens
It's a little tradition around Whole30 HQ to come up with a few fun, creative, and slightly creepy Whole30 recipes for Halloween. We like the idea of Whole30'ers using these festive recipes to delight and nourish their families and friends, providing all the Halloween fun but none of the sugar crash, temper tantrums, and uncontrollable cravings that typically follow a Halloween celebration.
[Tweet "Goblins and Monsters and Skeletons, Oh My! Danger lurks on the #Whole30 blog today."]
If you're currently Whole30'ing and feeling nervous about being surrounded by mountains of candy in miniature sizes, we've got you covered. Read this classic Whole30 Halloween Candy Peptalk, chock-full of Whole30 Headmistress Melissa Urban's signature tough love (heavy on the love), including strategies from other Whole30'ers for maintaining your Whole30 during Halloween.
Want more creative Halloween recipes? Check out our feature from last year, featuring recipes from blogger Michelle Smith of the whole smiths.
Green Goblin Soup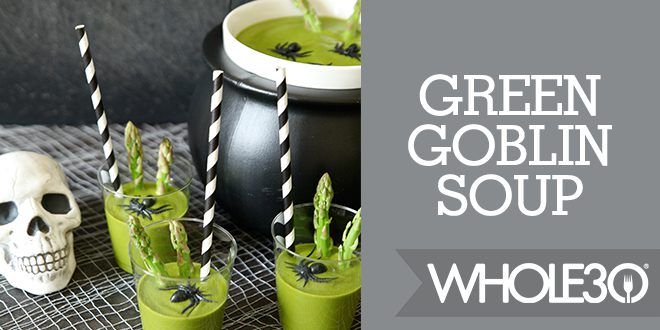 Ingredients
2 Tbs. avocado oil (coconut oil or ghee works fine)
1 medium yellow onion, diced
2 scallions, minced
1 lb. asparagus, chopped (tough ends discarded)
4 cups of spinach
1 avocado, peeled and diced
2 cups of bone broth (chicken, beef or veggies broth works fine)
1 tsp. sea salt
Garnishes
Blanched asparagus spears to use as goblin legs (see recipe note below)
Fresh herbs such as parsley, scallion or cilantro
Freshly ground pepper
Plastic spiders and Beetlejuice straws optional
Instructions
ADD avocado oil to a stockpot and bring to medium heat on the stove. Add onion and sauté until soft, about 3 minutes.
ADD scallion and asparagus and reduce to a simmer, uncovered for 10 minutes.
REMOVE from heat and transfer to a high-speed blender along with spinach, avocado and bone broth. Alternately, place spinach, avocado and bone broth in pot and blend with an immersion blender. Once blended, taste and add salt to taste.
SERVE in clear plastic cups with raw asparagus spears sticking out of each cup. Add a festive straw as well if you like.
GARNISH with any additional herbs or freshly cracked pepper, or dare to scare your guests with faux spiders crawling over each soup!
Recipe note: Blanching your asparagus spears is not necessary, but you may find them easier to eat than raw spears. To blanch asparagus spears, bring a small pot of salted water to a boil. Prepare a bowl of cold ice water. Place asparagus spears in boiling water until they turn bright green, about 2-4 minutes depending on the size of your asparagus spears. When the spears are bright green and crisp-tender, use a slotted spoon to remove the asparagus from the boiling pot and place them in the ice water bath. After a few minutes, remove the spears from the ice water and allow them to drain on a few paper towels.
Swamp Monsters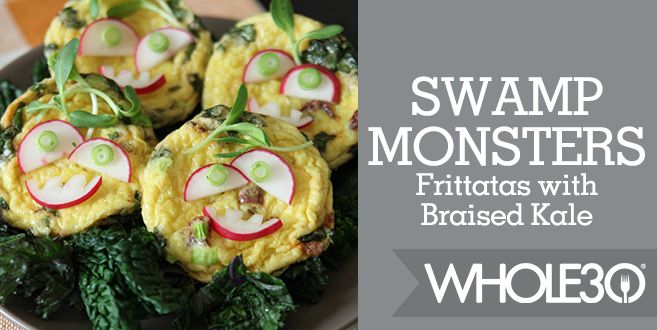 Ingredients
Braised Kale
2 bunches of curly kale, chopped (veins removed and discarded)
2 Tbs. of ghee
1 tsp. of sea salt
Swamp Creature Bodies
1 dozen eggs
1 tsp. sea salt
2 Tbs. sun-dried tomatoes, minced (dehydrated or packed in oil is fine)
8 basil leaves, minced
2 scallions, minced
Dash of white pepper
2 Tbs. ghee or coconut oil to grease muffin tin
Swamp Creature Faces
2 radishes, thinly sliced and halved
1 scallion, bottom halves only, thinly sliced
Sunflower sprouts
Instructions
PREHEAT oven to 350 degrees. Grease a muffin tin with coconut oil or ghee and set aside.
BRAISE your kale by adding ghee, chopped kale and sea salt to a medium sauté pan and simmer on low heat for 15 minutes or until wilted. Once done, remove the kale from the stove and arrange on a large serving platter. The kale serves as a swamp for your swamp creatures to rest on.
ADD eggs, sea salt, sun-dried tomatoes, basil, scallion and white pepper to a mixing bowl and whisk until well combined.
POUR 1/3 cup of egg batter into each greased muffin cup. If you run out of batter, simply fill any empty muffin cups with a little water. Bake in the heated oven for 12-15 minutes.
REMOVE from the oven and allow to cool for at least 5 minutes (the egg muffins will deflate during this time). Once cool, remove from the muffin tin and place upside down at a 45 degree angle over the braised kale.
CREATE swamp creature faces by placing two halved radish slices on each egg and a piece of minced scallion in the center of each radish. Cut tiny slits out of additional radish halves to use as mouths (you do not have to create slits for the mouths, but it does add a festive touch). Add sunflower sprouts as hair above the eyes.
ENJOY as a spooky and fun breakfast, for for a nourishing meal any time of the day.
Veggie Skeleton
Ingredients
For the Skeleton Body & Face
2 purple curly kale leaves, veins removed and saved
Handful of spiralized zucchini
1 small cucumber, thinly sliced
1 radish, thinly slices
1 carrot, thinly sliced like coins
4 baby carrots
1/2 red bell pepper, seeds removed and julienned
1/2 orange bell pepper, seeds removed and julienned
Handful of sunflower sprouts
2 cherry tomatoes
1 celery stalk, sliced in 4 pieces
1 sprig of fresh rosemary, cut in 4 pieces
2 cilantro leaves
2 thin slices of scallion
Roasted Pepper Cilantro Sauce
1/2 red bell pepper, seeds removed and thinly sliced
1/2 orange bell pepper, seeds removed and thinly sliced
1 cup of fresh cilantro, chopped
1 garlic clove
1/4 cup avocado oil
1/2 tsp. of sea salt
Instructions
PREHEAT your oven's broiler.
PLACE bell pepper slices on a baking tray lined with parchment paper and roast under the broiler for 10 minutes, or until charred.
TRANSFER bell pepper slices to a high speed blender with cilantro, garlic, avocado oil and sea salt and blend on high until pureed. Store sauce in a small ramekin.
ARRANGE your veggie skeleton on a serving tray by placing your ramekin with sauce near the top of the tray to use as a face.
START to build your skeleton's body and design its face.
Skeleton body ideas:
Curly kale leaves and spiralized zucchini as hair
Cucumber and radish slices as ears
Bell pepper slices as ribs (create a nesting spot for ribs with sunflower sprouts)
Carrot and radish slices as a spine
Celery and kale veins as arms
Cucumber slices as a pelvic region
Celery and baby carrots as legs
Radishes as joint connectors
Cherry tomatoes as feet
Rosemary sprigs as toes and fingers
Skeleton face ideas:
Eyes: Cilantro leaves and minced scallion
Nose: Carrot
Mouth: Radish
BE creative with your skeleton and use any veggies you have on hand. This is a great snack to set out for loved ones and any parts that are not eaten right away can be chopped and added to a salad (using leftover sauce as a vinaigrette).
[Tweet "Celebrate Halloween the #Whole30 way, today on the blog. #nocandyrequired"]
---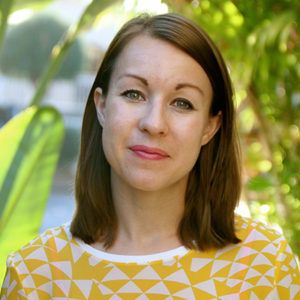 Sarah Steffens is the Whole30 Recipe Developer. She has a B.A. in Business Administration, Public Relations from The Master's College in Southern California. After years of experimenting with nutrition and recipes in her own kitchen, she now works as a Personal Chef in Los Angeles, cooking meals that support her clients' intention to physically and mentally thrive.
She has catered several independent film sets, making it her goal to optimize the energy and well-being of each creative crew. When Sarah is not cooking Whole30 and Autoimmune Protocol meals, she is likely exploring mid-century sites in L.A., taking photographs, listening to an audio book or "hiking" at Griffith Park.
Save
Save
Save
Save
Save
Save
Shanna
Chief Content Officer
Shanna Keller, our Chief Content Officer, hails from Boise, Idaho, where she lives with her husband Alan and a poorly-behaved terrier named Olly. She has spent her career telling stories of life transformation on social, web, e-mail and print media platforms. In addition to celebrating Whole30 successes and stories online, Shanna loves to cook, read, and climb.