Our @whole30recipes Instagram feed brings you delicious, Whole30 compatible recipes all day, every day. And, in our series, The Best of @Whole30Recipes, we bring our favorites to the blog.
Are you celebrating Easter Whole30-style this year? Whether you're currently doing a Whole30, or you just want some nutrient-packed recipes to accompany those "worth-it" food freedom favorites (cue Melissa Urban saying, "Cadbury Creme Egg, anyone?"), we've got you covered with nine (9!) flavorful, seasonal dishes. We rounded up some of our recent favorite recipes from the creatives who takeover our @whole30recipes Instagram.
Choose from the recipes below to create your ideal Easter menu. We made sure to include veggie-packed soups and salads, savory sides, and delicious proteins. We promise, with these tasty dishes, you won't even miss the Peeps! (Or if you're eating Peeps, you'll have some green to go along with that bright pink and yellow!)
[Tweet "9 (count 'em) delicious #Whole30 Easter or Sunday brunch-worthy recipes. #whole30recipes"]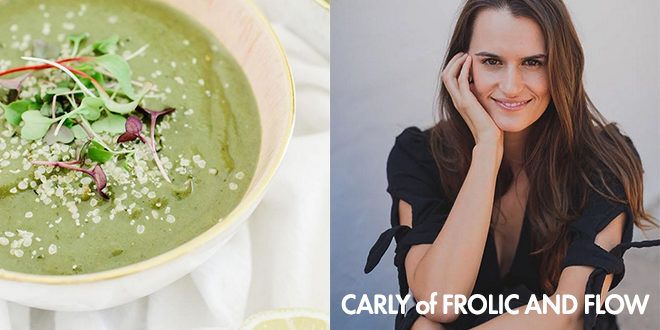 Ingredients
2 Tbsp avocado oil
1 onion
1 leek
4 cloves garlic
1 head broccoli
1 head cauliflower
3 stalks celery
1 head chard
2 carrots
1 medium sweet potato
48 oz Whole30 compatible bone broth
2 avocados
1/2 cup fresh cilantro (or basil)
1/2 cup fresh parsley (or green onion)
1 Tbsp turmeric
1 Tbsp dried parsley
1/2 Tbsp garlic powder
2 tsp salt
Juice from 1 lemon
Instructions
IN a stock pot, add avocado oil, onion, leek, garlic, ginger. Cook on medium heat until fragrant. Add remainder of vegetables, lemon juice and dry spices, leave fresh herbs and avocado aside.
COVER vegetables with broth and bring to boil. Once boiling, add herbs, and reduce to a simmer. Turn off when sweet potato is fork tender (around 20 min).
ADD avocado to stock pot and blend with immersion blender until smooth. Salt and pepper to taste.
Asparagus Cream Soup from The Whole30 Fast & Easy Cookbook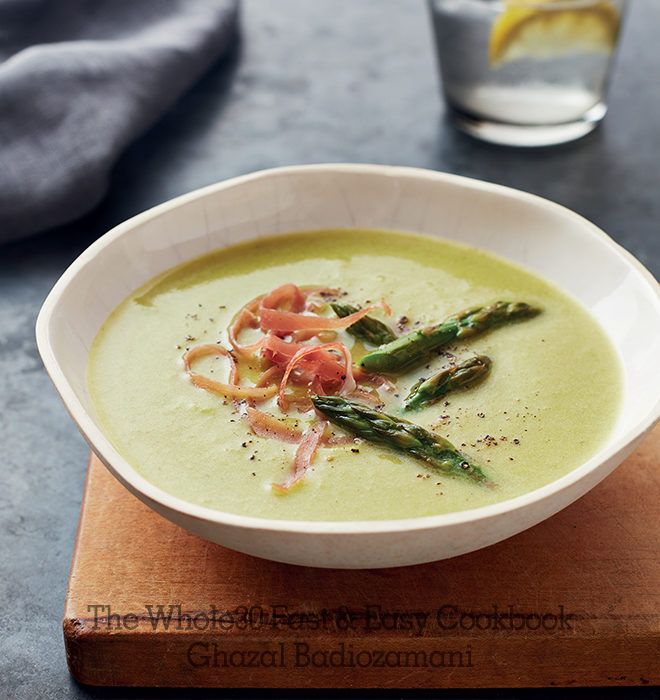 Turn to page 201 in your copy of The Whole30 Fast & Easy Cookbook to find the recipe for this bright and satisfying soup, using the best of seasonal asparagus.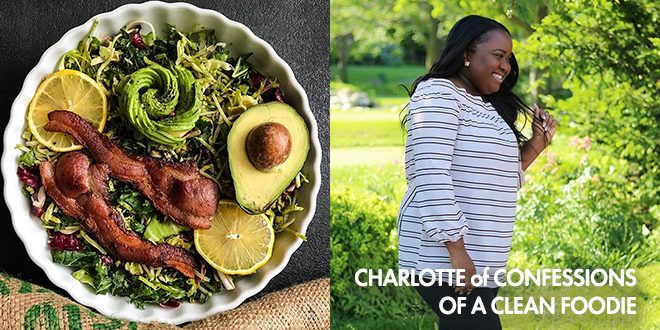 Ingredients
2 cups kale leaves (finely chopped)
3 Tbsp Primal Kitchen Balsamic Dressing or other compatible balsamic dressing
1 cup broccoli and kale slaw
1 Tbsp compatible or homemade mayo (Primal Kitchen Mayo works great)
1 avocado, sliced or diced
2-4 slices of cooked Whole30 Approved bacon
Instructions
ADD kale to a large mixing bowl and pour balsamic dressing on top. Massage the kale with your hands for about 2 minutes until softened.
TOSS in the broccoli slaw and mayo until everything is well combined.
PLATE with bacon and avocado slices and serve
Bacon Lettuce Strawberry Salmon Salad from The Castaway Kitchen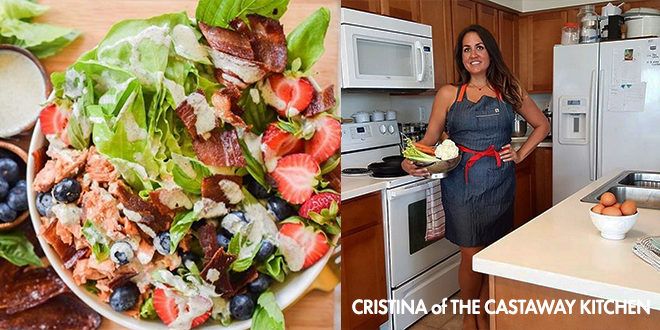 Ingredients
2 heads butter lettuce
2 hearts of romaine
8 slices compatible bacon
1 lb strawberries
1 cup blueberries (optional)
4 cans wild caught canned salmon (in water, boneless, skinless)
8oz Whole30 compatible Ranch
Fresh basil leaves to garnish (optional)
Pink salt + cracked pepper
Instructions
LAY bacon flat on a sheet pan, each strip side by side, not overlapping. Pop sheet pan into the oven and set the temperature to 375F. Once the oven reaches temperature, set a timer for eight more minutes, checking on it every few minutes and turning if necessary. Once the bacon is ready, remove from the oven, let it cool, then chop it up.
WASH and dry butter and romaine lettuces. Tear the leaves by hand. Then wash, dry and core strawberries. Rinse and drain the blueberries berries.
OPEN and drain cans of salmon.
NOW, it's time for the fancypants plating. Place the lettuce on a platter, then flake the salmon on one side. Add the berries to the other side and sprinkle the bacon on top.
DRIZZLE dressing over the entire platter. Add basil and finish off with a sprinkle of salt and fresh pepper.
Roasted Root Veggies with Balsamic Shallot Vinaigrette from The Whole30 Cookbook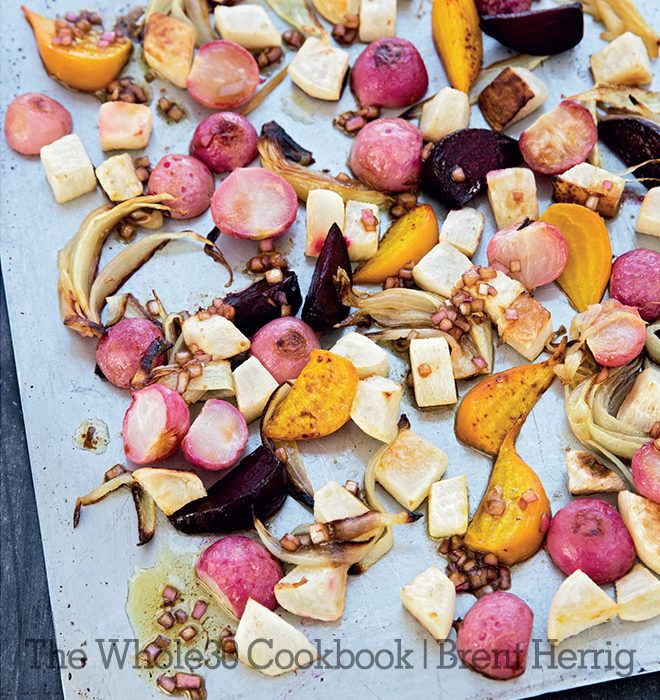 Flip to page 244 of The Whole30 Cookbook; the recipe for Roasted Root Veggies with Balsamic Shallot Vinaigrette is a bright and pretty side dish.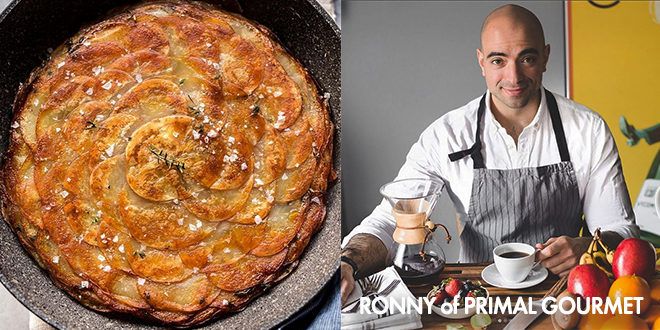 Ingredients
4 medium-sized red potatoes
fresh thyme
Extra Virgin Olive Oil
1 Tbsp ghee
flaky sea salt, such as Maldon
Instructions
USE a mandoline to finely slice potatoes into discs approx. 2mm thick.
BRUSH the inside of a cold, non-stick skillet with 1 tsp extra virgin olive oil. Place a potato slice in the centr of the pan followed by a ring of potato slices around it (pics on blog). Complete ring by tucking last potato slice underneath first. Repeat this process until you have filled the bottom of the pan. Drizzle the first layer of potatoes with a tsp of extra virgin olive oil and scatter a few thyme leaves on top.
ARRANGE second layer of potatoes, drizzle with another tsp of extra virgin olive oil & scatter some more thyme leaves. Repeat until you run out of potatoes.
PREHEAT oven to 425F. Place skillet on stove top set to med heat. Cover potatoes with a circular piece of parchment cut to the shape of the pan (a cartouche). Top with small plate or pan and weigh down the potatoes with something heavy.
PAN fry the potatoes approx. 10 min undisturbed to develop a golden brown crust on the bottom layer. Remove weight and cartouche and scatter bits of ghee on top layer. Top with cartouche & transfer the pan into the oven. Bake for 35-40 minutes or until potatoes are fork tender.
SERVE by place a large serving platter upside down against the top of the pan and carefully flip the pan and the platter together to invert the potatoes. Season the top with flakey sea salt and enjoy!
Grilled Lamb Chops and Fingerlings with Arugula Pesto from The Whole30 Cookbook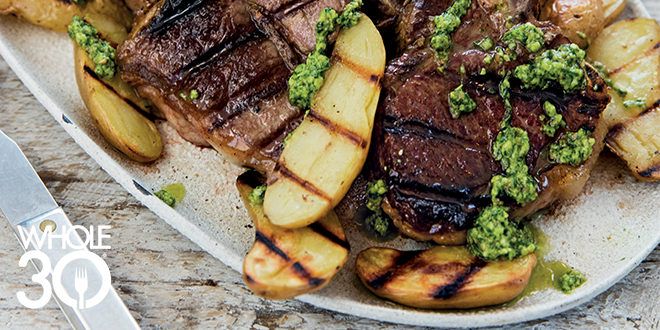 Yesterday, we shared a sneak peek of this lamb recipe from The Whole30 Cookbook. Click here to get the recipe.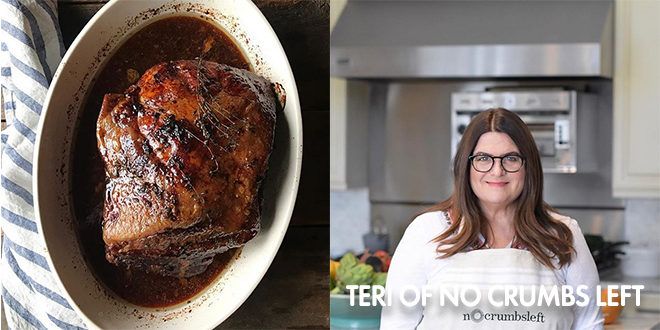 Ingredients
8 lb. pork shoulder on the bone
Kosher salt
Black pepper
8 sprigs thyme
1 Tbsps fresh oregano
Instructions
PREHEAT oven to 250F.Salt and pepper the pork shoulder on all sides thoroughly and place in baking dish leaving fat side up. Remove thyme and oregano leaves from the sprigs and sprinkle on top of the pork.
COOK uncovered in the oven for 6 hours. Place 5 cloves of chopped garlic on top. Cook 2 more hours.
REMOVE, cool, and serve.
Melissa Urban
Co-Founder / CEO
Melissa Urban is a 7x New York Times bestselling author (including the #1 bestselling The Whole30) who specializes in helping people establish healthy boundaries and successfully navigate habit change. She has been featured by the New York Times, People, the Wall Street Journal, Forbes, The Today Show, and Good Morning America, and is a prominent keynote speaker on boundaries, building community, health trends, and entrepreneurship. She lives in Salt Lake City, UT with her husband, son, and a poodle named Henry.