You may associate EPIC Provisions with on-the-go or emergency food; their Bars and Bites are a long-time favorite of the Whole30 community. They're convenient, tasty and nourishing, especially for those times when your day hasn't gone quite as planned and you need some Whole30 compatible food now.
[Tweet "Convenient, tasty meals made with #Whole30 Approved @EPICbar broths. #Whole30isEPIC #ad"]
In keeping with their mission to provide convenient, nourishing on the go food, EPIC also makes delicious Bone Broths. These broths are unique (with flavors like Jalapeno Sea Salt) and rich in flavor, requiring no additional seasoning or salting. They're made of the bones of pastured animals, and have been simmered on low for a long duration of time to extract the maximum nutrition possible. This makes them an excellent source of nourishing collagen, minerals, and gelatin.
These broths are ready to drink (simply heat them in the microwave and sip straight from the jar) but EPIC Bone Broths will also help you save some time and effort in the kitchen. They make an excellent base for soups, curries, and glazes.
We've created a few recipes using the broths, and if you have the right items prepped in advance, each of these dishes comes together easily with minimal mess in the kitchen. In each recipe, we've included a note on how to prep your food in order to maximize your time and effort.
Healing Chicken-Veggie Soup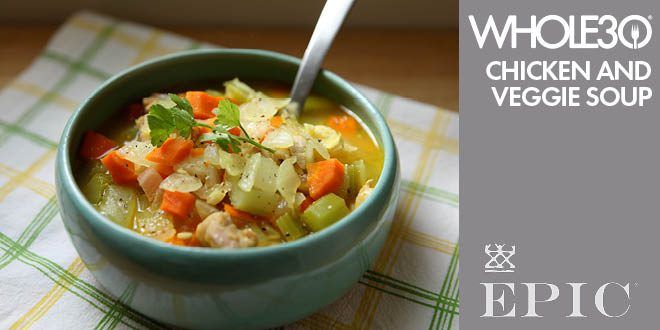 Note: you can use any kind of chicken you prefer for this recipe, but to save on time, purchase a compatible rotisserie chicken. Both Target and Whole Foods have compatible options, and your local grocery may have one as well. (Be sure to always read your labels.) If you use shredded rotisserie chicken and cut up your veggies during your weekly meal prep session, this recipe comes together quickly.
Ingredients
2 bottles (28 ounces) of EPIC Homestyle Savory Chicken Bone Broth
1 Tbs. Ghee or Coconut Oil
1 Yellow Onion, diced
2 Garlic Cloves, minced
4 Carrots, peeled and diced
4 Celery stalks, diced
1 1lb. Organic Chicken, shredded or diced (see note above)
1" fresh Ginger, peeled
1" fresh Turmeric, peeled
Fresh Parsley
Black pepper
Instructions
IN a stock pot, heat ghee (or coconut oil) to medium and allow to melt. Add diced onion and minced garlic and stir until they begin to soften. Add diced carrot, celery and chicken to the pot and stir to combine.
POUR bone broth over veggies and simmer until soft (about 10 minutes). Turn off the heat and using a vegetable peeler, peel ginger and turmeric as strips directly into the pot.
STIR to combine and serve between 4 bowls. Garnish with a sprig of fresh parsley and a generous sprinkle of black pepper.
Beef Pho-Style Soup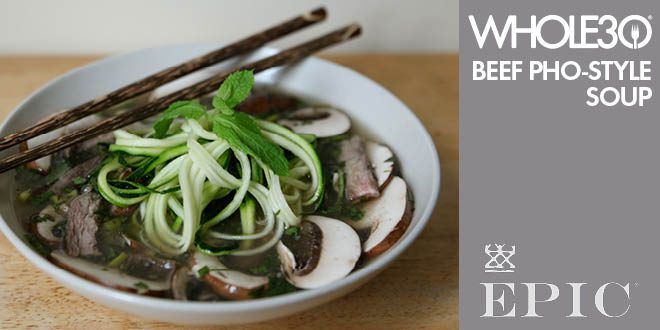 Note: purchase pre-spiralized zucchini and pre-sliced mushrooms (found nowadays at many grocery stores, including Trader Joes, Whole Foods and many local stores) and marinate your flank steak the evening before in order to pull this recipe together in a minimal amount of time.
Ingredients
2 bottles (28 ounces) of EPIC Beef Jalapeno Sea Salt Bone Broth
1 lb. organic Flank Steak
1 tsp. Sea Salt
Dash of White Pepper
2 medium Zucchini (spiralized as "zoodles")
1" fresh Ginger, peeled and minced
2 Scallions, minced
8 Mushrooms, thinly sliced
Garnishes – All Optional
5 fresh Basil Leaves, minced
5 fresh Mint Leaves, minced
5 sprigs of fresh Cilantro, minced
Chopped almonds
Instructions
IN a shallow dish, marinate flank steak in avocado oil and a sprinkle of sea salt and white pepper for at least one hour (up to 24 hours).
HEAT a skillet to medium high. Add 1 Tbs. of cooking oil (ghee, coconut oil or avocado oil) and allow to melt. Place flank steak on the heated skillet and allow to sear for 4 minutes per side. Remove from the skillet and allow to cool on a plate. When cool, slice in thin strips.
ADD broth to a large stock pot and heat to medium. Add spiralized zucchini directly to the stock pot. Add minced ginger and minced scallion.
WHEN the broth begins to simmer, remove from heat and serve between 4 bowls and top with seared flank steak and fresh herbs as desired.
Comforting Turkey and Cauliflower Rice Bowl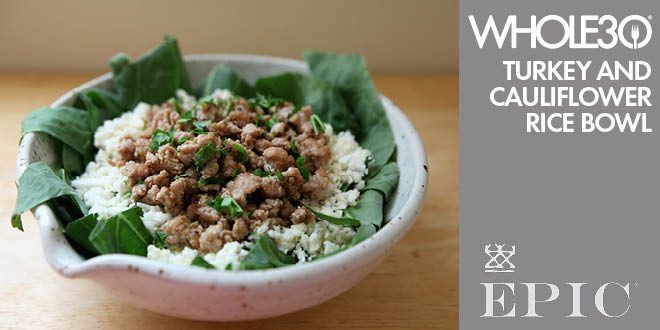 Note: For a quick meal pick up some pre-riced cauliflower from the grocery store, which is now widely available (check in the prepared foods or frozen vegetable sections of your grocery store). Or, rice your own cauliflower ahead of time. Cook up your ground meat ahead of time, too.
Ingredients
1 bottle (14 ounces) of EPIC Turkey Cranberry Sage Bone Broth
4 Tbs. Ghee
1 tsp. Dried Thyme
1 head of Cauliflower, riced
1 Tbs. coconut oil
1 lb. pre-cooked ground meat of your choice (ground beef and turkey both work well for this)
Fresh Parsley for garnish
Instructions
ADD an entire bottle of broth into a saucepan and bring to a boil. Add ghee and dried thyme and reduce to a simmer until the broth thickens and is a thick glaze (this takes about 15 minutes).
ADD ground meat to the turkey broth glaze and allow it to absorb the glaze. The meat will be bursting with flavor and a rich color.
SAUTEE riced cauliflower saute it in a skillet with 1 Tbs. coconut oil until it begins to soften, about 5 minutes. Serve cauliflower between 4 bowls and top with glazed ground meat. Garnish with fresh parsley.
Get Some EPIC of Your Own
Want to try EPIC Bone Broths, or some of their other Whole30 Approved items? Click here to order from their Whole30 Approved Collection. They also have a convenient Whole30 Starter Pack containing one each of their compatible Bars and Bites. (Note: Most, but not all, EPIC products are compatible. The Salmon Maple Dill Bites, Maple Bacon Blueberry Bites, and Bison Bacon Cranberry Bar are not, because of added sugar. Their line of Pork Rinds are also not compatible.)
You can also find EPIC in your favorite health food or grocery stores, including Whole Foods, Sprouts, and Natural Grocers. Some local and regional retailers carry their products as well. Use the store locator on their website to find a retailer near you.
This featured post was sponsored by EPIC Provisions.

Save
Save
Save
Save
Save
Save
Melissa Urban
Co-Founder / CEO
Melissa Urban is a 7x New York Times bestselling author (including the #1 bestselling The Whole30) who specializes in helping people establish healthy boundaries and successfully navigate habit change. She has been featured by the New York Times, People, the Wall Street Journal, Forbes, The Today Show, and Good Morning America, and is a prominent keynote speaker on boundaries, building community, health trends, and entrepreneurship. She lives in Salt Lake City, UT with her husband, son, and a poodle named Henry.